Las Vegas Christmas shows are warm and fuzzy — with swordplay
November 23, 2015 - 9:46 am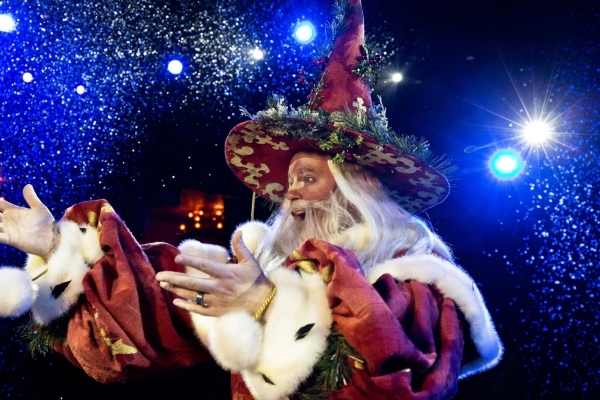 You have your Grinch and your Scrooge. And now you have your bastard son of King Arthur, who really knows how to turn over a punch bowl. When patricide is the goal of his sword-swinging, short-changing your clerk and stealing toys don't seem like such big deals after all.
But Christmas was a younger tradition in King Arthur's day, and so it is with Las Vegas shows. If "King Arthur's Tournament" wants to become " 'Twas the Knight" for a month it's welcome — mayhem and all — on the Strip, where a traditional December dip in tourism usually leaves the holiday-themed activity to the suburbs.
Over the years, though, a few shows have figured out ways to warm up to the season efficiently. Makeovers with enough changes to put us in the spirit yet stay on a budget somewhere between Scrooge and Saturnalia.
Here's a rundown, starting with the newest and most unusual:
" 'Twas the Knight"
It doesn't snow much in the desert, unless you have Merlin the magician to help with the white stuff. That's just one of the changes to the Excalibur's medieval action show from Wednesday through Dec. 28.
"Basically, it's the existing show with a really nice, spirited holiday flavor," director Philip Shelburne says. "There's some hope this can become somewhat of a tradition and that we can change it up by the season," the way theme parks get Halloween and Christmas makeovers.
Shelburne collaborated with veteran cast members and local actor Sean Critchfield to rewrite the show within structural limits. "Things are inserted throughout," he says. "We had to be careful of where we inserted changes, just due to the practicality of this type of show. It's not like we can cut a scene and put something else in. There's a lot of ripple effect."
The first change repeat customers will notice is a preshow to set a festive note right away. "It's meant to just be kind of like the orchestra warming up. People getting ready for the big event, King Arthur's holiday tournament," Shelburne says. It's a little more interactive than the year-round show as well, he says, with performers venturing into the audience.
The show itself substitutes Christmas-flavored music throughout and has a holiday banquet with new costumes.
Spoiler alert: "Obviously Mordred comes in and crashes the party and everything has to be put into place," Shelburne says. "Merlin pulls it all back into a peaceful, harmonious Christmas spirit."
But what else would you expect a dude in a white beard to do?
Human Nature
The vocal quartet Human Nature didn't get a lot of rehearsal time for its Christmas show. Or did it?
As boys in Australia, "before we were officially a group, we would put a hat out on the street and sing Christmas carols," Mike Tierney says of the group he started with brother Andrew Tierney and their school friends Phil Burton and Toby Allen.
Pretty soon, "Shopping centers were asking us to walk around." And before you knew it, teenage girls were screaming at them. Now grown up and the force behind a Motown-themed show at The Venetian, Human Nature last year trotted out the awful sweaters — granted, as part of a bit — and blended the Motown favorites with songs from its own Christmas album.
Last year's show paired the quartet with guest singer Robin Meade, HLN's morning anchor. This year Tierney and singing brother Andrew Tierney had to go scouting. They checked out the short-lived "Baz" at Mandalay Bay (celebrating the movies of fellow Australian Baz Luhrmann) and were so knocked out by singer Ruby Lewis they asked her to be their Christmas guest.
"We caught her just in time," Tierney says, because Lewis is Broadway-bound to star in Cirque du Soleil's Broadway show "Paramour" next spring. "Ruby makes it feel like a different show," he adds. "She can sing anything really," possibly even the version of "Let It Snow" the lads do with Aussie pop singer Delta Goodrem on the Australian edition of "The Christmas Album."
Tierney says the group will soon announce some news about its future on the Strip; both a new casino home and new format for the show are possibilities. If the holiday show turns out to be a short tradition at The Venetian, it may still generate fond memories. Let's just say Merlin isn't the only wizard who can make it snow.
But he can't make the sweaters go away. "We're doing a battery check," Tierney says with a laugh.
"Legends in Concert"
Compared to figuring out how to blend swordplay and holiday cheer, this one's a breeze. "Legends" such as Frank Sinatra and Elvis Presley had more than one Christmas album to pick from, and even the Jackson Five had one in 1970. Damian Brantley, Las Vegas' top Michael impersonator, can always cue it up should he be torn between "Up on the Rooftop" or "I Saw Mommy Kissing Santa Claus."
The holiday editions of "Legends" has become a Las Vegas tradition, this year running from Monday through Christmas. It also features tributes to Taylor Swift and Madonna, apparently the closest thing this party has to a Grinch — at least in the eyes of some parents who complained about the Material Girl's gyrations when a middle school choir joined the show. Nonetheless, school groups do still join select performances, and parents might take comfort in knowing Madonna's part of the show has become more theatrical and cute, not as saucy.
'Marriage Can Be Murder'
Swords and guns too? Las Vegas can be a dangerous place to spend the holidays. But it's still Vegas, a town where even a gut-shot victim in an interactive murder mystery knows the show must go on, as he croons "Blue Christmas" all the way to his last gasp.
Audiences get asked to figure out who the culprit is among them. And to sing "Jingle Bells" too, when the D Las Vegas' dinner show dresses up for the holidays Nov. 30 through Jan. 4, the only show to keep the spirit going past New Year's Day.
Terry Fator
The jousting show may get the enterprise ribbon, but nobody's going to steal the Christmas spirit award from Terry Fator. The Mirage headliner has staged "A Very Terry Christmas" in different permutations for five years now, though we believe each one of them included the joke about a Christmas light outage causing his front yard to simply advertise "Ho."
The ace ventriloquist goes all-in to bring back the "living room" set of the TV specials he grew up watching. And like some of those '60s stars, he has been at the Christmas thing so long now he actually has material to rotate out — if, like some of us, you noticed, "Hey, he didn't use the Bing Crosby puppet" last year.
"I start listening to Christmas music on November 1st," Fator said in 2013. "I'm just that guy. I love the season so much, it's a lot of fun for a month just to get out there and do a big Christmas show."
However, he is apparently a Thanksgiving guy, too. As in, a guy who doesn't do the show Thanksgiving weekend. So check out the others and come back for Fator's show, which opens Nov. 30 and runs through Christmas eve. (However, the guy who usually takes Saturdays off will add shows Dec. 5 and 12).
— Read more from Mike Weatherford at reviewjournal.com. Contact him at mweatherford@reviewjournal.com and follow @Mikeweatherford on Twitter.
Like Neon Las Vegas on Facebook: