Las Vegas improv comics team up for live show, podcast
September 30, 2017 - 10:29 am
Updated September 30, 2017 - 4:46 pm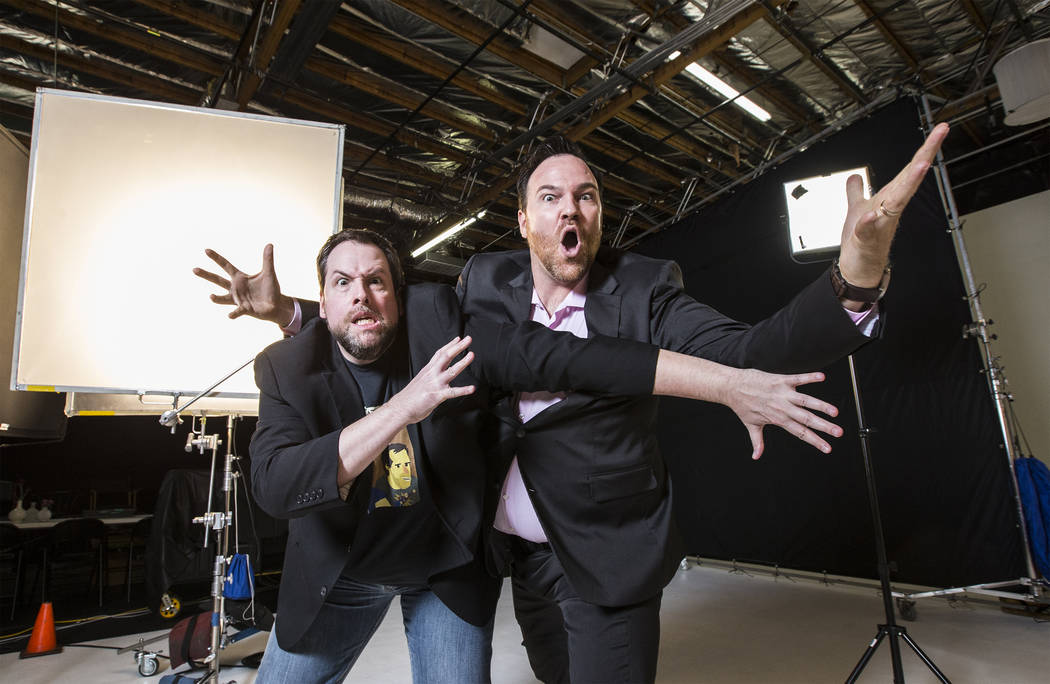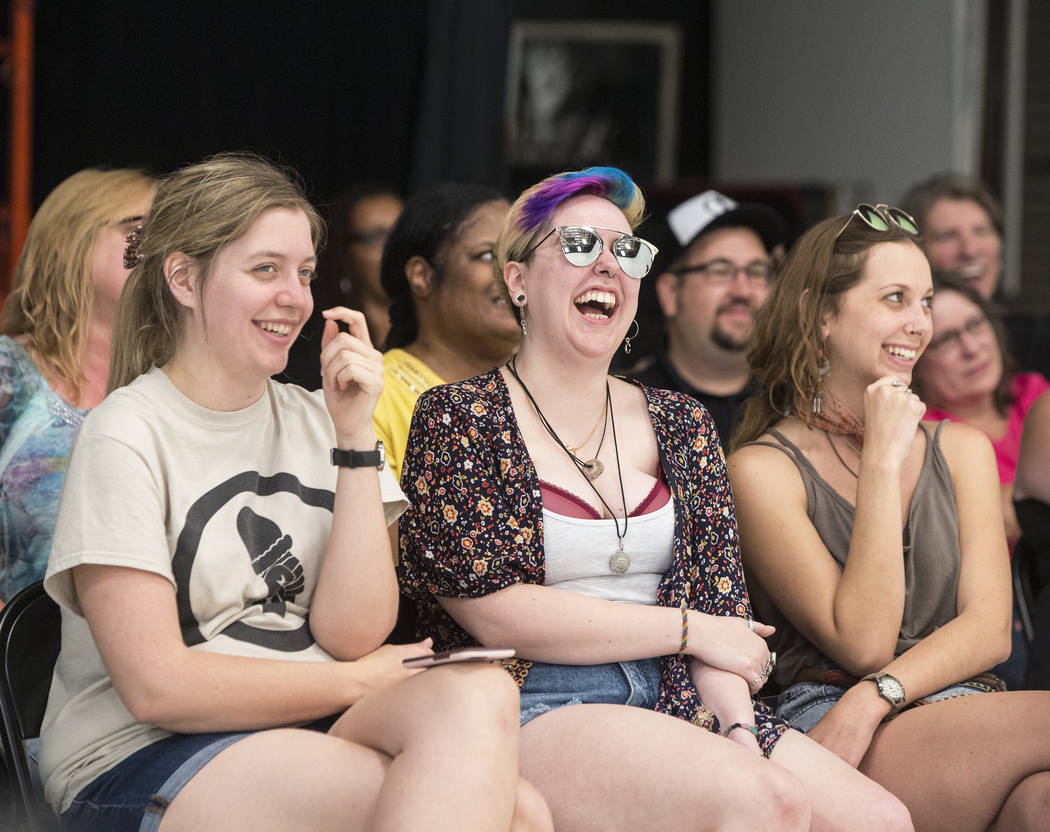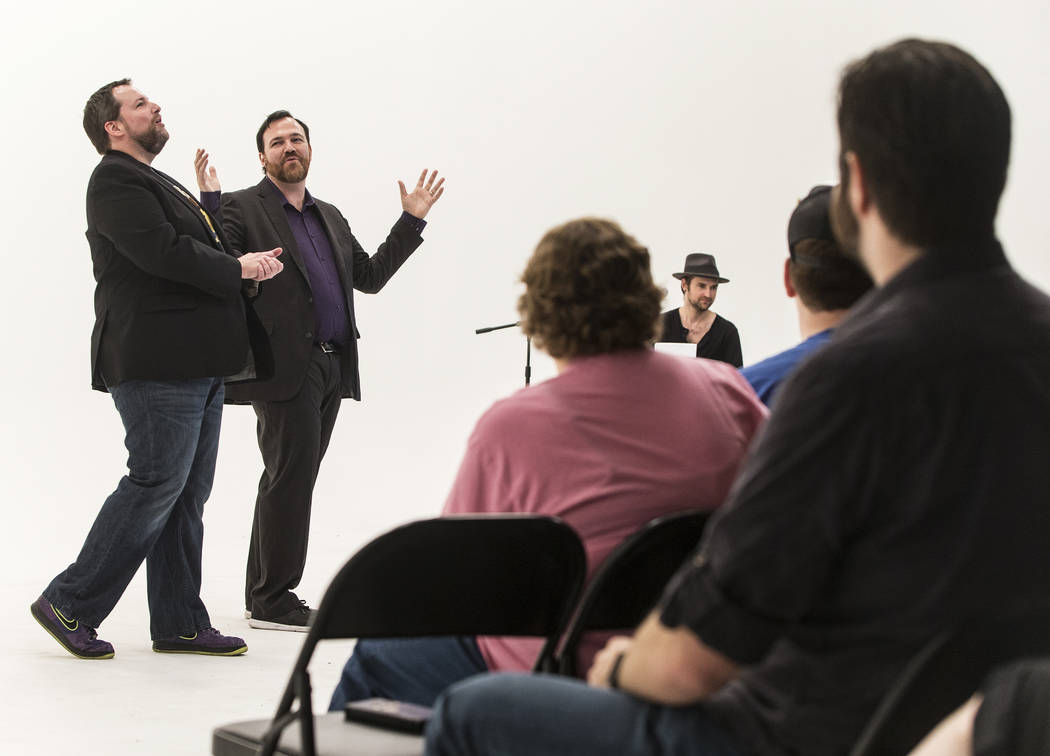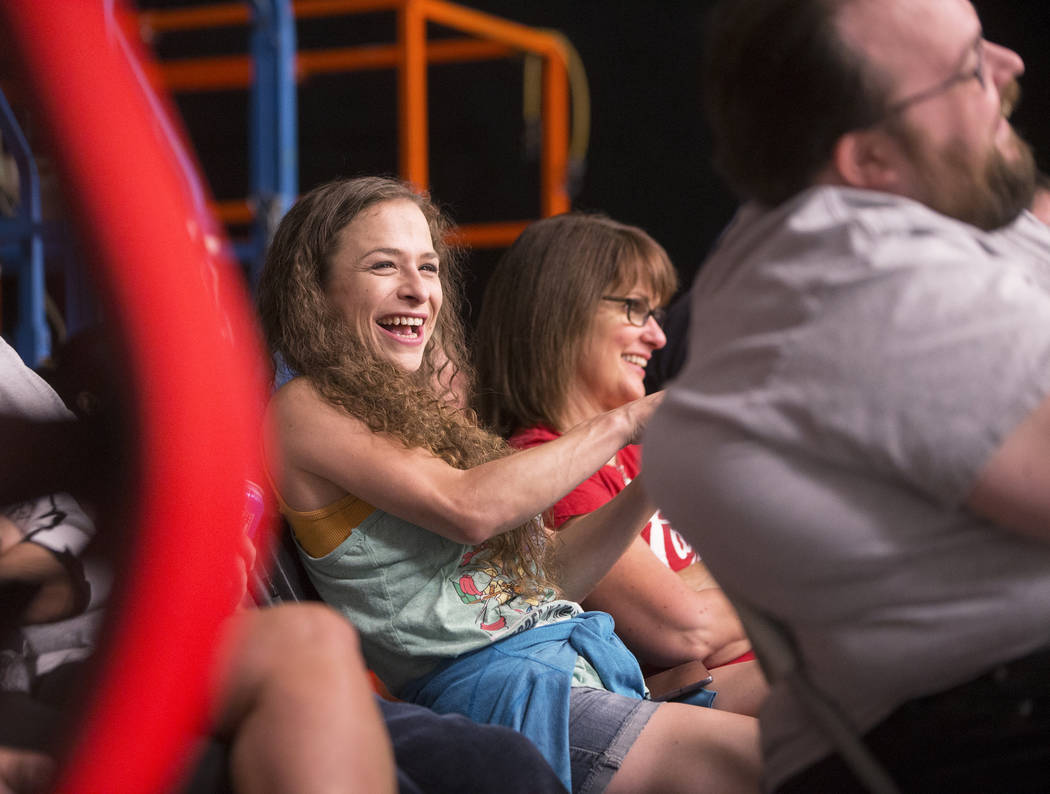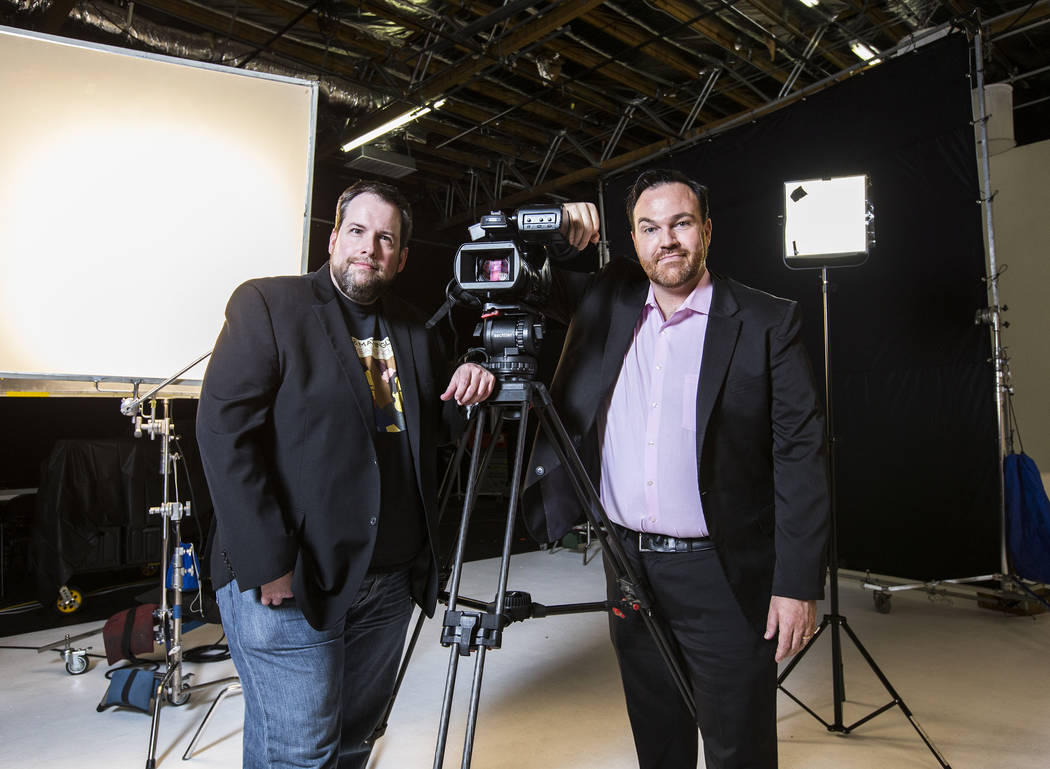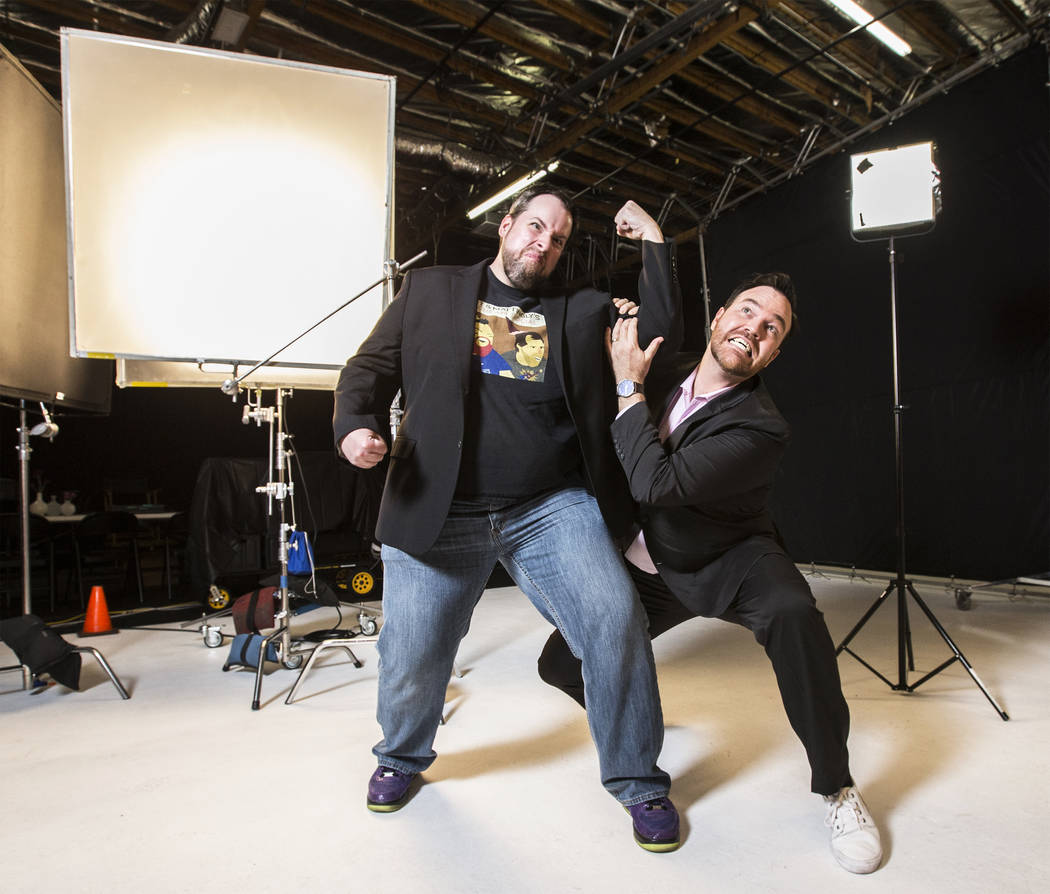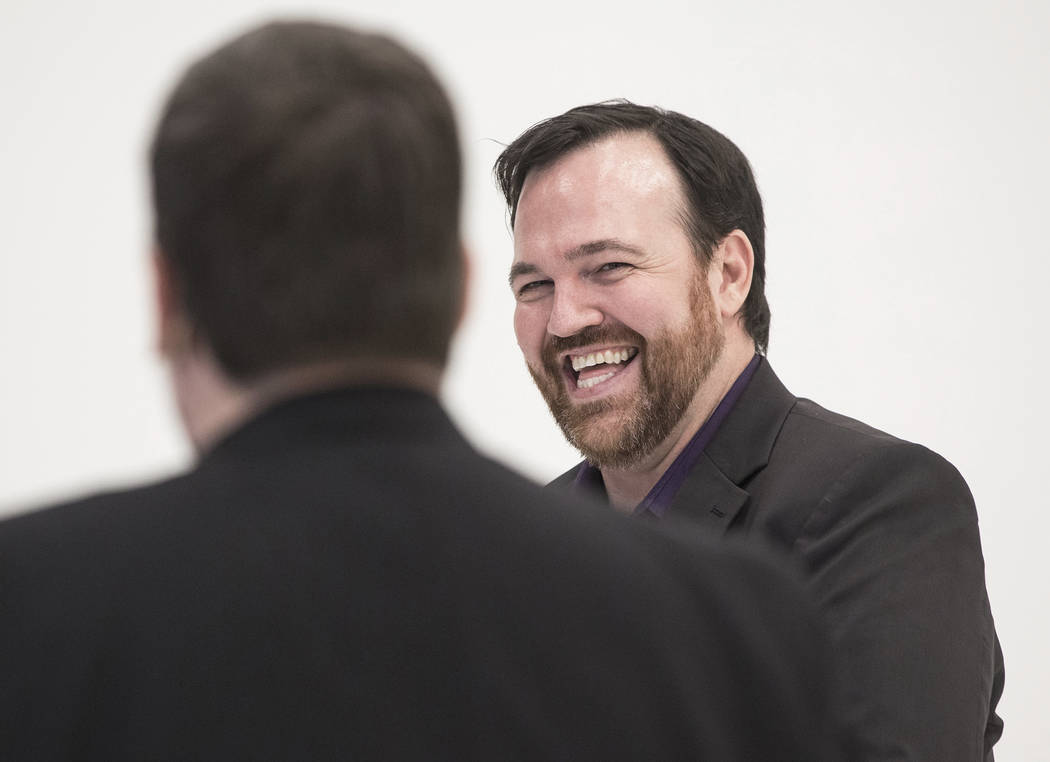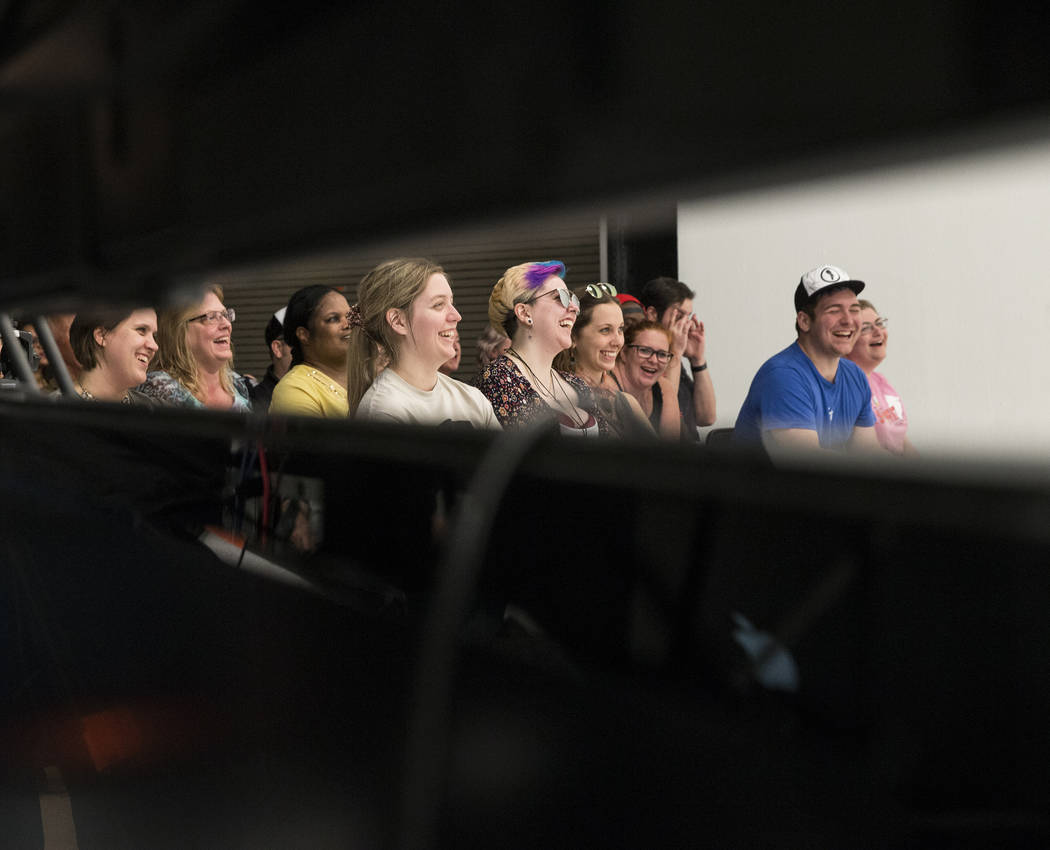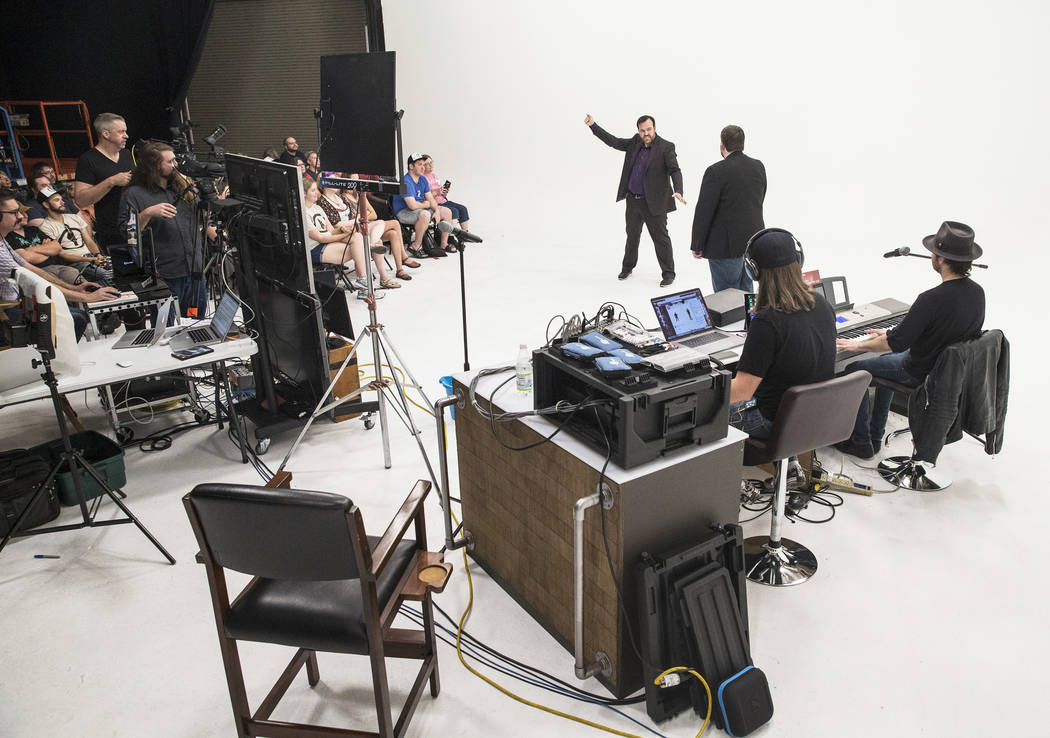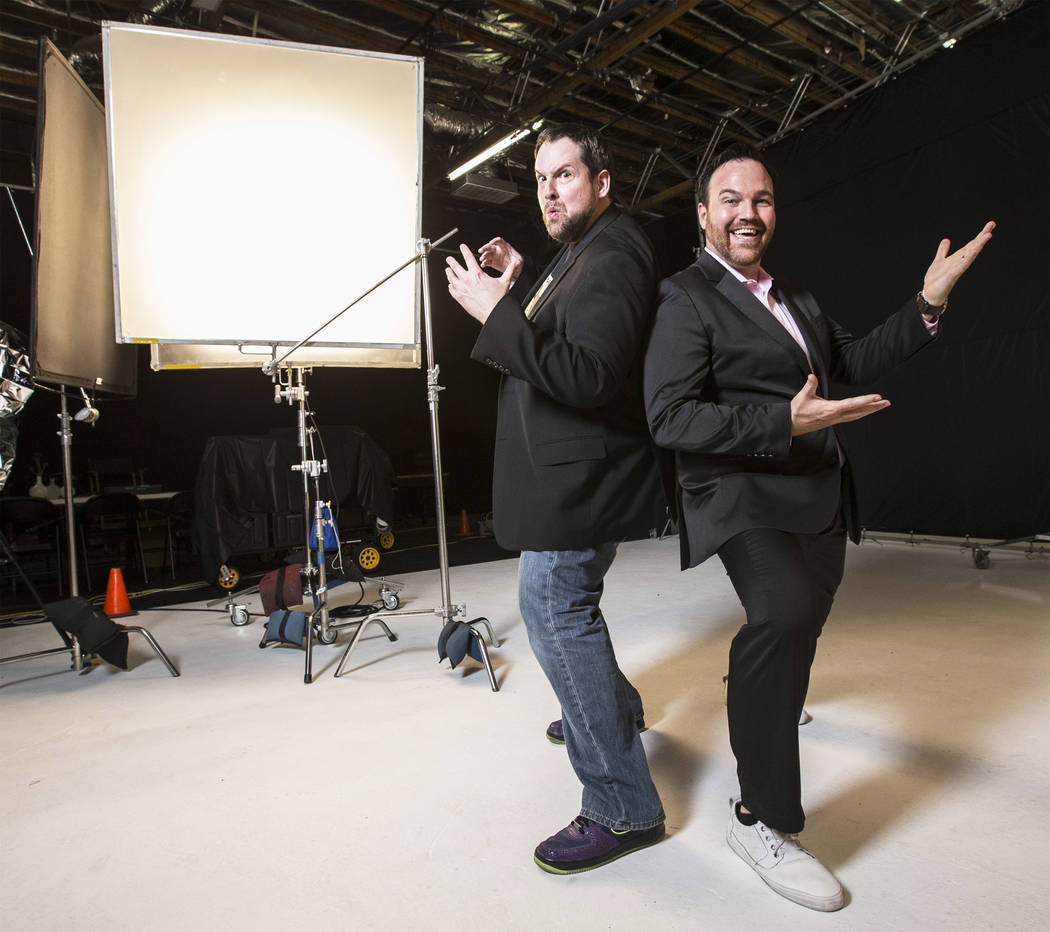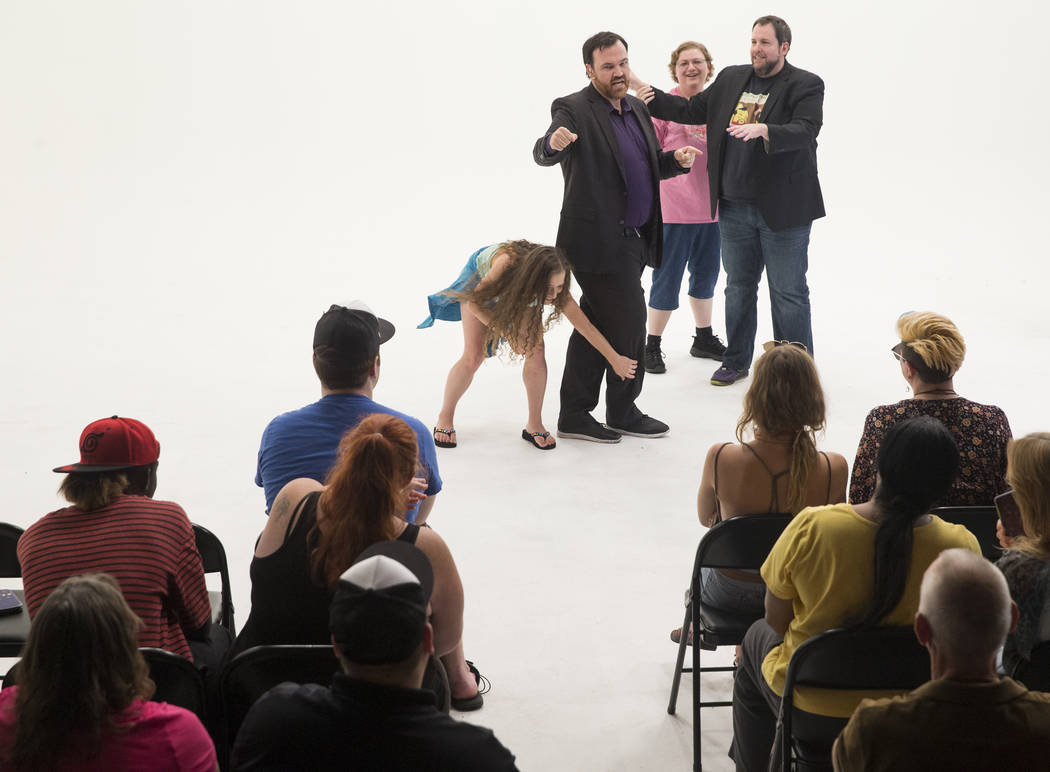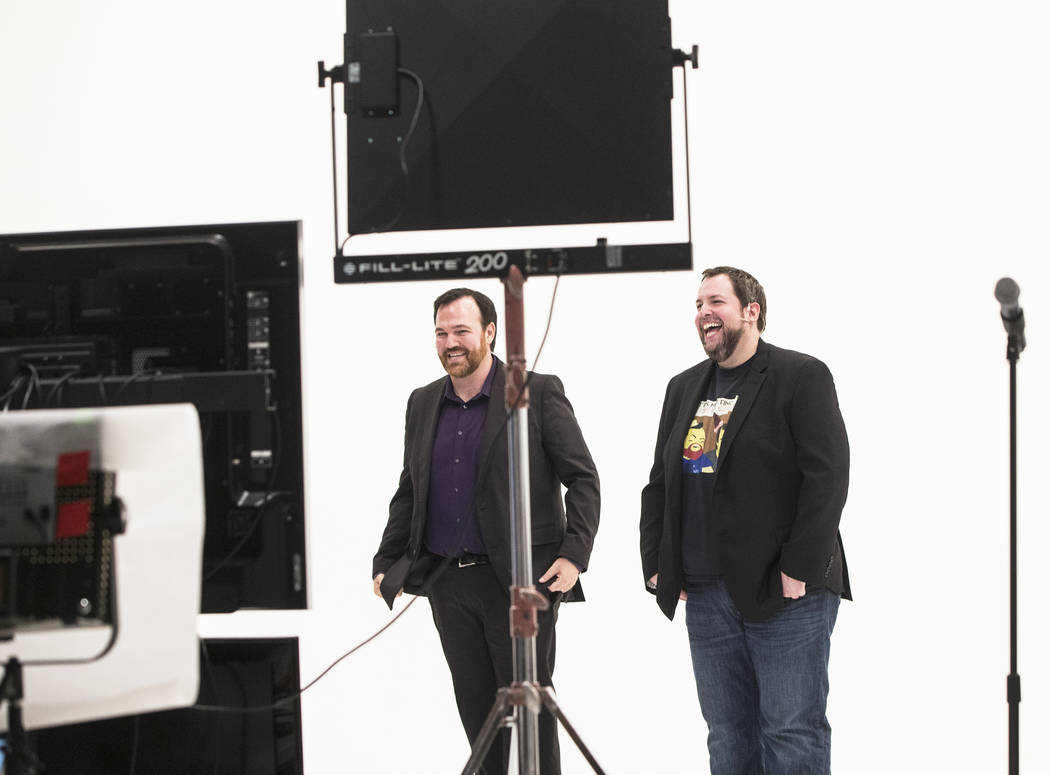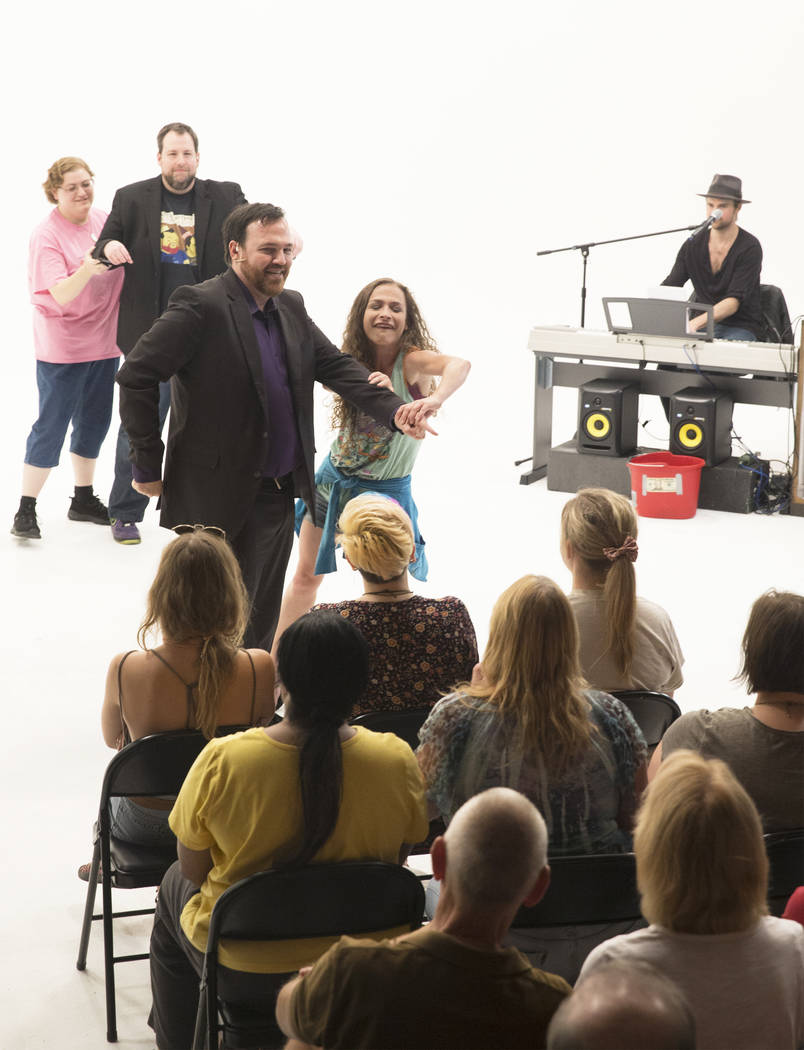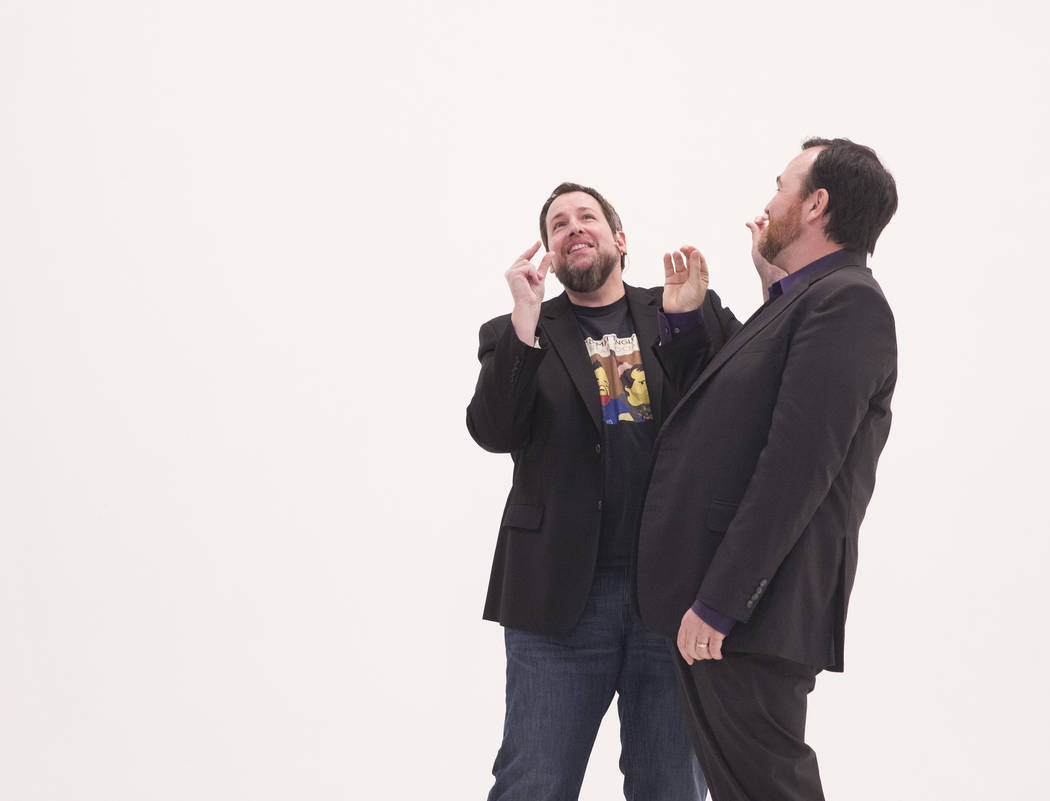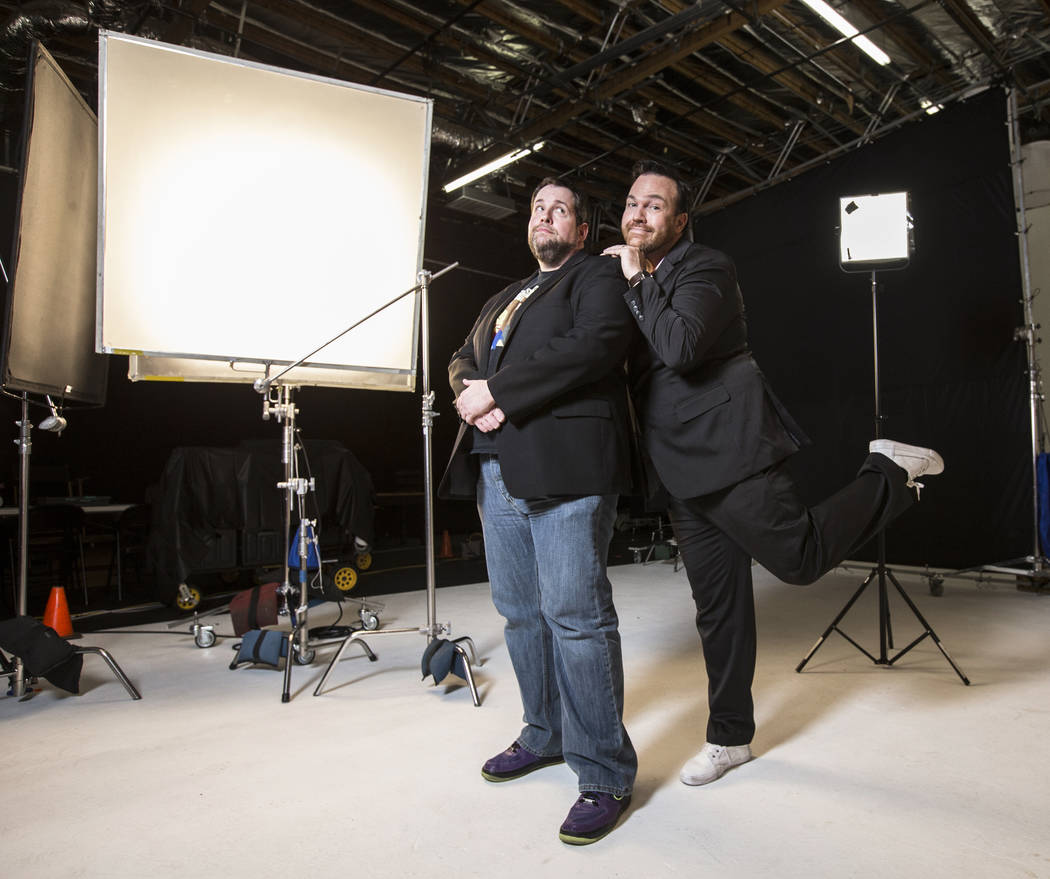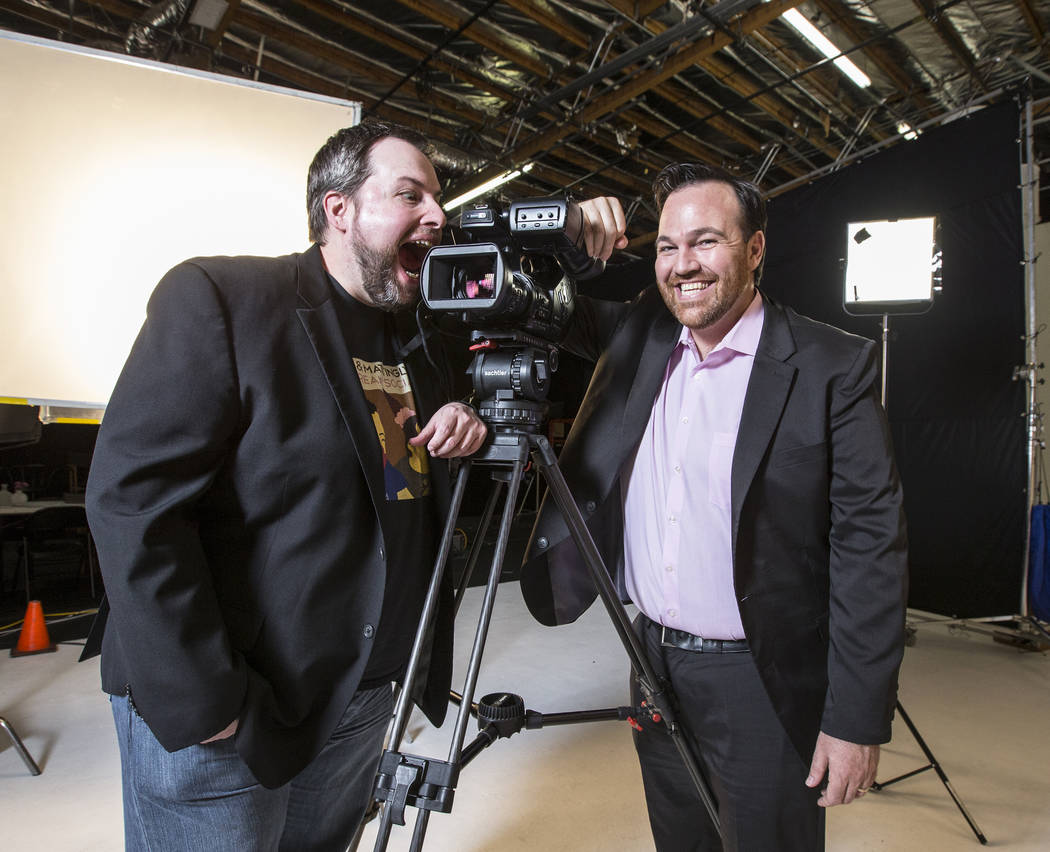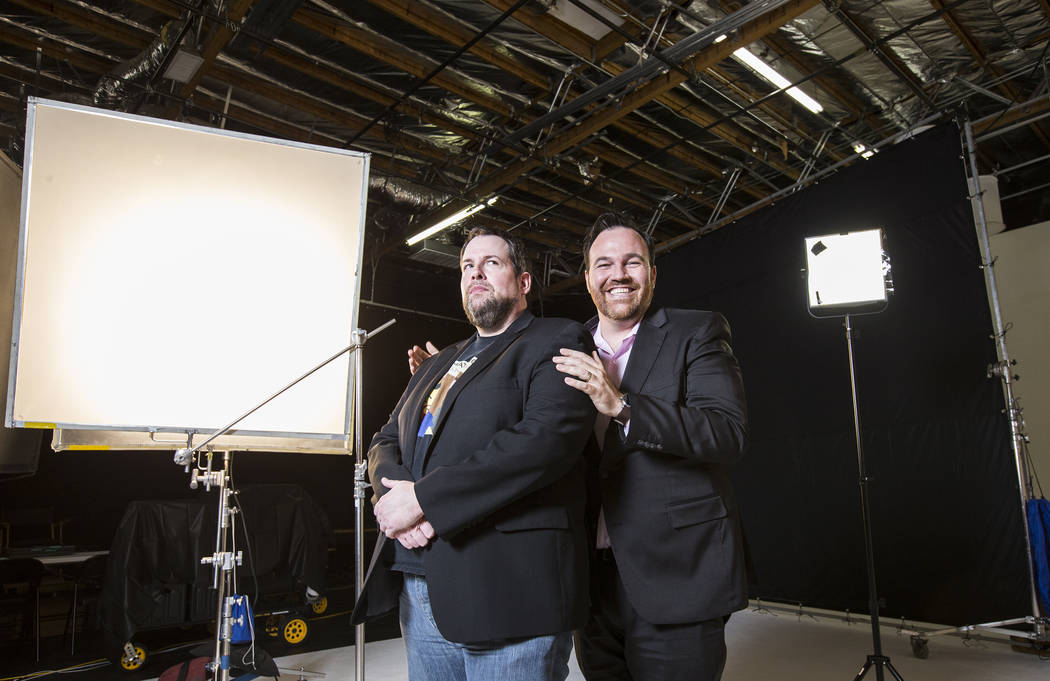 So this alligator with a posh British accent strolls into a snooty, exclusive club. "I made a reservation on my swamp phone," he tells the skeptical maitre d'. "You should have it under Gator. Alistair Gator." Fast-talking his way in, he pledges his best behavior: "I promise not to snap at anyone."
And he's crooning it. A reptilian Sinatra.
Thus begins the batty brain-doodling — improvisational, absurdist, occasionally joke-challenged, frequently laugh-loaded — of "The Bucket Show," pouring forth from a tucked-away studio on Polaris Avenue.
"We've gotten to the point where the show is, 'Can I entertain myself and my partner? Can we get each other into a giggle zone?' " says Paul Mattingly (he's Ali Gator), half of the improv comedy cutups billed as Matt and Mattingly. Ask Matt Donnelly (he's the maitre d'), the other half of the M&M boys, about their funny-on-the-fly chemistry and you get this: "I think it's the sexual tension."
Nope, not feeling that … well, perhaps during the porn sketch. Yet that's pretty chaste, notwithstanding Donnelly's just-south-of-belt-level pantomime. (They saved the naughtier hilarity for recently shuttered Strip gig "50 Shades! The Parody" at Bally's, where Mattingly starred as rapaciously kinky Christian Grey, a role understudied by Donnelly.) However, relative propriety — albeit with large whiffs of impropriety — is the standard (or at least strived for) at this pressure-cooker collision of imagination and desperation every Wednesday at 4 p.m.
Audience involvement
Playing to both a local studio crowd and an international live-streaming audience via website Twitch (about 50 in-studio and 1,200 online this day) — the latter typing in real-time suggestions that ignite their comic flambes — "The Bucket Show" is a tossed salad of shtick, concocted from rapid-fire games ("185 blanks walk into a bar …"), offbeat wordplay and bizarre musical numbers that would make Broadway blanch.
Volunteers can jump into the nonsense, as on this day when two are assigned as puppeteers to manipulate the guys as they act out a gonzo "Little Red Riding Hood" scenario, with Red gunning down the wolfen granny.
"Our job is to be ridiculous, it's a service we provide," Donnelly says of these clowns-about-town, whose show is named for the buckets they pass around, trolling for post-show dollars from amused patrons in lieu of a fixed admission price. Internet fans can also weigh in monetarily, clicking on separate tip buttons for each of the guys, inspiring — at least on this day — a particularly low-paying tip contest.
Mid-show scoreboard: Donnelly at $5 and Mattingly at … $5.01. "It's a race to minimum wage," Donnelly quips.
Given that laissez-faire/socialist financial model, it's tough to gauge whether an audience is getting its, well, money's worth. Yet it does get a generous slice of silliness. Online challenges during this show — read from computers positioned off to the side of the studio, alongside a small video staff and keyboard accompanist Michael Spadoni — result in one sketch about a psychiatrist (Mattingly) evaluating a delusional patient (Donnelly) convinced he's the McDonald's Hamburglar, munching on purloined patties.
Despite a request to online fans to avoid sexually suggestive challenges, the porn sketch (referencing late adult actress Marilyn Chambers) earns a few minutes of giggles, and an amusingly nonsensical bit set in a cigar shop yields not just goofy wordplay ("I won't ash on you unless you ash me too") but the obligatory Lewinsky one-liner … plus funny non sequiturs involving midgets and shoes.
"We're not here to showcase how accomplished we are in improv," Donnelly says. "Improv is an excuse to do something really fresh and funny for an hour. As soon as the show can go off the rails and we can do something different and unique, we want that to happen."
Back to their roots
Performance sparks flew when Kentucky-raised Mattingly and New Jersey-born Donnelly had a serendipitous onstage introduction during an Onyx Theatre comedy showcase in 2009 and they've since blazed a successful podcast path. Having launched "Matt and Mattingly's Ice Cream Social" in 2014 (at heyscoops.com, because their fans are nicknamed "scoops"), they've averaged more than 7,000 downloads per day, and were crowned Best Comedy Podcast at the 2016 National Podcast Awards. Each partner can boast of comic cred, with Mattingly having honed his chops with The Second City and The Groundlings, and Donnelly with Chicago City Limits and Upright Citizens Brigade.
"We're fortunate in that a community has sprung up around the podcast and the show," Mattingly says. "They've been such a welcoming and kind bunch of people that we can barely take credit for the success we've had."
So, have you heard the latest one about the alligator and the maitre d'? Probably not. They made it up 10 seconds ago.
Contact Steve Bornfeld at sbornfeld@reviewjournal.com. Follow @sborn1 on Twitter.