Las Vegas Mob Experience set to open March 1
February 21, 2011 - 6:28 pm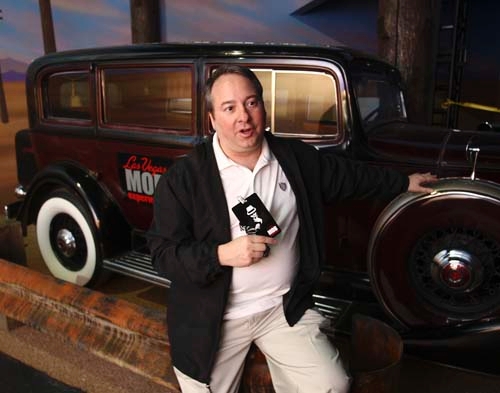 There are still exhibits to install and technology to connect at the Las Vegas Mob Experience, but the new Strip attraction will be ready for the public by March 1, according to managing partner Jay Bloom.
He gave a tour of the attraction at the Tropicana on Monday and showed off some of the interactive features of the exhibits.
There are possessions and home movies of some of organized crime's most famous figures, including Meyer Lansky's diary and cars belonging to Bugsy Siegel and Charlie "Lucky" Luciano. But the focus is on a personalized experience for each visitor or group of visitors.
"We wanted to create an immersive environment where people could actually step into the movie set, so to speak, and actually become a part of the story instead of a passive observer like the traditional museum would offer," Bloom said.
It's based around a radio-frequency ID, or RFID, chip that visitors take with them through the displays. The chip is programmed with their names, photos and other data, which is used as they move through the attraction.
Video displays throughout will provide guidance and commentary from the likes of James Caan, Mickey Rourke and Frank Vincent, actors with famous Mob-related roles.
And visitors will make choices — whether to deliver some cash or keep it, whether to talk to the police, how much to skim from the casino skim, what to do with a casino cheat — which are recorded and analyzed to see what happens at the end of the ride.
"I'm very curious to see how many people get made, get whacked, have a shootout with law enforcement," Bloom said. "You can go through dozens of times and it'll be different each time."
There are three sections to the tour — the origins of the Mob in Prohibition, the rise and heyday in Las Vegas, and the decline and defeat of the 1970s and 1980s. The situations will be familiar to anyone who has seen "Casino" or "Goodfellas."
Bloom said the attraction can handle as many as 800 people an hour and up to 10,000 people a day, although he doesn't expect to reach those maximums.
It was originally scheduled to open in December, but there were delays receiving equipment from overseas and in programming and testing the interactive features, said spokesman Spence Johnston.
March 1 is the deadline day because that's when marketing and advertising begins, and an official grand opening is scheduled March 29.
The Mob Experience should not be confused with the Las Vegas Museum of Organized Crime and Law Enforcement, or Mob Museum, which is under construction in downtown Las Vegas.
The museum describes itself as a very different endeavor, looking at the people and the history of organized crime in Las Vegas and nationally, the role of the Mob in pop culture, how law enforcement moved in and broke the Mob, and modern organized crime, among other topics.
It will be housed in the historic former federal courthouse/post office building on Stewart Avenue, and is scheduled to open by year's end.
Contact reporter Alan Choate at achoate@reviewjournal.com or 702-229-6435.
Las Vegas Mob Experience
Las Vegas Museum of Organized Crime and Law Enforcement