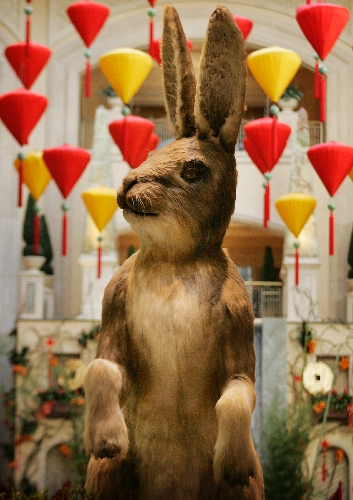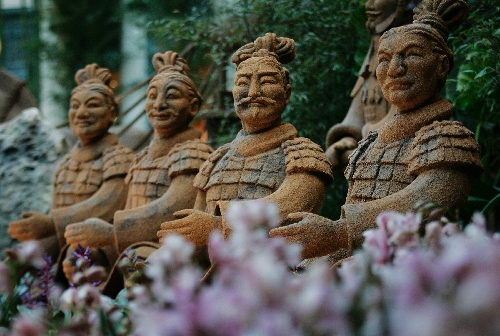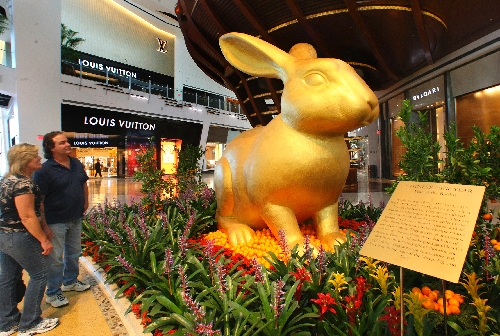 Las Vegas is in a fortuitous position for Chinese New Year celebrations.
The holiday — which begins the Year of the Rabbit today — is typically celebrated at home with other family members, notes Ken Wong, executive director of Paiza Club operations at The Venetian and Palazzo. He describes it as "one of the happiest holidays in Asia."
But Las Vegas has been able to sell itself as an ideal spot for Chinese New Year. It is an appealing place because there are so many ways to celebrate the holiday here, Wong says. Families can spend time with each other as they would back home, and then dine, shop, go to shows and take advantage of the city's other attractions.
Locals are not left out of the equation, with a Chinese New Year celebration at Chinatown Plaza and Asian-flavored food specials on the menus of various valley restaurants.
Wong says Chinese New Year is "one of the busiest times in our casino. We actually fly in a lot of customers from Asia to Las Vegas."
The two hotels' schedule of Chinese New Year events this year includes an authentic dragon dance, with firecrackers and an eye-painting ceremony, at 3 p.m. today. The dance, which features costumed dancers and musicians, begins at The Venetian's porte cochere, travels through the two casinos, then ends at Palazzo's upper porte cochere.
One reason The Venetian and Palazzo go all-in for Chinese New Year is that "our company is very involved in Asia," Wong says, with properties in Singapore and Macau.
Closer to home, Wong adds, the two Las Vegas properties each year entertain more than 1,000 guests who travel from Asia to celebrate the holiday here.
Wong notes, too, that Chinese New Year is known as the "spring festival, because the new year is the beginning of spring, and that's when the flowers start coming up. This is a new start, so it's a very lucky time for us."
Chinese New Year and flowers certainly go together for Andres Garcia, executive director of horticulture at Bellagio, because the holiday's arrival brings with it one of five changeovers in theme each year at Bellagio's Conservatory & Botanical Gardens.
The Chinese New Year display, which runs through March 5, is designed to contain both familiar and new elements. Among the former is the popular Chinese God of Prosperity scene, Garcia says, while the latter includes floral figures of the animals that, over the span of every 12 years, serve to represent each new year.
The Year of the Rabbit features a 12-foot-tall rabbit crafted from more than 4,000 live sedge plants, as well as eight smaller rabbits, each created out of 400 to 500 smaller plants.
Also featured this year is a 35-foot Chinese junk boat with a 38-foot-tall mast that has been created from teak, mahogany and cedar and, for the first time, an army of warriors created, in part, from crushed walnuts and carrot seeds.
Designing each year's Chinese New Year presentation — a process that takes several months from start to finish — requires Garcia to take what is, in effect, an ongoing seminar in Asian culture.
"I like to talk to people," he says, "and the Internet has become my best friend. It's a great tool."
For example, in designing elements of the exhibits, care must be taken to use proper colors (no white, Garcia says) and even proper numbers (no number four).
"We pay attention to the culture and in what certain elements represent to them," Garcia says.
In addition to the conservatory's floral display, Bellagio's celebration of Chinese New Year will include a performance of the traditional lion dance at noon Sunday .
Meanwhile, the Las Vegas Chinese American Chamber of Commerce on Feb. 13 is scheduled to present its 17th annual Chinese New Year celebration at Chinatown Plaza, 4255 Spring Mountain Road.
Tina Lee, the chamber's event coordinator, says the celebration each year attracts between 5,000 and 6,000 people, about half of whom aren't of Asian descent.
Entertainment includes traditional lion and dragon dances; performances by Japanese Taiko drummers, Chinese martial artists and Chinese acrobats; and Chinese, Japanese, Tahitian, Korean and Philippine dancers.
The celebration runs from 10 a.m. to 5 p.m. — onstage entertainment begins at 11 a.m. — and admission is $3 for adults and $1 for children ages 6-12. Children 5 and younger are admitted free.
Here's a sampling of other local Chinese New Year celebrations:
n The Forum Shops at Caesars, 3500 Las Vegas Blvd. South, will feature students from The Meadows School performing the traditional dragon parade at 10 a.m. today. In its 15th year, the parade will include 60 kindergarten and 60 fifth-grade students, as well as Meadows School founder Carolyn Goodman and Mayor Oscar Goodman.
n Madame Tussauds Las Vegas, 3377 Las Vegas Blvd. South, is offering a special Chinese New Year exhibit through Feb. 22 featuring a new, life-sized Jackie Chan figure. And, from 10 a.m. to 9 p.m. today, Southern Nevada residents who were born in the Year of the Rabbit (1927, 1939, 1951, 1963, 1975, 1987 or 1999) and who show Nevada IDs will be admitted free.
n Las Vegas Premium Outlets, 875 S. Grand Central Parkway, will have a traditional dragon dance from 1 to 4 p.m. Saturday.
n MGM Grand, 3799 Las Vegas Blvd. South, will have a lion dance at 1 p.m. Saturday.
n The Mirage, 3400 Las Vegas Blvd. South, will have a lion dance at 3 p.m. Saturday.
n Aria, 3730 Las Vegas Blvd. South, will have a lion dance at 6:30 p.m. Saturday.
n Gold Coast, 4000 W. Flamingo Road, will have a 62-foot dragon dance at 7:30 and 10 p.m. Feb. 10.
n M Resort, 12300 Las Vegas Blvd. South, Henderson, will have a dragon and lion dance at 6 p.m. Feb. 11. The dance, which will feature 30 performers and a 63-foot dragon, will begin in the lobby, continue on the casino floor, then end back at the main lobby.
n Crystals at CityCenter, 3720 Las Vegas Blvd. South, is displaying an 11-foot-high, 12-foot-long golden rabbit through March 7.
Contact reporter John Przybys at jprzybys@review journal.com or 702-383-0280.