Las Vegas was a special place for Don Rickles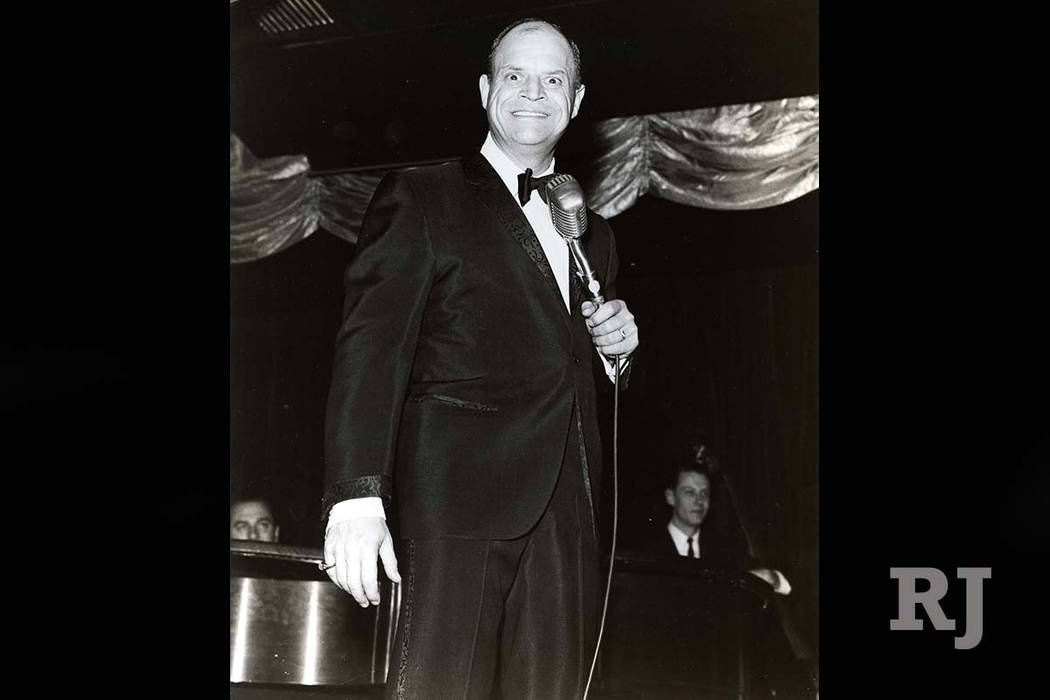 "Vegas is my roots. I wouldn't be coming if they didn't want me here," Don Rickles explained in his Desert Inn dressing room in 1998.
He wore a bathrobe over his tuxedo shirt and bow tie, because he wasn't wearing pants. Headliners of the classic era did not sit down in tux pants, for fear of creases. The sharp-cut '60s look still worked for Rickles' audience then.
"There's an atmosphere, and my style of humor is well-suited for this kind of town," he said. "If you look at the crowd, it's that kind of — I'm not saying mob guys, but the high roller. The guy with the ring. The wife with the jewelry and the fur coat. You don't see that anymore. But I bring in those kind of people."
But playing Las Vegas continuously for 57 years, Rickles outlasted the Las Vegas dress code. By 2000, he would bark from the Stardust stage, "Look at the classy guy right in front. He's got on his jockey shorts. He's waiting for a tennis match."
Rickles first played Las Vegas in May 1959 and last played The Orleans in October. During that stretch, there is no way to know if he ever missed a year, but no reason to believe he did. (By comparison, Frank Sinatra had a 42-year run with several years away from the Strip. Tony Bennett is 56 years and counting but also has skipped some years.)
"That element of people — not only the gambler, but this kind of excitement, this kind of atmosphere — is a Don Rickles thing," he said.
Rickles owed much of his early success to Sinatra, who led celebrity friends to the Slate Brothers nightclub in Hollywood. The Sahara's entertainment impresario, Stan Irwin, saw him there and invited the 32-year-old to work the Casbar Lounge between sets by the popular Louis Prima.
"The old lounge was a very intimate place where people would sit on bar stools right in front of you," Rickles recalled in 1987. Because the stage was behind the bar, which created a sort of moat between the comedian and his audience, "It finally got to the point where they would put a plank across the bar so I could get at more people in the room. Sometimes I'd even run out into the casino and tell people to stop gambling."
"As far as my being a big star, it was after the Sahara that I got to what they call the class clubs," Rickles recalled.
Except for a four-year detour at the Riviera, Rickles was synonymous with the Sahara until 1987, when Steve Wynn recruited him to join Sinatra and other stars he was assembling at the Golden Nugget.
He also played the Tropicana, and joked from the stage about bringing the wrecking balls down on the Desert Inn and Stardust (where director John Landis filmed an HBO documentary), before spending the last 10 years off-Strip at The Orleans. He had been booked to perform at The Smith Center for the Performing Arts on April 21 before that date was rescheduled for February.
"Vegas was my first big thing," he told an Orleans audience in 2013, remembering 5 a.m. excursions on Lake Mead after wrapping the last set in the lounge. "Anything to get a broad."
As far back as 1982, Rickles worked to remind people he really was a nice guy off stage: "I used to resent the word 'insult' because that means cruel," he told the Review-Journal that year. And as the years went on, the shows got more sentimental. "That's what I do my friends, I make fun of people," he reminded the Orleans audience in 2013, but would add that it was "never mean-spirited."
"We had such good times here," he said in his final show at the Stardust. "It's great to still be working and still having people show up. And I think of Vegas and I think, 'If only I had invested in something, I wouldn't be telling you this story up here.' "
Contact Mike Weatherford at mweatherford@reviewjournal.com or 702-383-0288. Follow @Mikeweatherford on Twitter.