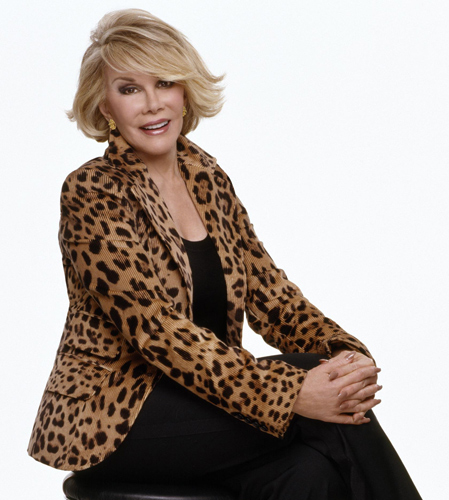 Sure, Joan Rivers is having fun with Arnold Schwarzenegger, since he fathered at least one child via extramarital affairs.
"There are a lot of kids with gap teeth running around in lederhosen," Joan jokes.
But she cuts Schwarzenegger a small break, saying scandalized stars aren't loyal because humans just aren't.
"Poor, nonfamous people cheat, too. If we were meant to be faithful, unfortunately, then we'd be faithful. That's why swans are faithful," she says. "It's all whether nature makes you that way."
Maybe people were more loyal before they evolved to live longer, she muses.
"The Donner Party was all faithful, because they all died and ate each other at 18."
Female stars cheat, too, obviously.
"But nobody seems to care as much," she says.
And female stars aren't the dogs that men are.
"Once a woman gets married and has children, truly the emphasis on her life changes — unless you're Angelina Jolie, who I'm sure, when she's bored with (Brad Pitt), will toss him out so fast, he won't know what hit him."
To Rivers, the funniest thing to come out of the Schwarzenegger affair was when Sarah Palin called him immoral.
"She's questioning his morals. Meanwhile, in her house sits a grandchild born out of wedlock to a 16-year-old," she says and curses at Palin, "you stupid bitch."
Rivers insists she's "very apolitical." But she did meet Palin once. "She's the dumbest politician I'm aware of.
"She's very good looking in person. But I think the glasses are fake," she says. "We just said 'Hello' for a second and yuck. She got two syllables out, so that's good."
Speaking of Republicans, Rivers (who voted for Obama but thinks he is "extraordinarily mediocre") stands by her friend Donald Trump, who has said he won't run for president, after all.
"He's very smart. I think he originally ran for president because it would be so great for the PR for the show," Rivers says.
"But I think he really got very caught up in it. I think he wanted to have it for a minute there."
But enough of stupid politics. Let's talk about Lady Gaga.
"She's not attractive. That's an ugly girl who, as my mother used to say, is making the most of herself. Yeah. She ain't pretty," Rivers says.
"She does exactly what I would have done. You wanna be noticed? You're outrageous. That's how you get noticed."
This is when I gave Rivers my fashion-business idea: The Joan Rivers Celebrity Fashion Hall of Fame. She likes it. The first men she'd induct: Cary Grant, George Clooney, Fred Astaire and maybe even Pitt.
"He suddenly knows how chic a man can look in a tuxedo."
The inaugural female inductees: Sarah Jessica Parker, although she has hits and misses; Halle Berry; and Nicole Kidman, "because she takes a lot of chances."
To dress well isn't rocket science, she says. All stars have to do is this:
"Find a good stylist, and find a designer that worries about what your figure looks like. It's not about what it looks like on the models. It's about what it looks like on you."
Doug Elfman's column appears Tuesdays, Thursdays and Fridays. Contact him at delfman@reviewjournal.com. He blogs at reviewjournal.com/elfman.
Preview
Joan Rivers
9 p.m. today and Saturday
Showroom at The Venetian, 3355 Las Vegas Blvd. South
$55.75-$95.75, VIP package for $145.75 includes meet-and-greet
(414-9000)
Joan Rivers's Top Tweets
Katie Holmes is allegedly pregnant, again!?! The baby will have her eyes and the turkey baster's nose.
Katie Holmes is denying she's pregnant. It turns out the baby bump was an overnight bag from her latest escape attempt from Tom Cruise.
I'm glad the rapture didn't happen as I truly don't want to be born again. I don't want to pay for a new nose job.
Oprah Winfrey is so powerful that she had the Rapture postponed until after her final show airs tomorrow.
I'm so tired of Oprah already. The woman truly thinks she's God! Today she's at Barnes & Noble signing copies of the Bible.
Everyone is thrilled that bin Laden is dead, except of course the 72 virgins who all just said, "I have a headache."
With all the men in America cheating, Yellowstone Park has changed the name of its famed geyser from "Old Faithful" to "Most of the Time."
I have NO CLUE who the man is standing behind Helen and me. Fan? Stalker? Single???