Lounge to morph into Mob Bar before museum opening
August 29, 2011 - 12:59 am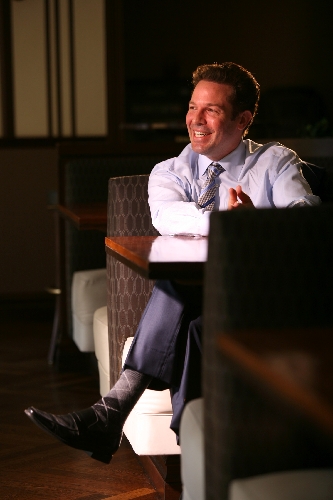 Las Vegas' city-sponsored shrine to its mobbed-up roots is making a mark downtown and it hasn't even opened.
Sidebar, a quiet, upscale lounge on Third Street, is planning a makeover into a 1920s-style supper club in an effort to capitalize on the scheduled February opening of the city-funded Mob Museum.
When it opens as Mob Bar on Dec. 5 — the 78th anniversary of the repeal of the 18th Amendment that outlawed alcohol — the ambiance will include a dark, shrub-shaded facade, vintage decor and Italian food from recipes and ingredients that would have been common during the 1920s.
The idea is to tap into the enthusiasm, and wallets, of people who come to Las Vegas nostalgic for the days when a hostile takeover involved baseball bats and kneecaps, not boardrooms and stock purchase offers.
LADY LUCK REDUX HOPED FOR
It will be the first major change on Third Street since property owner CIM Group hired Fifth Street Gaming to operate the bars and restaurants near the shuttered Lady Luck.
CIM Group and Fifth Street Gaming, which control Third Street between Ogden and Stewart avenues, are working to re open the Lady Luck under a new name and attract more foot traffic from the Fremont Street Experience, and are betting the city's Mob Museum will help.
Fifth Street Gaming CEO Seth Schorr, 34, a longtime Las Vegan who spent part of his childhood living in the Golden Nugget, said he expects the mob theme to grow in popularity now that the mainstream gambling industry is far enough removed from the days when mobsters siphoned pre-tax cash from the count rooms.
In addition to the pending Mob Bar, which has a license for unrestricted gambling, other mafia-tinged attractions tied to casinos include the Mob Experience at the Tropicana on the Strip and Oscar's at the Plaza Hotel downtown, a steakhouse named for former Las Vegas Mayor Oscar Goodman, who rose to prominence as a defense lawyer for notorious Las Vegas mobsters.
"You couldn't do this in the early 1980s because there were still (mob) remnants in the early '80s," said Schorr, whose father, Marc Schorr, is a longtime associate of Steve Wynn dating back to Wynn's days operating the Golden Nugget downtown. "Now I think we have the opportunity to look back from where we are to that era."
The Mob Bar will focus on the 1920s, an era that predates legalized gambling in Nevada and the rise of organized crime in Las Vegas.
Some of the period decor will include vintage fixtures and old-timey touches like tabletop cigarette lighters, Schorr said.
AUTHENTIC AMBIANCE
The food will come from the kitchen of the attached Triple George restaurant, but the Mob Bar will have its own menu.
Triple George chef Ro Fernandez said the menu will include dishes such as Al Capone braciole, a steak pounded thin and stuffed with prosciutto, pepperoni and mozzarella cheese roasted and served with tomato sauce; and a chicken piccata sauteed with olive oil, lemon, white wine, mushrooms, parsley, capers and chicken broth.
Fernandez and Schorr said the plan is to keep the dishes simple and fresh and the ambiance authentic so guests get a true taste of the period.
"This is a place that a gangster would have gone to, not a theme place about a gangster," Schorr said.
It remains to be seen whether the property can accomplish more as the Mob Bar than it did as Sidebar when it comes to attracting foot traffic downtown.
While the block of Third Street where it's located is visible from the Fremont Street Experience canopy, it's not yet as well-trafficked as Fremont East, the stretch of bars on Fremont between the canopy and the El Cortez.
Tim Dressen, 39, a frequent Las Vegas visitor from Minneapolis who operates the website www.FremontStreetBars.com, said the makeover is a good idea because Sidebar doesn't have a strong identity.
"They each tend to have kind of a unique schtick," Dressen said of Fremont East bars like Insert Coins, a video game lounge, and Beauty Bar, which features live music and a 1950s salon decor. "Whereas Sidebar, there's not really anything in and of itself that is its own."
Monica Miranda, 25, of Las Vegas, a former Sidebar bartender and a customer, said the challenge will be to attract tourists drawn to the Mob Museum without alienating locals who already frequent Third Street.
"As long as they don't go too theme-y … I don't think the regulars would mind a little bit more action," she said.
Contact reporter Benjamin Spillman at bspillman@reviewjournal.com or 702-229-6435.