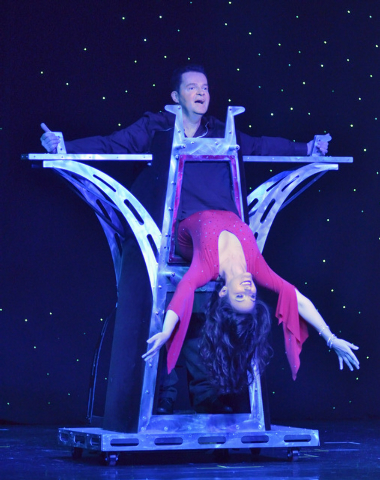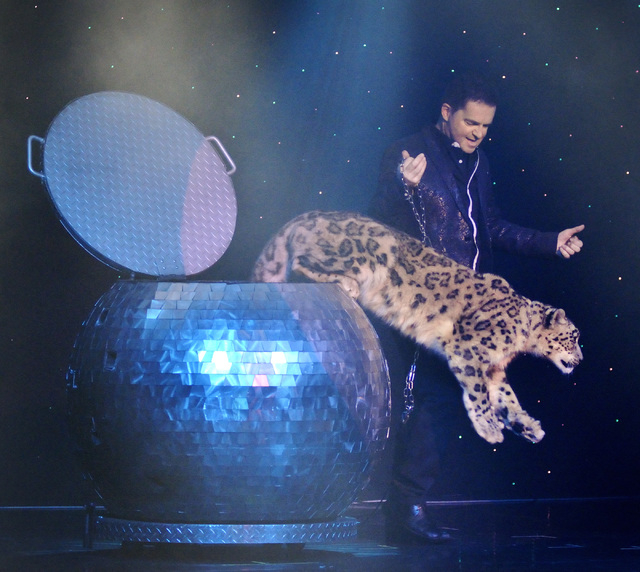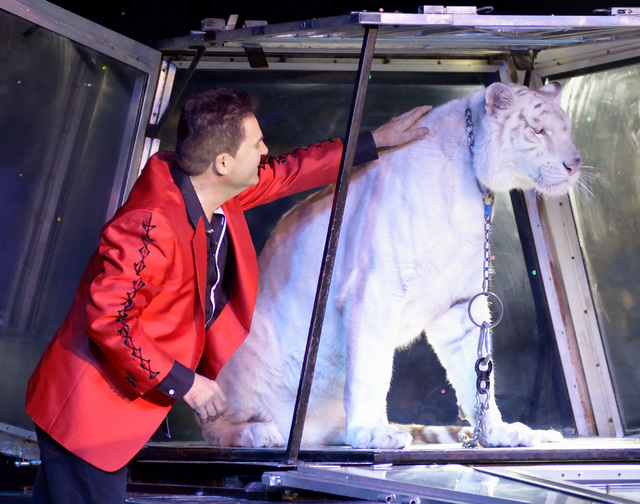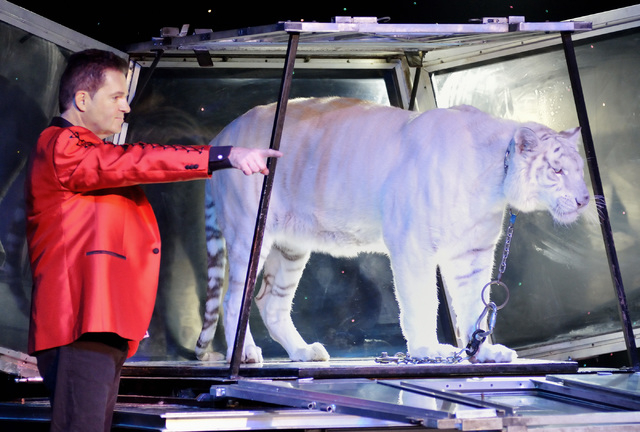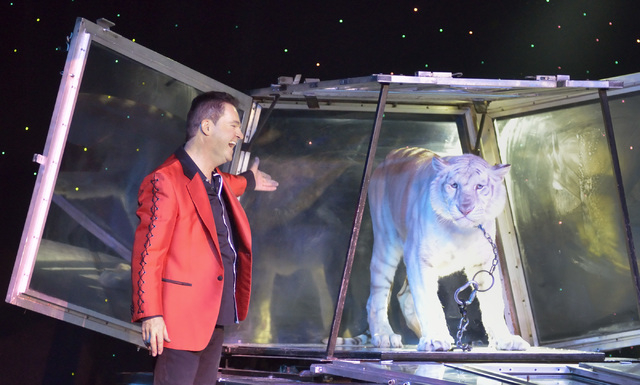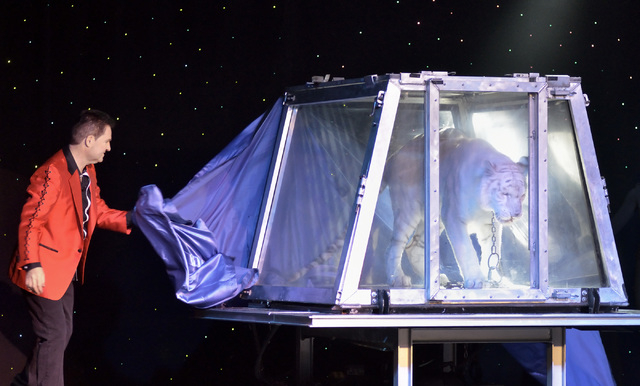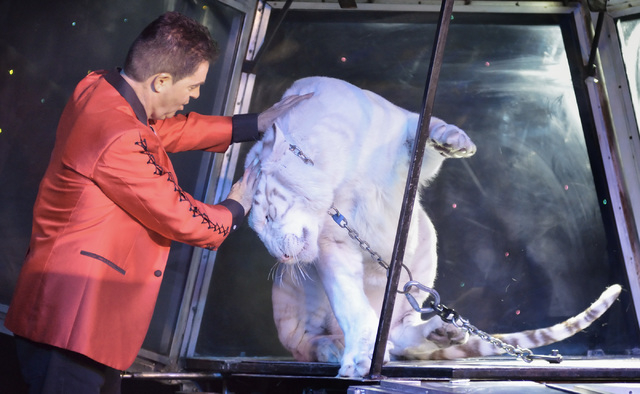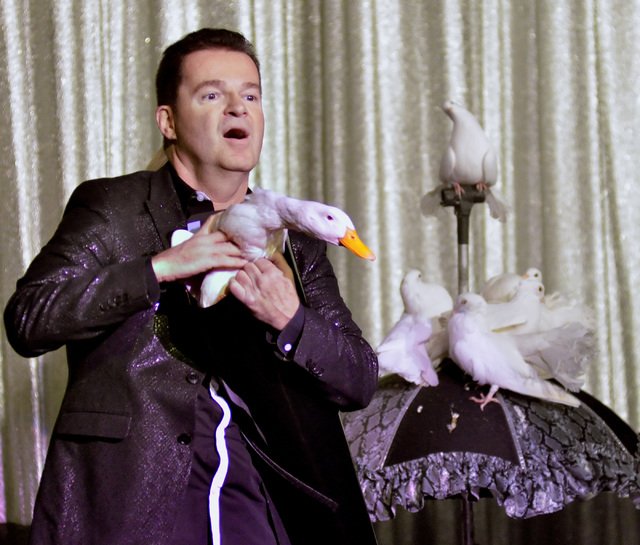 Dirk Arthur's stage is jam-packed with contraptions, and wee folk (or their parents) who have never seen a magic show may still be wowed by what pops out of them.
But I've seen his show a lot over the years, and this time it struck me that Arthur's career is working in two directions. The illusions reflect a downward mobility and a point of diminishing returns, while his stage presence keeps getting more comfortable.
During his five years as an afternoon attraction at the Tropicana from 2005 to 2010, Arthur became the last magician to feature tigers and other exotic animals. They added a wow factor to the big-box illusions, and Arthur seemed to know as well as the rest of us that all of this worked just as well when he kept his mouth shut.
"Banter isn't his strong suit," I wrote in 2008.
But two years later, the magician had to downsize to a 100-seat theater in O'Sheas and step up his role as a personality. The big cats were thrilling to see up close, but, I wrote in 2010, "the illusions are reduced to their raw mechanics, with … (m)inimal lighting and incessant, blaring, low-fi canned music."
Wouldn't change a word now, except that the blaring music is a little more hi-fi in his new home at the Riviera. And his new venue, which long hosted the cabaret show "La Cage," kind of middles out somewhere between O'Sheas and the Trop. You're no longer sitting right on top of the show because the room is deep and narrow. And the stage still doesn't have a lot of room to spread out.
Opening night of "Wild Illusions" was a few weeks back, so maybe they've worked on the technical stuff. Hope so, because the shoddy lighting and rote staging reminded you just how much a magic show is theater. Illusions depend on their presentation and dramatic illumination.
Arthur makes a freakin' sports car vanish and a helicopter appear, and — I think because they are up there on a black, gloomy stage — our reaction is more like, "That's nice." The big reveals of the animals should provoke gasps, but instead have us squinting to see the animal emerging from a dark cabinet.
We still don't have to wait more than three minutes to see the first tiger, but most of the creatures don't get to linger. Could be the safety regulations in the wake of the Siegfried &Roy accident of 2003. But the tigers, leopard and black panther are led off to the wings pretty quickly.
That leaves Arthur and his two female dancers with bigger parts to play in this brisk hour. Here is where there is room to step up a bit. Freshen the banter and maybe swap out some more innovative close-up magic — the kind we've seen on TV of late — for standbys such as the restored newspaper and threats to a $100 bill.
Two amusing audience participation segments are a step in the right direction, along with some of the bits that don't seem as dependent upon big, cumbersome props: the startling number of birds he produces from a sheet of plastic rolled into a cone is still a head-scratcher.
It all goes by in an hour (including a video about the tigers) that is a solid value for illusions per minute, even if a lot of it is filled with rolling things on and off the stage or covering and uncovering them with fabric.
Arthur's done a good job in recent years of making his nasal voice and brash laugh into something kind of endearing, as though his inner child has been delighted even if he hasn't made contact with ours.
But he needs to make his human touch stronger and further wean himself away from the contraptions. Or shine up those cabinets to where they sparkle and dazzle us again.
Contact reporter Mike Weatherford at mweatherford@reviewjournal.com or 702-383-0288.
Review
Dirk Arthur "Wild Illusions"
7 p.m. Saturday-Thursday
Starlite Theater at Riviera, 2901 Las Vegas Blvd. South
$40-$80 (800-745-3000)
Grade: C