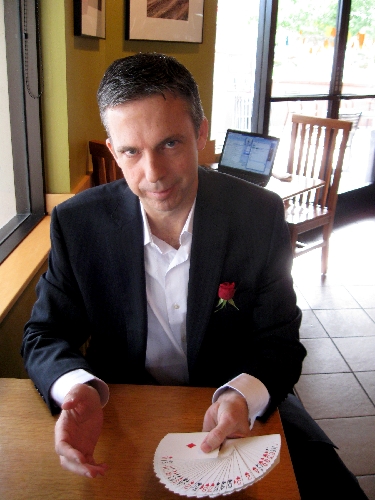 The intimate Starbright Theatre, 2215 Thomas W. Ryan Blvd., will once again host "The Magic of Devereaux" at 7 p.m. Saturday.
Magician Greg Devereaux u25B6 returns for a encore performance, having demonstrated his illusions at the theater last December. Tickets are $13 for Sun City Summerlin residents and $25 for non-residents. Call 240-1301 for details.
Deveraux combines small hand trickes in the audinece and full-scale illusions on stage.
He first became interested in magic as a teenager when, while serving community service for a prank with his buddies, he was paired with Scott Middleton, senior minister at Providence Christian Church in the Houston area. Middleton got Devereaux's attention with a card trick. The pastor told Deveraux to go to the library to look at magic books and learn the trick. Middleton taught him a second trick for every trick he learned on his own.