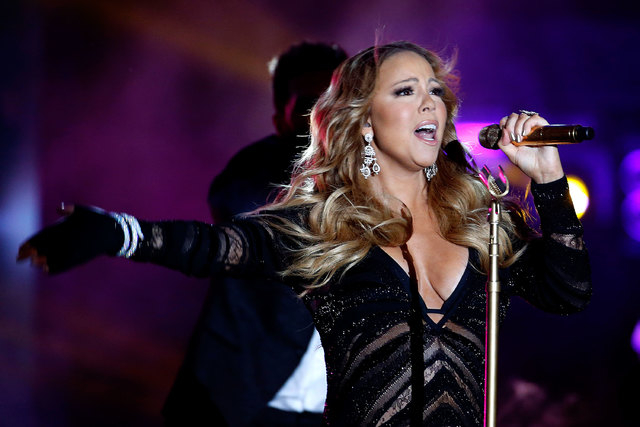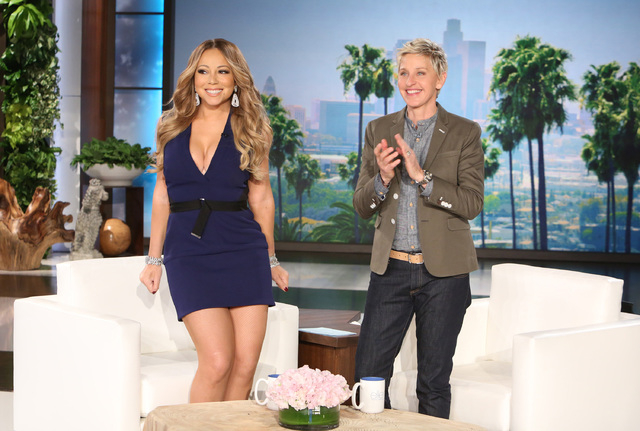 Mariah Carey promises a career retrospective of all 18 of her No. 1 hits in a showcase at the Colosseum at Caesars Palace launching May 6.
Carey has previously played Las Vegas mostly on arena tours, but in July of 2003 she was the first star to play the Colosseum as a one-night tour stop. She returned there on her "Angels Advocate" tour in 2010. Carey also tested a more intimate venue the year before with a two-night stand in the 2,500-seat Pearl at the Palms.
The Colosseum favors female superstars who can offer production-heavy showcases.
"There aren't many more female performers with a single name," said John Nelson, senior vice president of AEG Live, which operates the Colosseum. "There's a very short list of people with that level of success."
Carey will perform 27 shows per year, nine at a time, in a two-year commitment, Nelson said.
The 4,300-seat venue had empty dates to fill when Shania Twain's two-year contract ran out in December. Though Celine Dion has continued to sideline herself due to her husband-manager's cancer battle, Carey's dates do not cover those held for Dion's return, Nelson said.
The announcement of Carey's run promises "fan-favorite album cuts" and new music along with the 18 hits, which will be repackaged in an album to cross-promote the show.
"My songs are the soundtrack of my life and I can't wait to share them with my fans on stage!" Carey said in a news release.
"Revisiting these songs for the show, working on the updated compilation and creating new music has really let me reconnect with my songs and I hope my fans will enjoy the experience."
The Las Vegas residency has been reported but was made official Thursday on the syndicated "The Ellen DeGeneres" show, which airs in Las Vegas at 4 p.m. on KVVU-TV, Channel 5. "This is a special event for me," she told DeGeneres. "It's a new chapter for me and I'm just excited about it.
"This was kind of inspired by my album 'Number Ones,' and this is now the updated version with 18 of them," she explained on the talk show. "Some of these songs are like, 'Really, I'm going to do that one again?' " she added with a laugh, mock-covering her face in embarrassment.
Nelson said Carey is "very focused on this," but has yet to choose a director or begin rehearsals. He is predicting "a production design that puts the emphasis on her voice and hits, that isn't dependent on acrobatics."
The dates so far announced will be the only ones Carey performs this year: May 6, 9, 10, 13, 16, 17, 20, 23, 24 and July 8, 11, 12, 15, 18, 19, 22, 25, 26. Tickets are on sale and range from $55 to $250 in five price tiers.
Though other performers in the Colosseum rotation have committed to about 70 shows per year, Nelson said the new model is for shorter runs that give the theater "greater flexibility. … What we've created now in the Colosseum gives us more variety and more turnover every few weeks."
Jennifer Lopez performed in the Colosseum on New Year's Eve and remains "a piece in this puzzle," Nelson said. However, her TV and movie commitments make it a challenge to schedule enough shows to make it optimal for both sides, and it hasn't been decided whether she would perform at Caesars or Planet Hollywood Resort.
Nelson said AEG Live and Caesars Entertainment Corp. would co-produce Carey's show, which would not be affected by Caesars Entertainment placing its largest division into bankruptcy protection.
Carey came to fame in 1990 and became the decade's top-selling artist, with more than 60 million U.S. album sales. Her hits include "Hero," "We Belong Together" and "One Sweet Day," her 1995 duet with Boy II Men (who now headline at The Mirage) which spent a record 16 weeks in Billboard's No. 1 spot.
By pop standards, the 44-year-old Carey maintained her currency for an impressive two-decade run, until her 2009 album "Memoirs of an Imperfect Angel" broke her platinum streak. Last year she released her 14th studio album, "Me. I Am Mariah … The Elusive Chanteuse." It was the lowest-selling of her career, perhaps explaining the timing of the Caesars residency and the refocus on her past hits.
Carey's Las Vegas debut came relatively late in her career, in a March 2000 arena concert at the Thomas & Mack Center.
Contact reporter Mike Weatherford at mweatherford@reviewjournal.com or 702-383-0288.