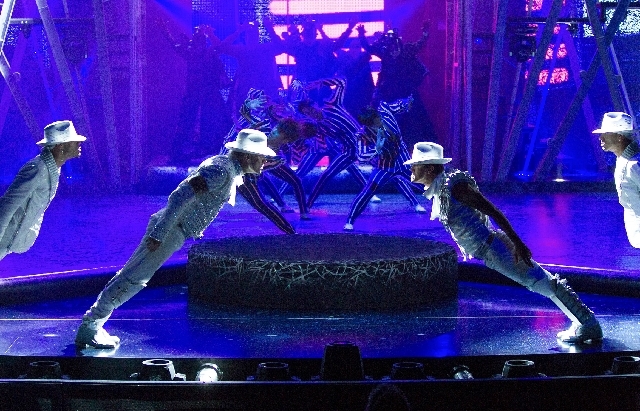 Michael Jackson was a fan of Cirque du Soleil, so he'd be happy to see the company brought more of its own magic back for its second tribute to him.
"Michael Jackson One," the permanent show that will stay at Mandalay Bay, carries forth all the sound and fury of the arena tour "The Immortal." But about a half-hour in, there comes a moment that reminds us how Cirque at its best will charm as well as dazzle us.
To the strains of young Michael singing "I'll Be There," one of the four main characters explores a trunk full of Jackson memorabilia, and out pops Charles "Lil Buck" Riley. He's an amazing dancer whose gravity-defying "jukin' " makes you smile and nod your head at how Cirque solved the "impersonator question."
This is a company that once preferred to suggest and evoke rather than spell things out for you; to suit up an actual impersonator is one line it still, thankfully, won't cross.
But Riley is the essence of Jackson as he glides across the stage. And as he bequeaths his cool to transform the delighted girl (Jade Xu) into a steely martial artist, it's one of those little human moments you recognize from even the biggest Cirque spectacles.
Still, this scene can't be content to rest on the gentle song "Human Nature." No, the song has to be mashed up with "Never Can Say Goodbye" in counterpoint. As with everything in "One" — and like Jackson himself I suppose — there's no such thing as overkill here.
"One" fills up its formal stage at Mandalay Bay and then wraps the two framing walls with giant video screens as well. They bombard you with all manner of images, from archival video to a cool cartoon in the Japanese anime style.
I'm sure director Jamie King would argue it's all in keeping with a music-video pioneer. But when those images compete with people for your attention, it's sometimes hard to know where to look. Try the aisles. You'll see people there, too. Or up in the air above the aisles, where they float down to the stage from an overhead track.
And the sound from 7,200 speakers in every square inch of the theater (including your seat)? It's God-of-Thunder loud, yet fully separated, making you feel completely under siege during "They Don't Care About Us."
That song is one of several places where the cutting-edge technology substitutes for fresh ideas. The show has about an hour's worth of great material, but it runs for 95 minutes.
The dance-intensive "One" tries, admirably but perhaps too hard, to weave Cirque's signature acrobatics into the overall action instead of slowing everything down to watch gymnasts.
You do get your featured moments of rope climbing — Jonathan Perez during "Stranger in Moscow" — and "Dirty Diana" (Jenyne Butterfly) in red stripper heels on a pole. But a lot of more of it has you choosing whether to watch dancers on scaffolds or the acrobatic action amid them.
But when "One" is on? In those moments that perfectly match Jackson's aesthetic to Cirque's abilities? It's amazing.
The dancers of "Smooth Criminal" simultaneously lean forward, stiff as planks, until you think they will land on their faces, then miraculously straighten up again.
"Thriller" recasts the trampoline artists from "Viva Elvis" (one of the few standout scenes from the bygone title) as bouncing ghouls and night creatures; one member of the troupe becomes a human yo-yo between the trampolines above and below him.
And while "The Immortal" tried not to re-create the iconic music videos, "One" makes better use of its estate-sanctioned resources, and knows that sometimes you just gotta give people their dancing zombies.
"Billie Jean" is perhaps the best blend of Cirque's own creativity and the King of Pop's legacy. Nothing could beat watching Jackson dance to that song, so the live show takes a break for us to do just that on the big screen. But then the theater blacks out for dancers in light-studded suits to moonwalk — and wall-walk — in the dark.
Overall, "One" does a better job than "The Immortal" of bringing what I would call "casual" Jackson fans back into the fold.
It's an understatement to say the superstar dominated our pop culture lives for much of the '80s. But a lot of us gradually checked out as the singer's real life became more troubled and his post-"Bad" musical output became more precious and labored.
"The Immortal" seemed to celebrate the crazier side of the superstar, with misdirected themes about his lost childhood and persecution complex that only reopened doors to uncomfortable issues of his private life.
"One" is more assured and grown up, and limits Jackson's visual reincarnation to his child star and MTV glory days. The only reference to the creepier stuff is having our four heroes (Xu, Amanda Crockett, Gabriel Amaral Batista and Xavier Mortimer) chased around by tabloid meanies with trench coats and camera heads.
One at a time, our heroes are imbued with special powers from Jackson's animated hat or glove to rescue a legacy that's been "distorted" and "manipulated" by these tabloid overlords.
By the time the four meet the real Jackson for "Man in the Mirror" — thanks to an amazing illusion that seems to be a variation on the classic "Pepper's Ghost" — you will have to agree, mission accomplished.
Contact reporter Mike Weatherford at mweatherford@
reviewjournal.com or 702-383-0288.
Review
"Michael Jackson One"
10 p.m. Saturday, 7 and 10 p.m. Sunday-Wednesday
Mandalay Bay, 3950 Las Vegas Blvd. South
$86.85-$208.95 (877-632-7400)
Grade: B+