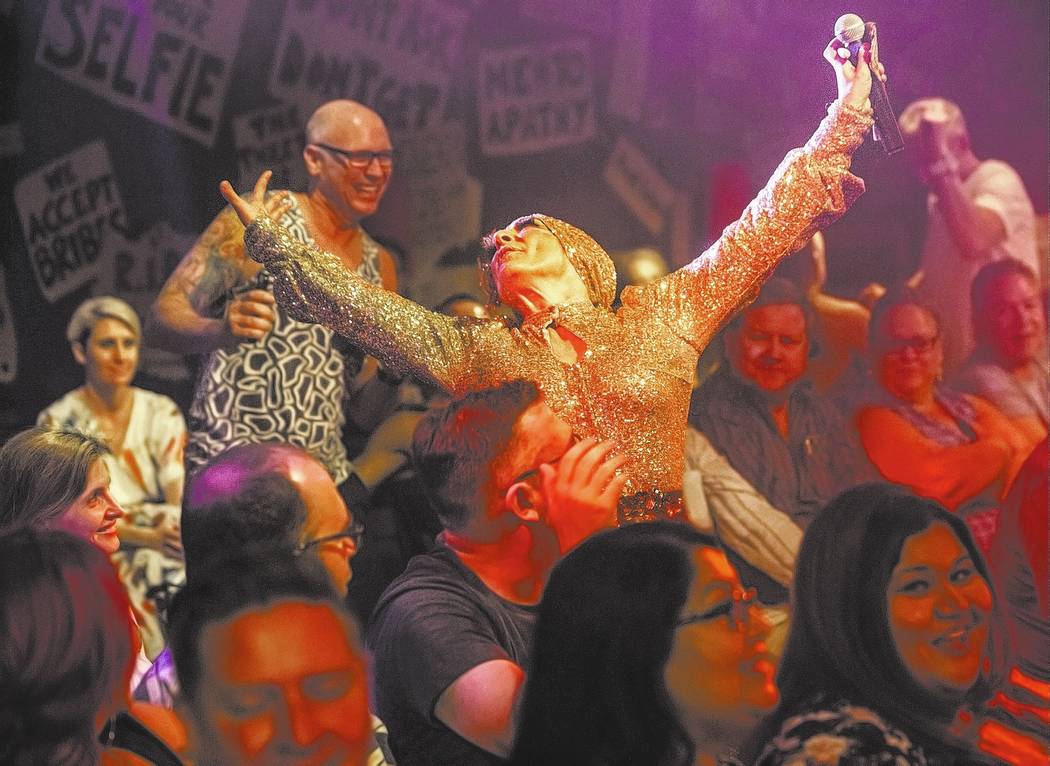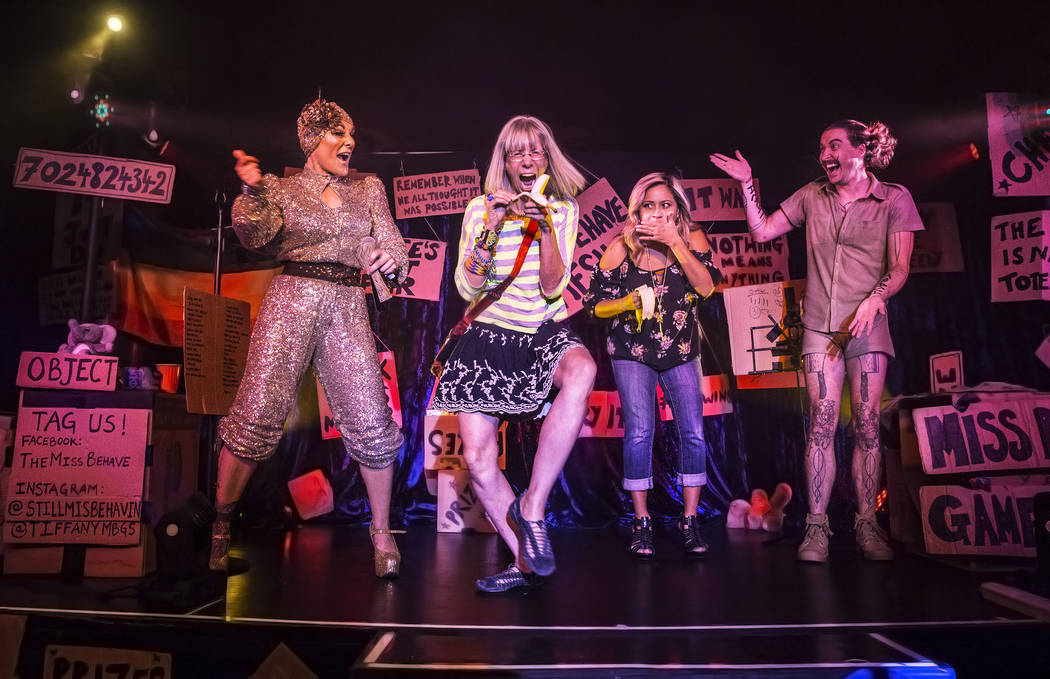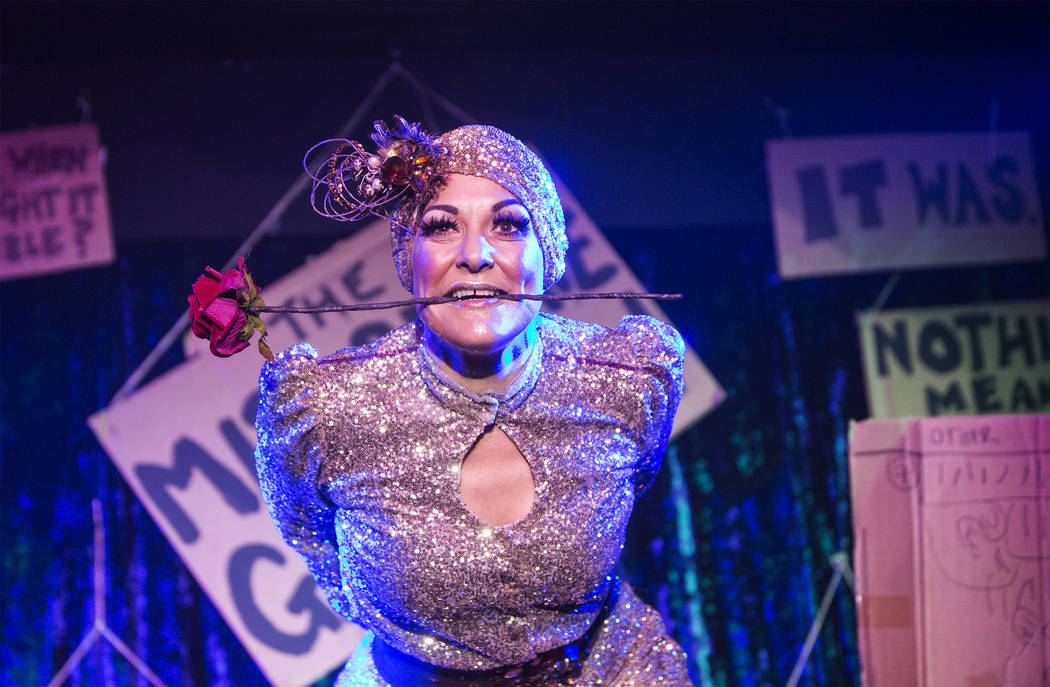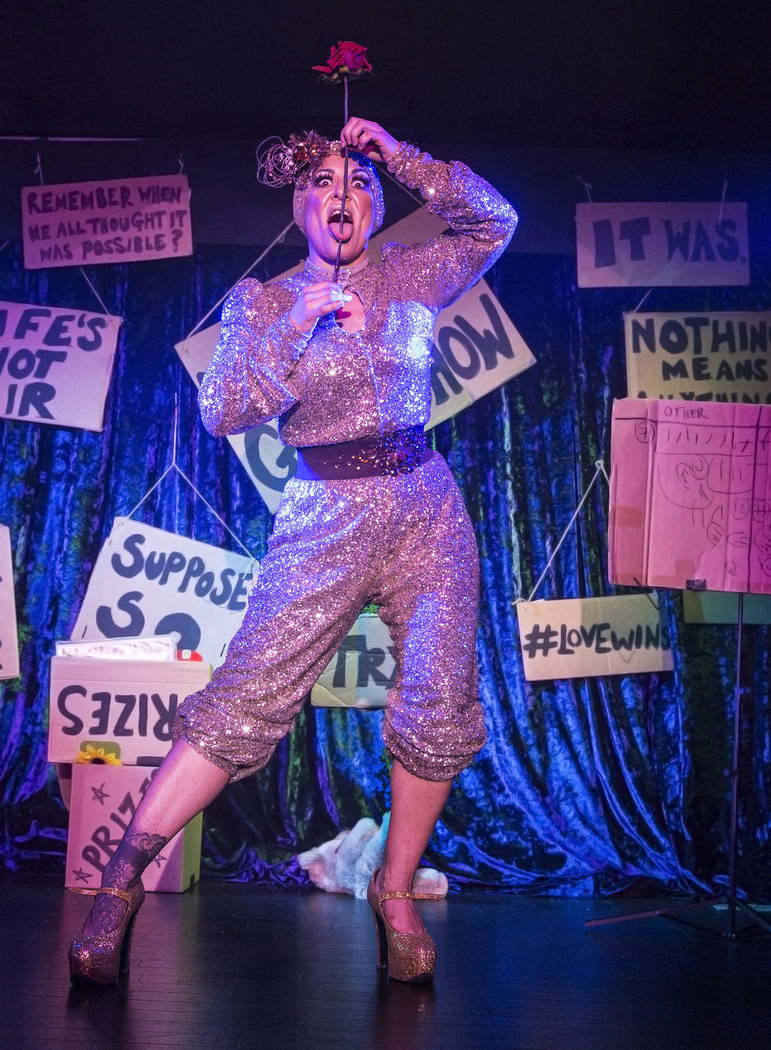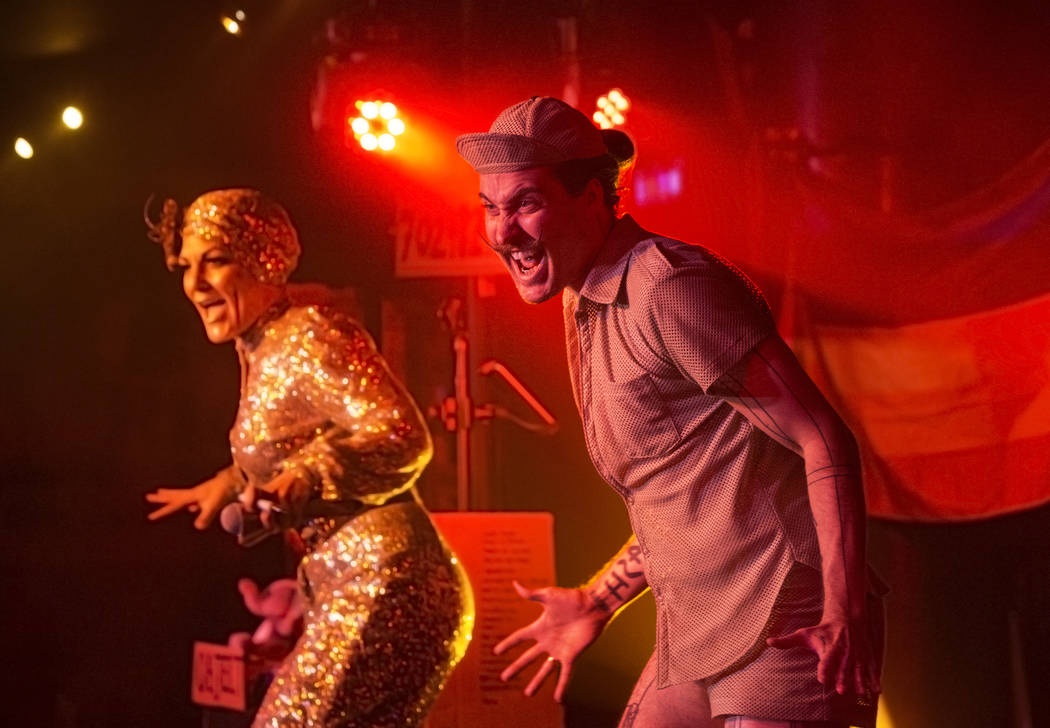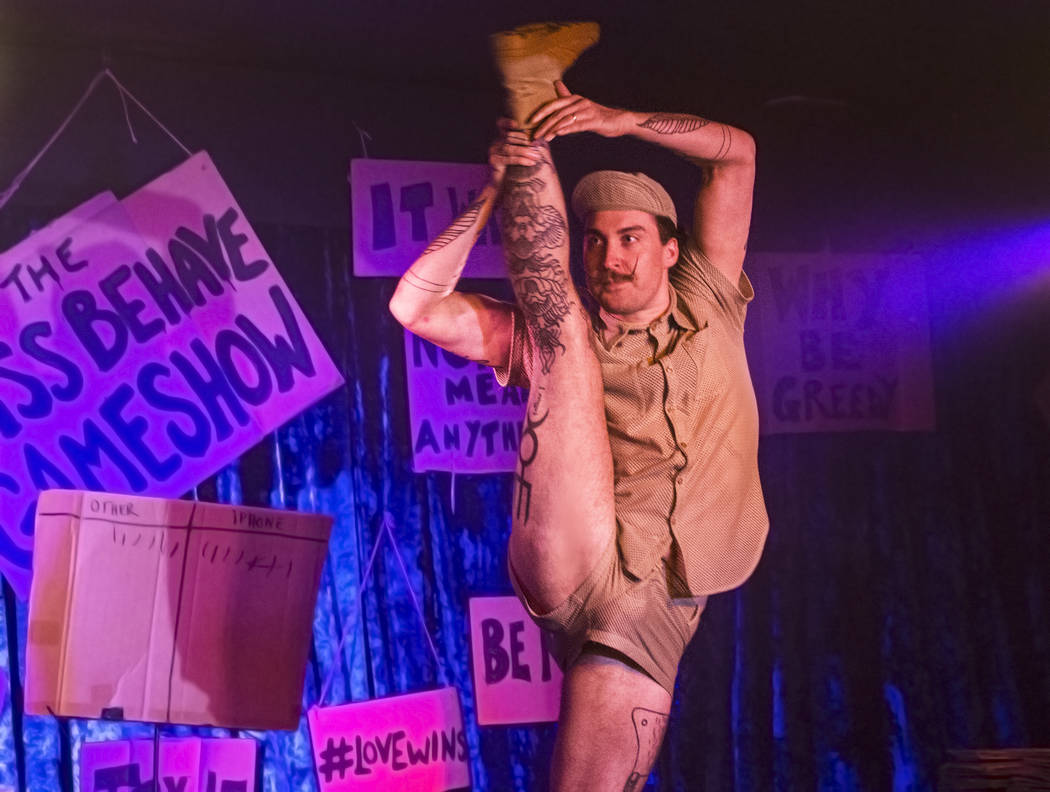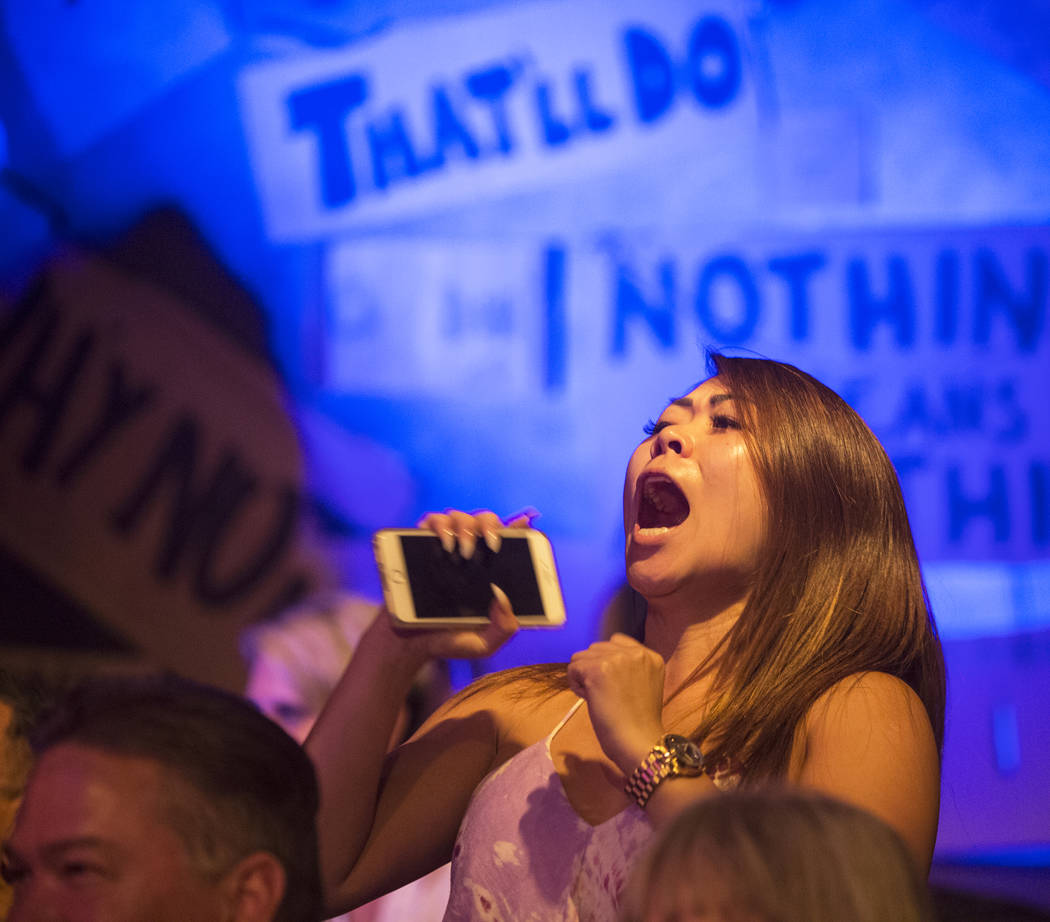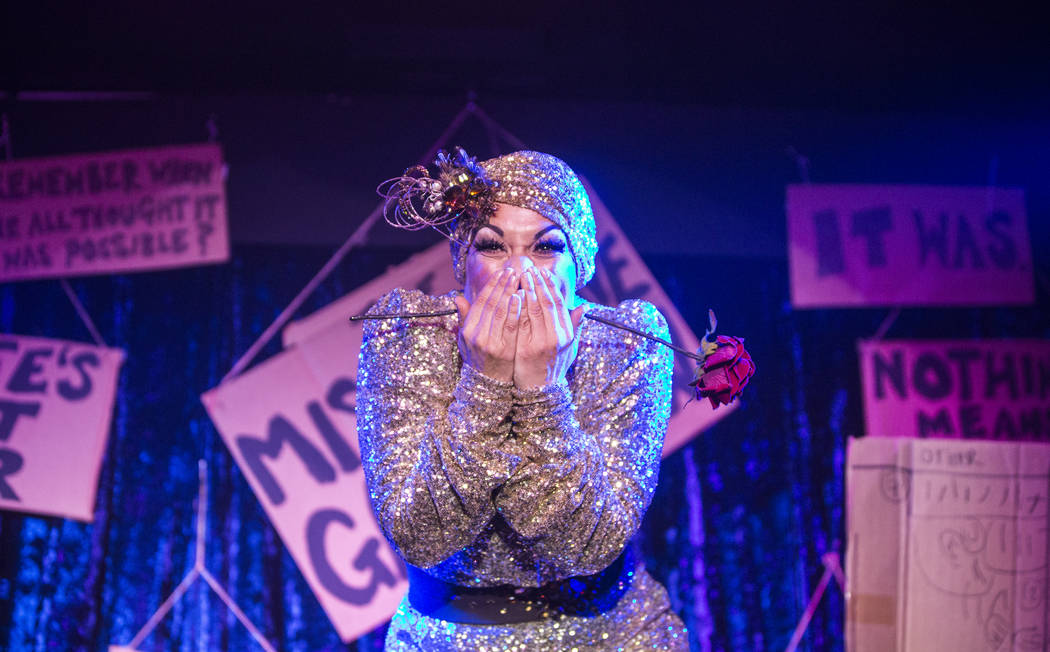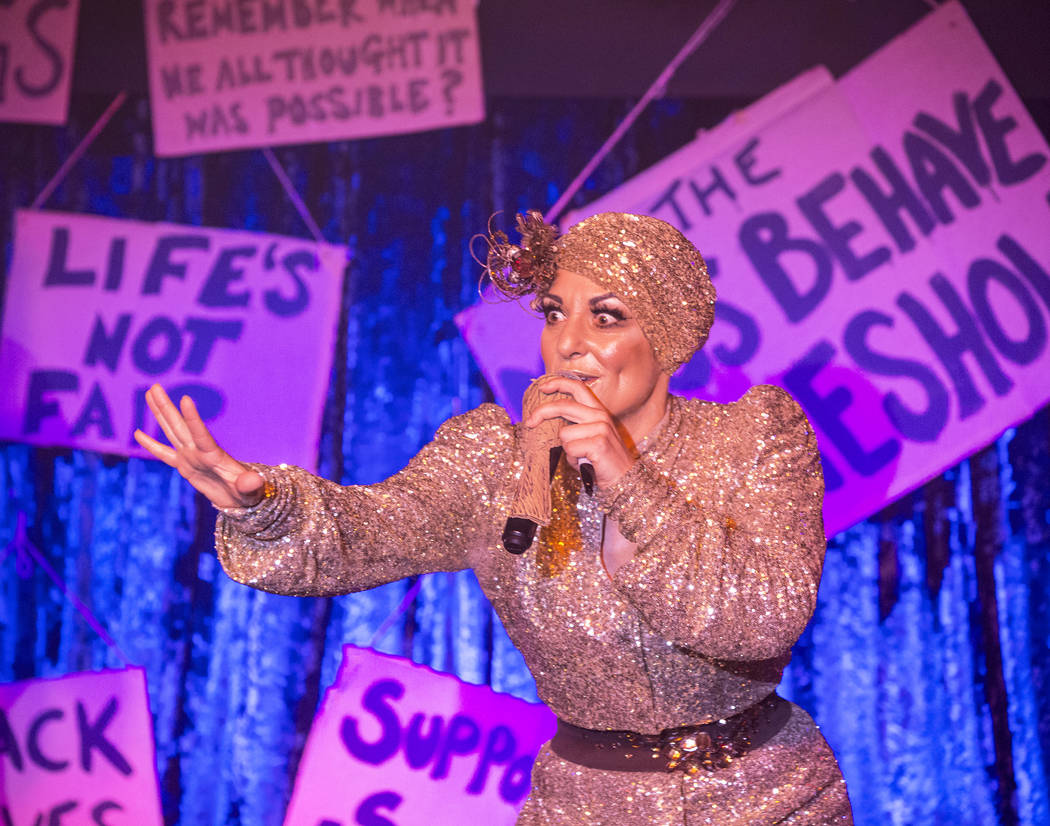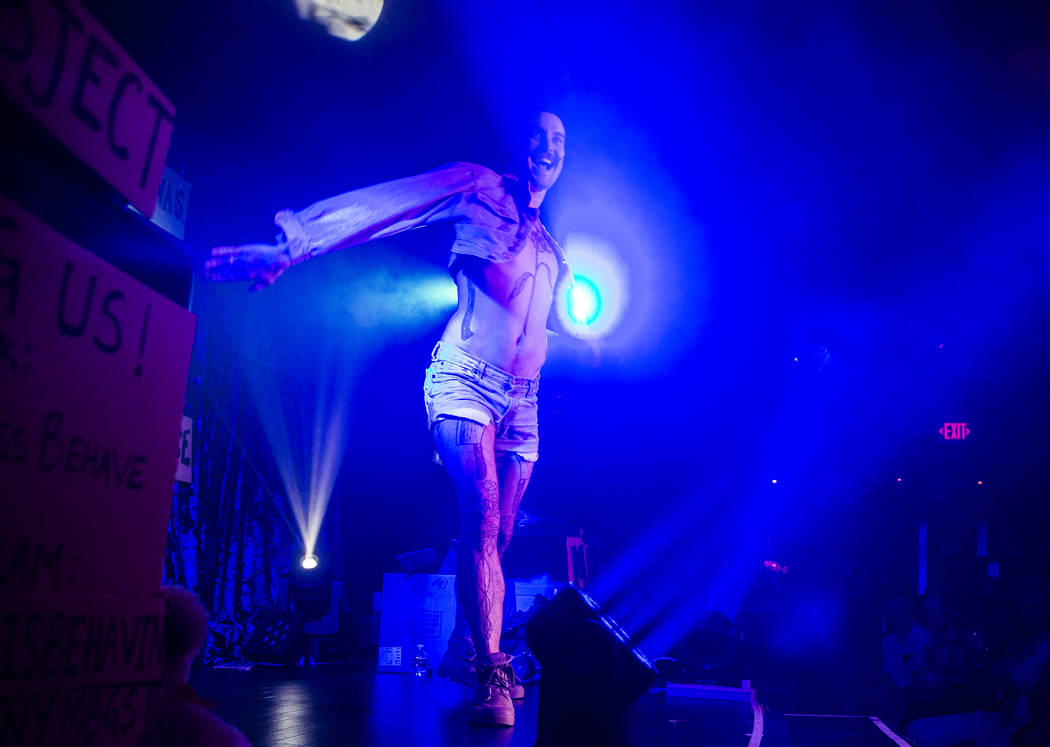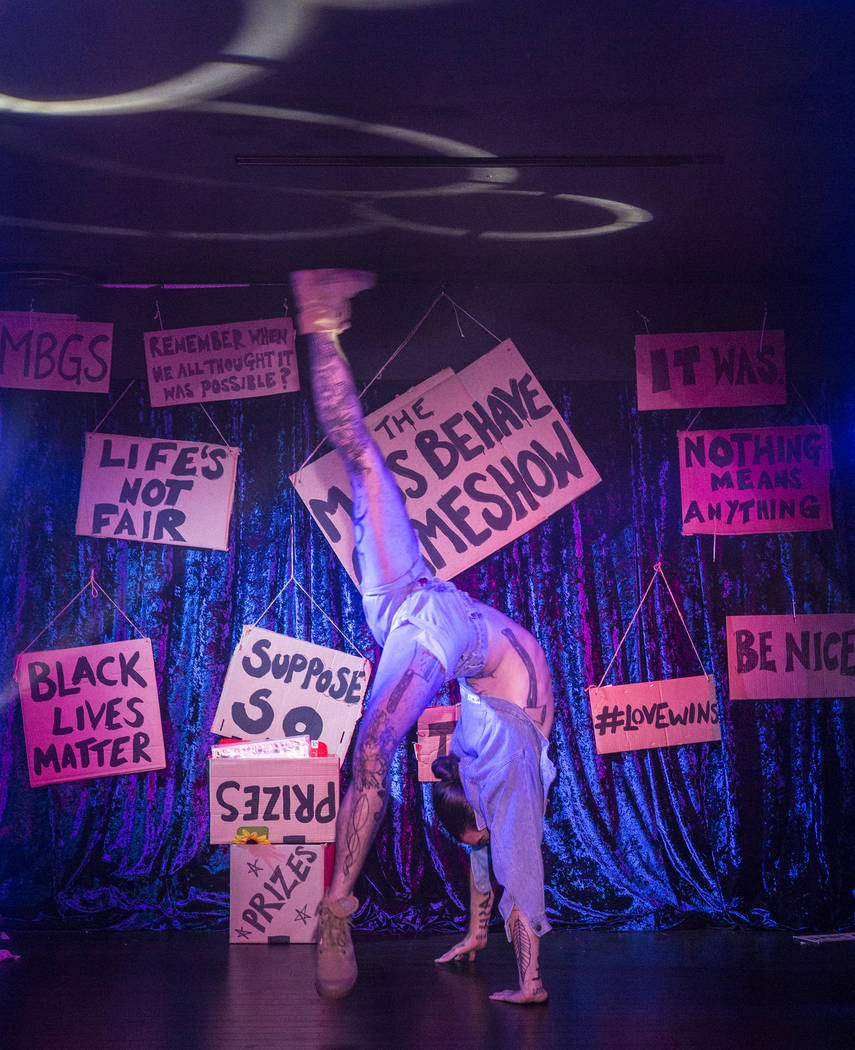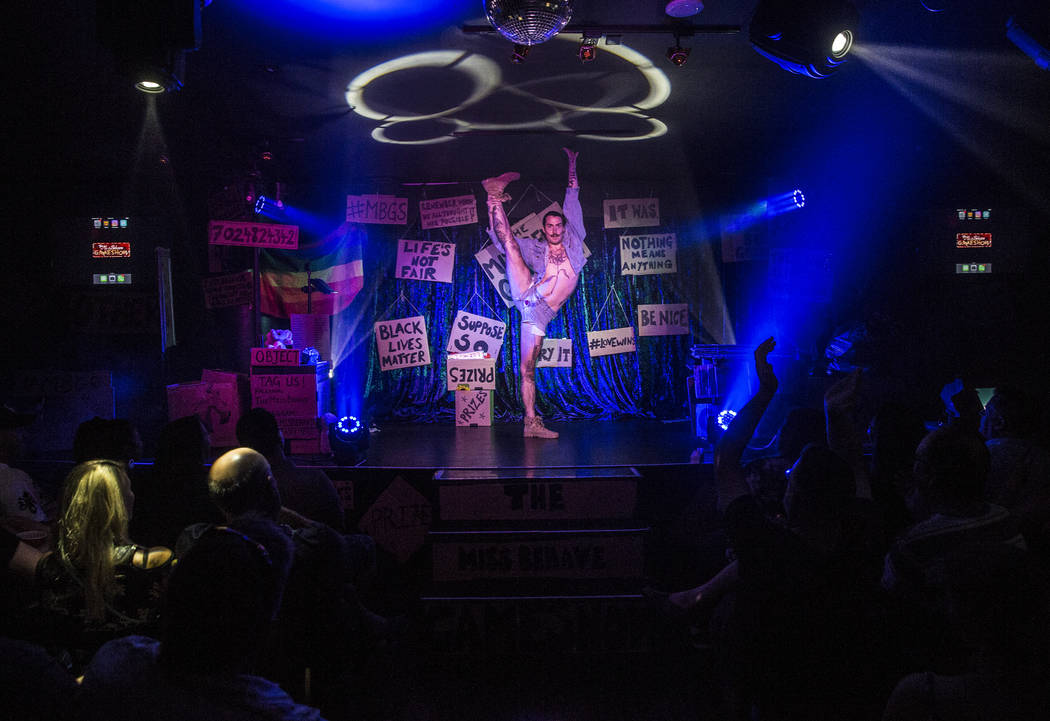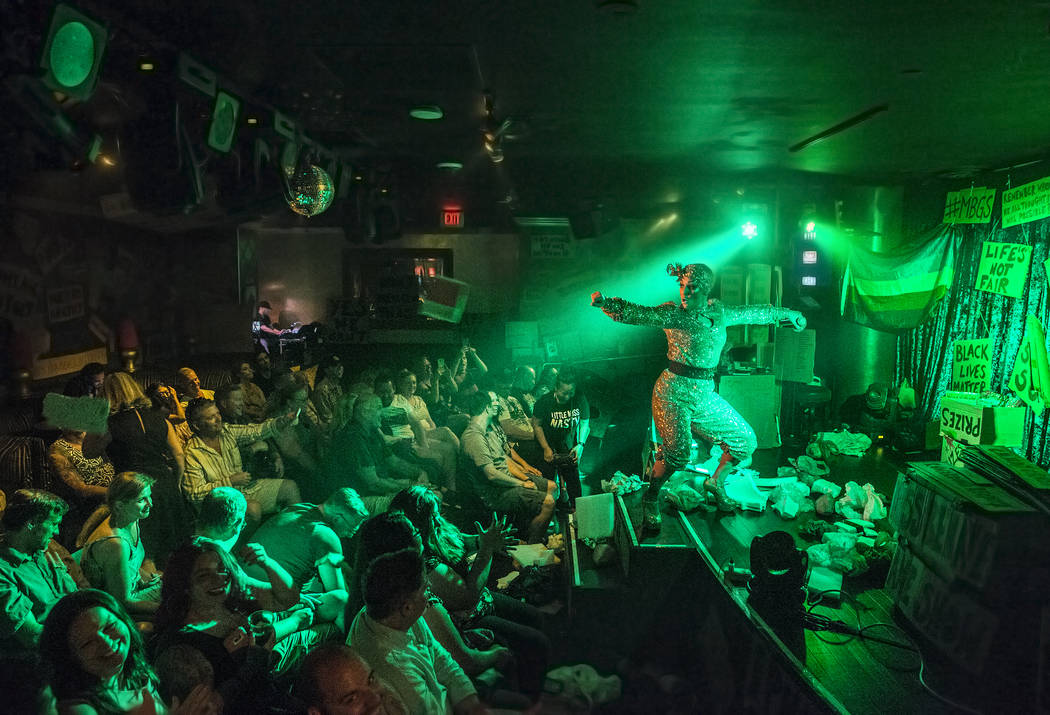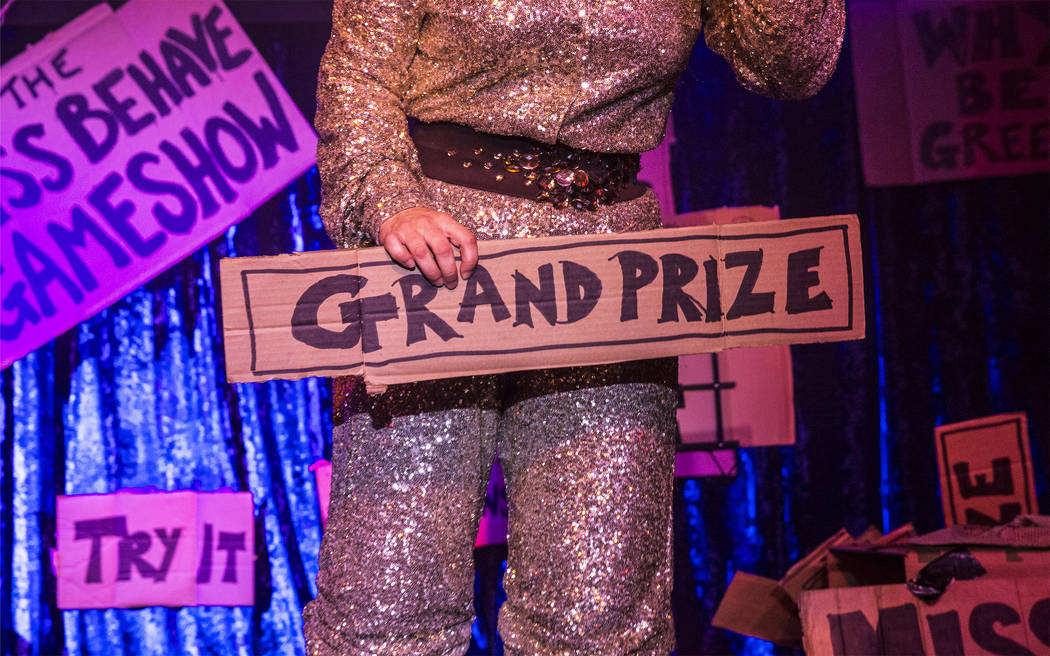 It's like a teenager's house party after Mom and Dad have left for the night, combined with the vibe of a really hip cabaret, presented as the sort of show that apocalypse survivors would enjoy if they needed a few laughs.
And that's all meant in a totally complimentary way.
"The Miss Behave Gameshow" is hard to describe, despite its basic structure as an audience-participation game show, mostly because it includes an ever-changing bit of everything. The show opened four weeks ago at Bally's and is a reflection of its creator and host, British-born cabaret performer and sword-swallower Amy Saunders.
In her persona of "Miss Behave," Saunders guides the audience through a series of goofy, punny games, awarding points and creating an anything-goes attitude that audiences are quick to embrace, mining humor and communal fun out of chaos.
Saunders has been in the entertainment business since she was a teenager in London, moving her way up from passing out flyers to busking. At 17, she discovered a book about sword-swallowing, taught herself the skill and still holds several sword-swallowing records.
She has performed in cabaret and theater shows around the world, including "Absinthe" in New York, and her career almost intersected with Las Vegas in 2013 when she was offered a late-night cabaret hosting gig here.
"I thought, 'This is my dream, this is brilliant,' " she says. "And the gig fell through."
She went to Australia and created the low-budget prototype of what would become "The Miss Behave Gameshow" and finally made it back to Las Vegas in December with a limited run of "The Miss Behave Gameshow" at Paris Las Vegas. A few weeks ago, the show moved to the intimate Back Room (formerly the nightclub Liaison) at Bally's for what Saunders hopes will be a long-term run.
While "The Miss Behave Gameshow" is built upon audience interaction, it's safe for guests of more wallflowerish persuasions. Yet Saunders has been surprised by how much people will do when nobody is forcing them to do it.
"It's a tricky thing for me, because a lot of people describe the show as interactive and immersive and loaded with audience participation," she says. "Yes, people jump around and do all manner of things, but only because they don't have to."
At the start of a show last week, audience members seemed unsure about what they were supposed, or even allowed, to do. Ten minutes in, they were standing and screaming. A half-hour in, having fully embraced the jovial anarchy that is in the show's DNA, they were walking onstage to do stunts and interacting easily with Saunders.
Many of the games involve the use of a cellphone, and the competing teams are made up of iPhone users and "others." In contrast to that high-tech tack, the set design is deliberately bargain-basement, consisting mostly of cardboard signs bearing aphorisms written in Sharpie.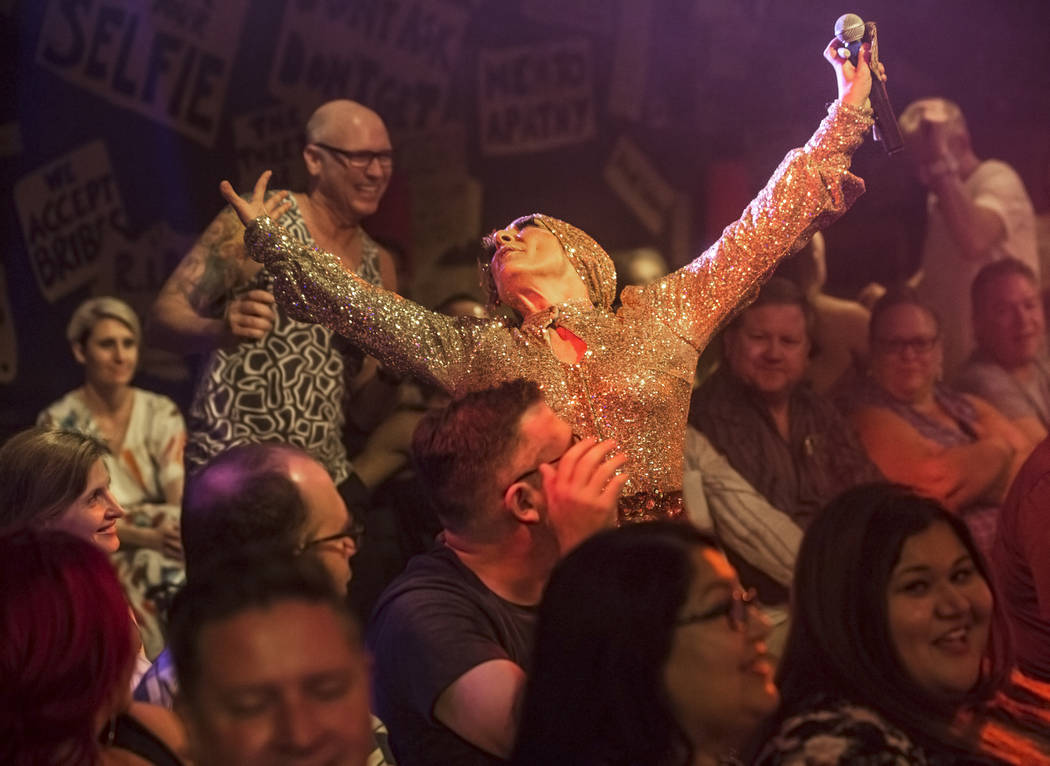 Some games are easy to understand — for example, "Shout Loudest" and "Shout Quietest" — and others are witty, requiring a total lack of self-consciousness and a bit of out-of-the-box thinking. A "Candy Crush" game saw Saunders seductively dropping a bag of candy to the floor of the stage. It took a member of the iPhone team just a few seconds to run onstage and crush it with her phone.
"Woman nailed it," a laughing Saunders responds.
A name-the-song game saw audience members not only identifying such '80s standards as "I Will Survive" and "You Give Love a Bad Name" for points, but joining in on a mass a cappella karaoke session even after Saunders turned off the audio tracks.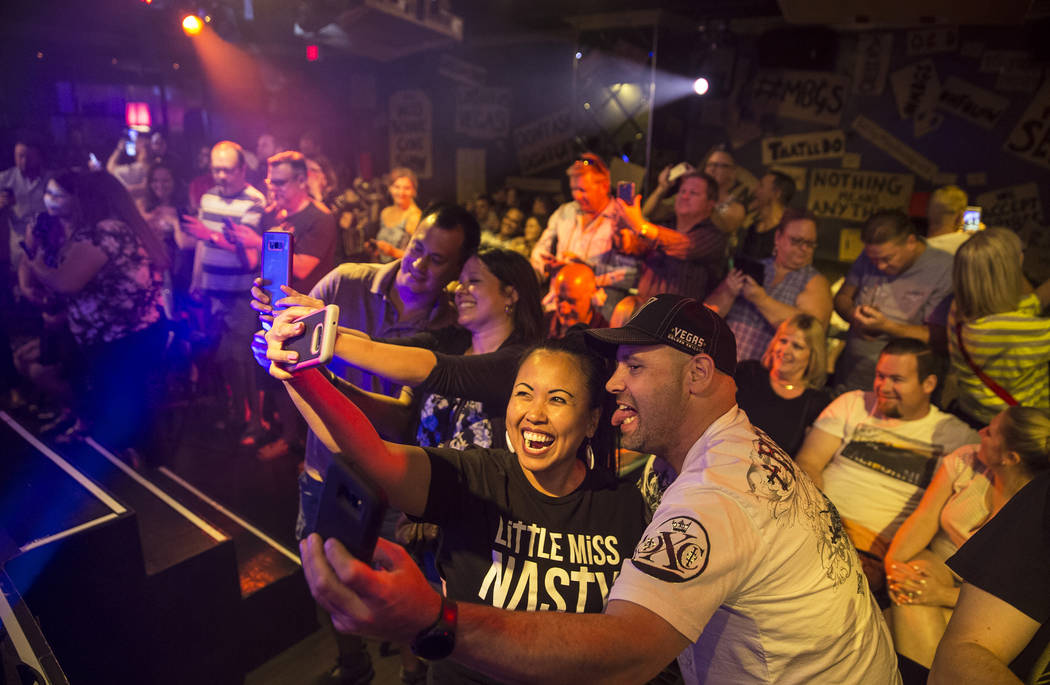 It all sounds silly, and it is, but it's also fun enough to turn an entire room of people into the willing accomplices of Saunders and her assistant, "Tiffany" (Bret Pfister) who also holds down one of the show's variety spots (singer Maren Wade, who performs in the Indigo lounge at Bally's, held the other last week).
Las Vegans Cory Hook and Peggy Cheung didn't know what to expect but loved the show. "The venue was small. It was completely interactive. It was fun," Hook says. "It was a little bit racy and got the audience interacting."
Shane and Edie Eaton of Chino Hills, California, also liked the interactive nature of the show. "Nobody was not participating," Shane Eaton said, even if he agreed that the premise did take a bit of getting used to.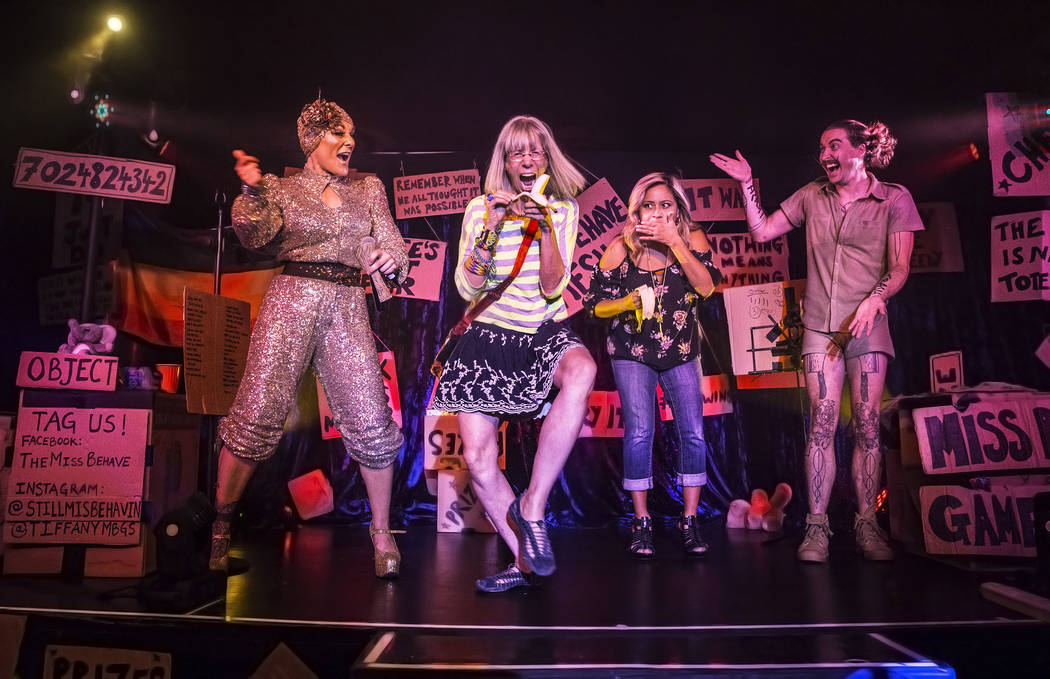 "You've got to kind of wrap your head around it a little bit, and then it's good," he said.
Saunders says the show draws a broad demographic. That, in turn, allows her the latitude to incorporate into the show a broad range of games.
"So, on one hand, we can have clever word games," she says. "On the other hand, we can dance to ABBA, because ABBA is great."
Aphorisms aplenty
"The Miss Behave Gameshow" is steeped in wry wit. Even the aphorisms recorded in Sharpie marker on deconstructed cardboard boxes and affixed to the showroom walls are entertaining.
Take these, which should be recorded in needlepoint on pillows if they haven't been already:
• Why Not?
• Think for your selfie.
• Remember when we all thought it was possible?
• Nothing means anything.
• The end is nigh, totes nigh.
• Dance like no one's watching. They're not. They're checking their phones.
Contact John Przybys at reviewjournal.com or 702-383-0280. Follow @JJPrzybys on Twitter.