Native Las Vegan takes on professional wrestlers across country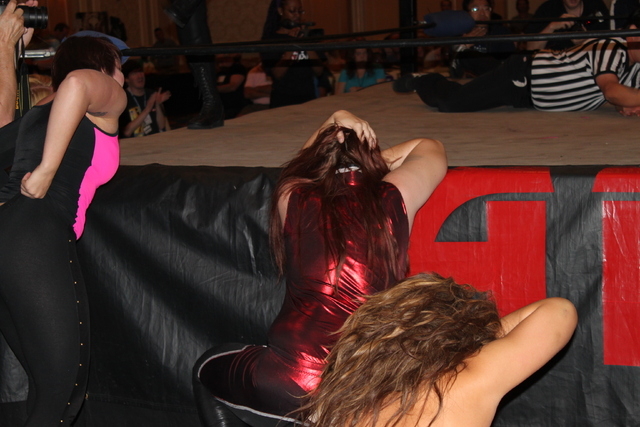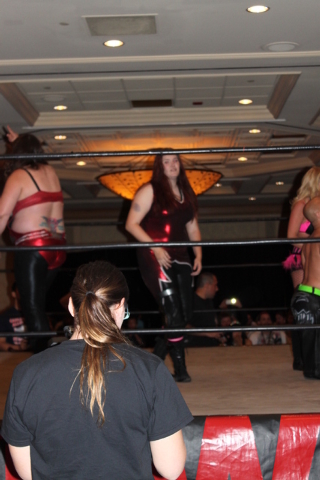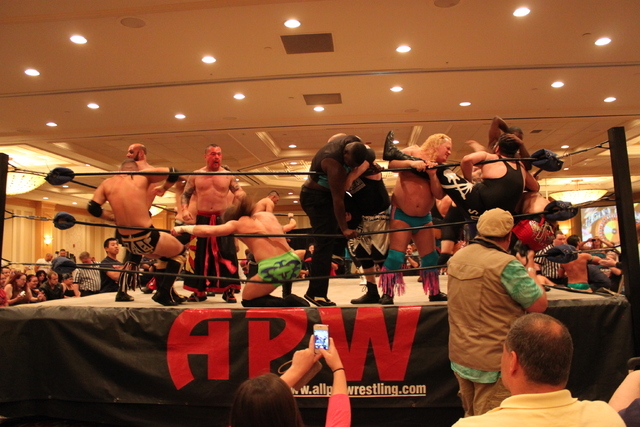 A crowd of professional wrestling fans gathered inside a ballroom at the Gold Coast in June for day two of the Casino Royale event. While it was mostly small promotions bringing talent in, there were current and former talents from America's two biggest promotions, WWE and TNA, including Matt Hardy, Rob Conway and Brittany.
In between all of this, though, was a 12-person mixed tag match between Team USA and Team Canada. If any local fans recognized one of the female wrestlers on Team USA, that's because she's a native Las Vegan.
Terra Calaway, as she is now known, grew up in Las Vegas and is a graduate of Arbor View High School. She said she got into wrestling while competing in multiple sports there.
"I was in high achool when I got introduced to wrestling and I fell in love with the physicality and the storytelling," Calaway said. "I started training in 2009."
She's been competing since 2011, though she started training in 2009. Calaway said that while she'd be happy to compete in WWE, her main goal in wrestling has nothing to do with a "WrestleMania moment."
"If I got to WWE, then great," Calaway said, "but my goal is that I want to wrestle in as many countries as I can. I've wrestled in seven states and I'm one of the few wrestlers from Las Vegas who travels."
Being a female independent wrestler has its challenges, though. Arlene James, who wrestled in the match with Calaway, said that finding consistent workers like Calaway is a tough task.
"One of the biggest challengees is finding girls who are reliable workers. We need more good females," she said, adding they had been in contact before they ever were booked on the same card. "We were friends before we ever met. She made my T-shirt and we see each other once a year or so."
For Calaway, her biggest issue may be the physical toll the job takes. She wears a knee brace and will eventually need surgery due to a major knee injury she took.
"It will be about 18 months of recovery after the surgery, so I'm trying to put it off as long as I can," she said.
Despite that setback, Calaway continues to work with her knee brace and has gotten to work with former WWE talents like Kharma and Katie Lea.
She's also worked with her boyfriend, who goes by his ring name of "Vintage Dragon." He said she was great to be around both in the ring and outside it.
"We met at a show in Las Vegas and the rest is history," he said. "Professionally, we've tagged with each other numerous times. On a personal level, she's a humanitarian who has helped a lot of people."
In her spare time, Calaway runs a charity called Dropkick Depression, which is a service where people with depression can call her and talk through issues.
"I started Dropkick Depression because I had dealt with depression and wanted to provide a way to help people," she said. "People can call me and I'll talk to them. It's good to remind people that depression is a real medical issue."
She also has a day job where she works at an insurance company. Calaway said that the people at her office don't know about her wrestling life and she prefers it that way.
"Every time I tell someone I'm a wrestler, the first question I get is, 'Is it fake?'" she said. "You don't get bruises and injuries if the whole thing is fake. I just prefer to keep my lives separate."