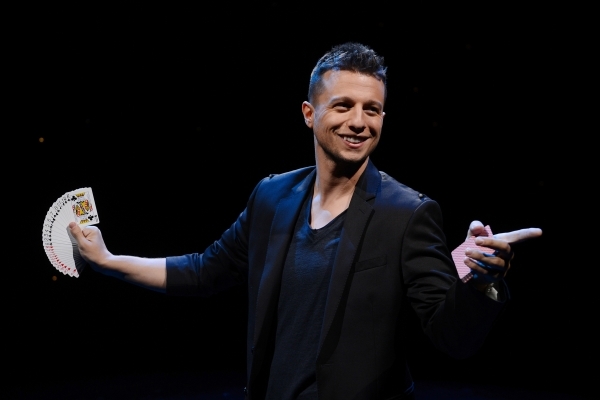 Ah, that smile.
Mat Franco could sell snow to Eskimos.
Musical instruments to a boys band in River City.
New Coke.
Shares in Enron. Or Bernie Madoff's securities fund.
Selling magic tricks is a minor challenge then for last year's "America's Got Talent" winner. Even when, as the 27-year-old notes, his audience is "sitting there trying to ruin it for yourself" by trying to figure out how they're done.
Maybe the next TV competition can put Franco up against Jimmy Fallon and Andy Samberg as guys who get you with a contagious smile before they even say one word. I wouldn't bet against him, especially if they let him play the "Grandma card" as he does in the show, one more powerful than all The Flash-like speed shuffles.
Franco's odds are also good for a long run as the Strip's next resident magician at The Linq Hotel. A two-hour NBC special airing Thursday can't hurt.
So, make room for still another magician. But it's probably good to separate Franco's short game from the long one. In the early going, his show is more modest than you might expect from a serious commitment by The Linq and producers Base Entertainment, and maybe a little too familiar for those who see other magic shows.
Franco opened shop less than a year after winning "Talent" last fall, and this edition seems to arrive fairly intact from his pre-"AGT" years of traveling light on the college circuit.
But it's personality, not hardware, that Las Vegas magicians need to survive nowadays. Franco gets us on his side right away, whether or not we rolled our eyes at an opening film that's neither bombastic nor comedic but simply charts his young life of magic and states how happy he is to be "right here in Vegas."
He works a sparse, black stage decorated only with judiciously used video screens. And Franco often ventures into the crowd to pull people into the action onstage, eventually eliminating any artificial barriers between star and audience. (The old Imperial Palace showroom has been remodeled beyond recognition; movable armchairs replace the old booths with mixed blessings).
And if Franco is indeed introducing new, young audiences to magic, they aren't going to know or care if some of the bits are familiar.
Magicians all tend to put their own twists on the same basic mechanics, such as borrowing a $100 bill from an audience member and having it turn up in a surprising place (often a soup can or a piece of fruit). Franco's version includes a game-show element of choice and ramen noodles, a fine symbol of his years on the college circuit.
Another Vegas staple — a surprise appearance in the back of the room — here gets a nicely downplayed treatment befitting a guy who works in a hoodie, as a coda to another sequence.
But it gets harder to define "original," or "fair game."
Other Las Vegas magicians have done a gag where an audience member is the only one who doesn't see what's happening with balls of paper disappearing in front of him. It's not Franco's duty to tell us that we can go on YouTube and see the trick's originator, Italian master Tony Slydini, do it back in the era when people wore coats and ties to shows.
It gets more problematic to see Franco doing a familiar catalog illusion with multiplying wine bottles. And it's really awkward to see him do "card across," the basic illusion at the heart of Mac King's "Cloak of Invisibility" sequence right next door at Harrah's Las Vegas.
Again, Franco could claim he's a gateway drug to introduce a new demographic to magic. Or that it's the jokes that count. But both could be said of King as well. And both guys work in Caesars Entertainment casinos, in a city with a lot of repeat business. The sad fact is that anyone who sees both shows will think one of them ripped off the other.
Working through these iffy moments, Franco closes strong with a great bit involving an audience member's phone, and the rare use of a large prop: a cannon that clobbers the whole audience with playing cards.
A closing card trick smartly recaps the show we have just witnessed; a final piece of salesmanship from a natural-born salesman. Let's just hope this one reinvests some of his good fortune in the R&D department. After all, the dude's only 27 and looks to be here a long time.
Read more from Mike Weatherford at reviewjournal.com. Contact him at mweatherford@reviewjournal.com. Find him on Twitter: @Mikeweatherford
Like Neon Las Vegas on Facebook: