Never too old to raid the 'Rock Vault'
November 15, 2014 - 12:53 pm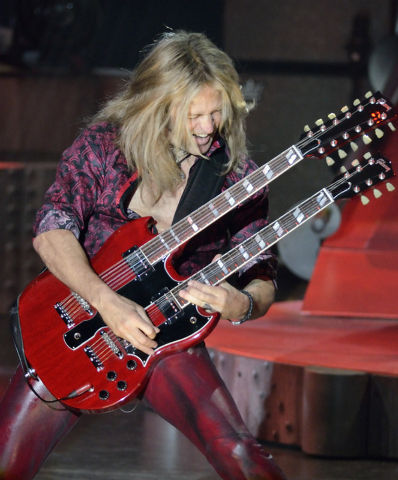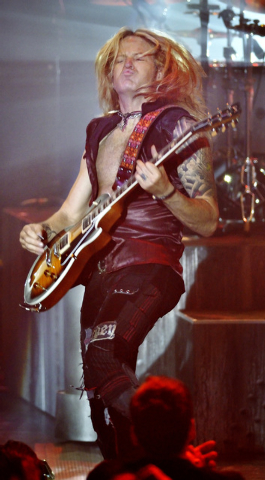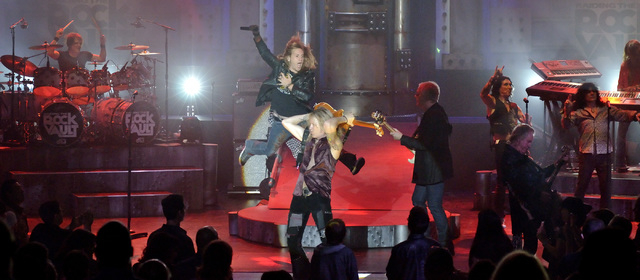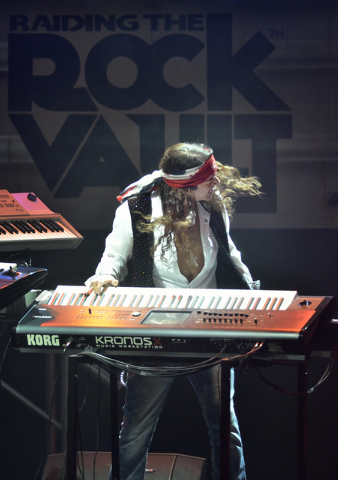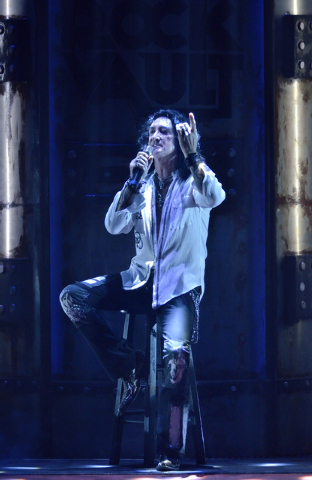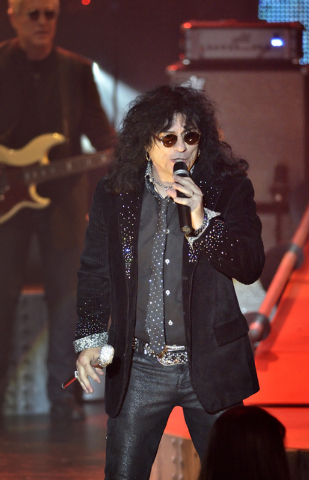 If you have to explain how "Raiding the Rock Vault" can be both ridiculous and incredibly fun, you can do a couple of things.
A. Sit up really close to the stage, and/or
B. Use a song that's not in the show, Jethro Tull's often misunderstood "Too Old to Rock 'n' Roll: Too Young to Die."
People who find it amusing that Tull's Ian Anderson is now 67 might also take sport in 61-year-old Robin McAuley going bare-chested in "Vault." Especially if they can't pull it off like he can.
They save McAuley for a delayed entrance, 25 minutes into this classic-rock tribute. And when he comes out to howl "All Right Now," he's still got the fire in his eye.
He's not just the singer from a now-obscure band (McCauley Schenker Group), he's the "Too Old" rocker come to life. If you listen carefully, it's he who feels sorry for his old mates now "doing time, married with three kids" before he speeds off to his destiny.
McAuley is joined by fellow Over 60 Clubbers in Heart guitarist Howard Leese and Paul Shortino, a vocal chameleon who covers both "Light My Fire" and "Sharp-Dressed Man." You can take away their snakeskin boots, their Union Jack belt buckles and their bedazzled skull-head scepters, but you can't stop the rock.
And the younger folks in this nine-piece outfit? For them it's the end of the song, when it kicks into that upbeat rockabilly shift: "You're never too old to rock 'n' roll if you're too young to die."
Here are journeymen rockers, some of whom got a taste of the big leagues, showing you they can still be stars if you let them.
Andrew Freeman? Ring a bell? Maybe you missed his work in the Lynch Mob. No matter, he owns this stage. When he commands you out of your seat for Journey's "Separate Ways," all must rise.
And Carol-Lyn Liddle belts "Heartbreaker" with an intensity Pat Benatar herself may find it hard to channel, because Benatar has proven her ability to kick ass many times over, and Liddle is just now getting her chance.
"Rock Vault" played more than a year and a half at the hotel now called the Westgate Las Vegas, before relaunching at the Tropicana Las Vegas this month. The cast has learned how to better use its two hours, generous for a casino show but still daunting when it comes to pulling a playlist from, if not the entire history of rock, a 22-year chunk of it: from "My Generation" in 1965 to Heart's "Alone" and U2's "I Still Haven't Found What I'm Looking For" in 1987.
A couple of crafty medleys help. "Kashmir" flowing into "Breakfast in America"? Somehow it works. And the ensemble can handle anything. "Hotel California" sports three singers, two acoustic guitars, one double-neck electric and two pairs of round sunglasses.
The show's big challenge is still in tying it all together. Without a connecting premise, it's just a covers band. But the first version overkilled the thematic material, with at least three concepts explored by actors plus a video history of rock.
All that was swept away with co-creator John Payne after a falling out with producer Harry Cowell. Legalities forced a new and more streamlined theme, the limited focus of two roadies (Ryan Mueller and Scott Kinworthy).
If live actors are on the payroll, I'm not sure why the story is told through recorded voice-over narration until the real guys eventually show up. And the mostly sincere narration doesn't match the silly skits. "Rock Vault" once based an ad campaign on not being the spoofy "Rock of Ages." Now it can thank the campy Broadway musical for the tone of one of its comedy breaks.
But the deliberate laughs are confined to these interludes, leaving the old rockers to sell "yesterday's dreams," as the song says, with absolute conviction. And if you're digging up Deep Purple's "Smoke On the Water" or Whitesnake's "Here I Go Again," that's the way it must be.
Contact reporter Mike Weatherford at mweatherford@reviewjournal.com or 702-383-0288.
Review
"Raiding the Rock Vault"
9 p.m. Friday-Wednesday
Tropicana, 3801 Las Vegas Blvd. South
$64.90-$108.90 (702-739-2411)
Grade: B