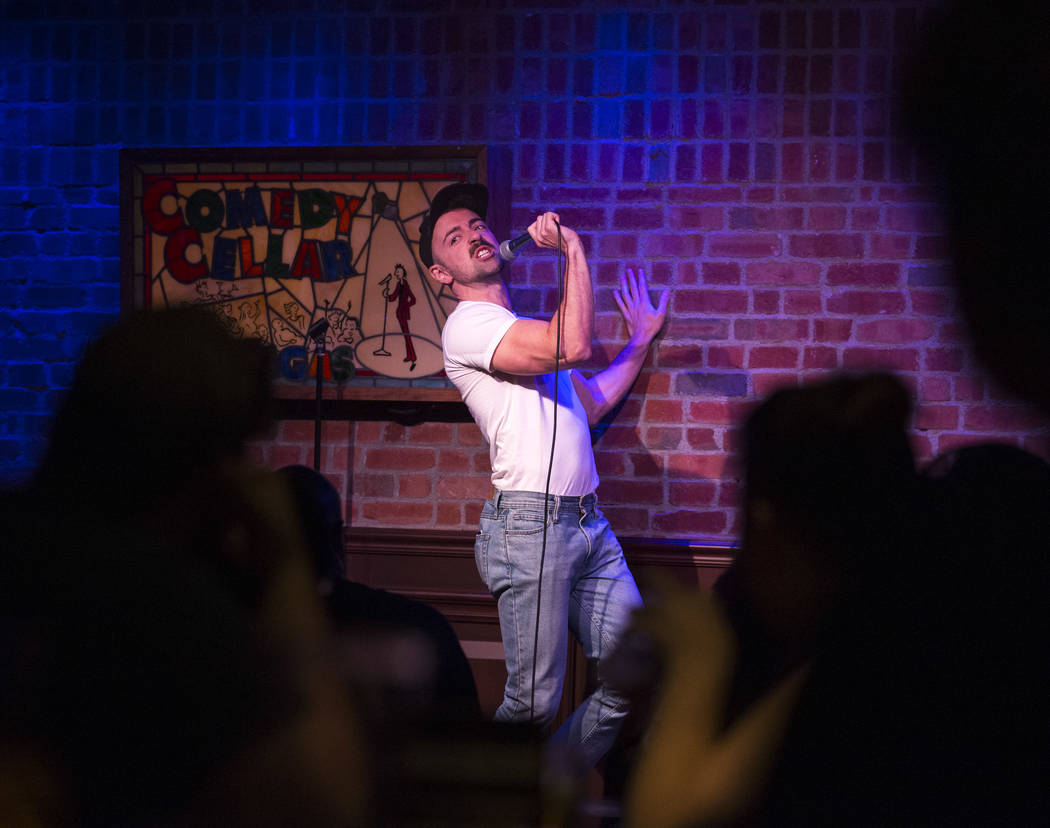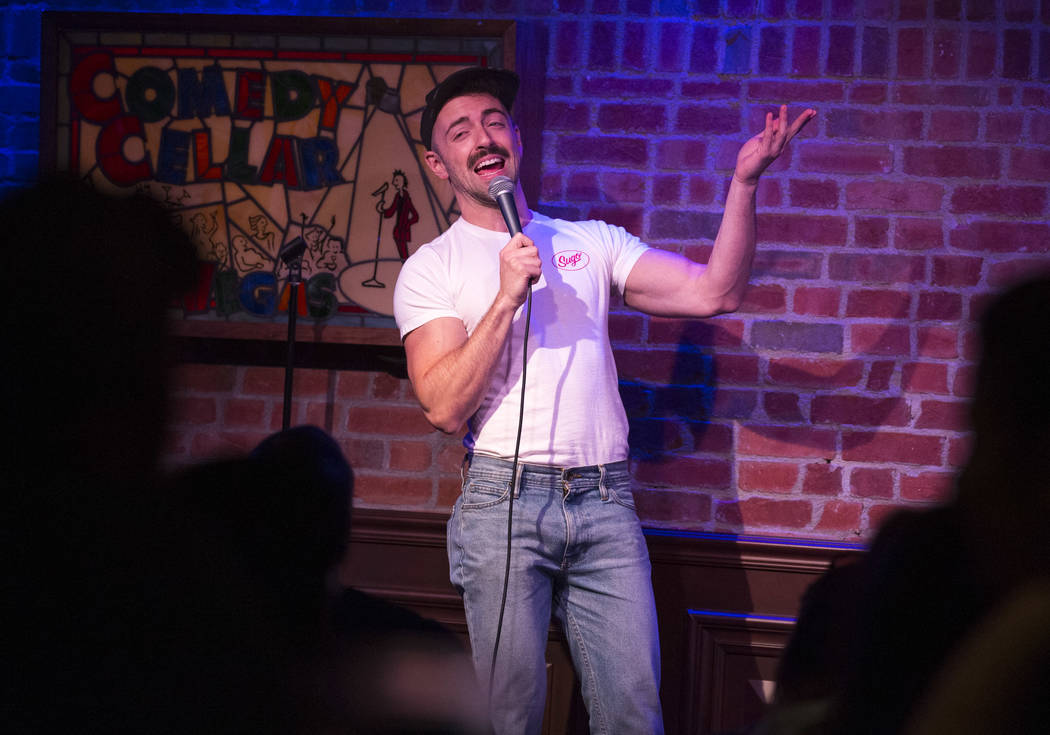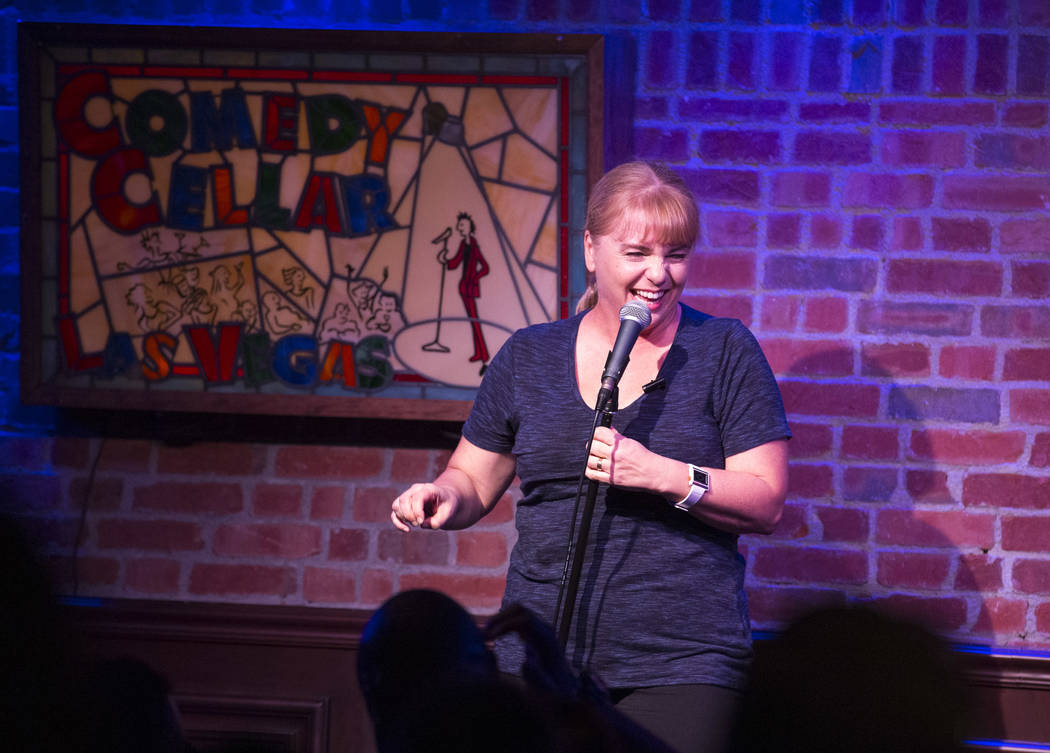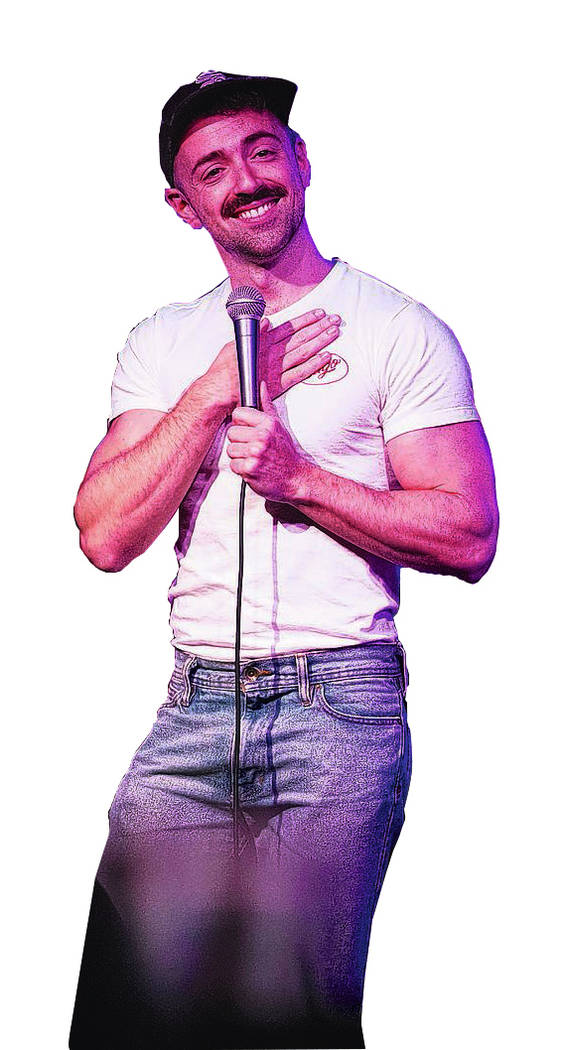 The faces are familiar, as are the red brick walls just past the entryway beyond.
The hall is lined with framed, autographed head shots of some of the funniest men and women ever to tell jokes into microphones for a living: a youthful Mitch Hedberg, a smiling Ali Wong, a quizzical-looking Bob Saget.
They lead into a room that will be instantly recognizable to stand-up die-hards and casual fans alike, even if they have never stepped into its modestly lit confines.
The stained glass sign behind the stage reminds us where we are: the Comedy Cellar Las Vegas.
This isn't Greenwich Village, home of the club's original incarnation, but it's a convincing replica.
"They really did it to a T," veteran comedian Robert Kelly says of the similarities between the Cellars, having performed at both. "It's the same exact vibe. It's the same show."
That vibe is no small thing.
It's key to what the Cellar represents, and it manifests itself in a number of ways.
For starters, there's an intimacy here — the room seats just 250 — and patrons up front are so close to the performers, a struggling act's flop sweat just might add a little saline to their Heinekens.
Then there's the atmosphere: a show-us-what-you-got sense of high expectations that comes from knowing the comics had to win over some of the pickiest gatekeepers in the business.
"You have to be good, good enough to step on that stage and represent the Comedy Cellar," Kelly says. "If you're not, then forget about it."
A rich pedigree of punch lines
A who's who of comedy prime movers have represented the Comedy Cellar over the years, including Amy Schumer, Dave Chappelle, Chris Rock and Ray Romano.
Opened in 1982, the Comedy Cellar is to stand-up what CBGB was to punk rock or the Blue Note is to jazz: storied New York City incubators of scene-defining talent.
The Las Vegas Cellar launched in April, and sixth months in, the names are getting bigger — Todd Barry and Dave Attell will perform in the next few weeks — and the room is filling up more often.
One of the things that distinguished the original Cellar was its format: Instead of longer sets from a given headliner, the club embraced a showcase approach. Upward of a half-dozen headliner-quality acts might perform, usually for 20 minutes, with big-name comedians of the club's past and present dropping in for unannounced sets.
The Las Vegas Cellar has largely retained that format.
During last Wednesday's showcase-style setup, rising Las Vegas transplant Rocky Dale Davis contemplated a recent news story where a woman was eaten alive by a pack of wiener dogs ("How badly did she want to live? Couldn't she find a tree stump to sit on?"); Leo Flowers riffed on how Bill Cosby's recent conviction might limit the fashion options of his fellow African-Americans ("I can't wear a hoodie, because then I'm a thug. I can't wear red or blue, because then I'm in a gang. Now I can't wear argyle?"); and Traci Skene and Matteo Lane earned laughs from the perspectives of a 50-something woman and a "Ghost Adventures"-loving gay man, respectively.
It was a deep, diverse bill, a Cellar trademark.
You never know who might drop by
Another hallmark of the original Cellar — unannounced guest spots — has also been upheld at the Las Vegas location, with Romano, Attell and Jeff Ross, among others, stopping in for surprise sets.
It has helped get the word out after a slow-building start.
"The first couple months were stressful, just with unexpected problems that hit every new business, but the last couple months have been terrific," Cellar owner Noam Dworman says. "We've had these superstar celebrity drop-ins, business has been good, things are operating smoothly."
Dworman began contemplating a Las Vegas Cellar three years ago, originally looking for a spot on the Strip until Caesars Entertainment reached out to him about the room at the Rio, which used to house comedian Eddie Griffin's show.
Success in Las Vegas was not a given, Dworman says.
"We weren't overconfident, that's for sure," he says. "I came out there prepared to take a loss and know that I had given it a shot and failed. I didn't think it was a sure thing or anything like that."
The Cellar should get a substantial signal boost later this month with the premiere of a new half-hour Comedy Central series, "This Week at the Comedy Cellar."
Airing on Fridays, the show will be partially filmed in Las Vegas, where luring big-name comedians to fill the large halls on the Strip has never been an issue.
But this market has been hit or miss when it comes to booking the top acts on the club level, comedians who might not be big enough to pack theaters, but who are substantial draws in comedy clubs across the country.
Clubs like the Comedy Cellar.
"I hope this is a game changer," Kelly says. "Maybe this does bring better comedy to Vegas."
Contact Jason Bracelin at jbracelin@reviewjournal.com or 702-383-0476. Follow @JasonBracelin on Twitter.
3700 W Flamingo Rd, Las Vegas, NV 89103