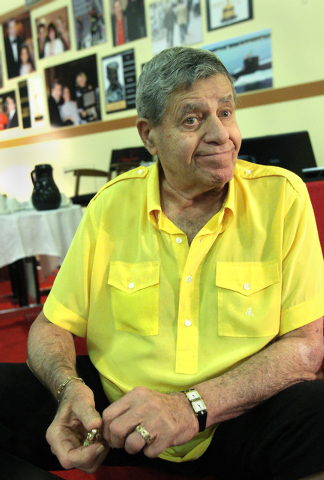 The metaphoric part? That whole "packing 150 years of Nevada history into one evening" thing? It's doable.
The logistical part — doing it all in a target time of two hours — is the real challenge.
It should be a good problem to have for the Nevada Sesquicentennial All-Star Concert on Monday at The Smith Center for the Performing Arts.
Nevada's 150th birthday is a running theme, and some of the featured acts directly address it, but more of it is "all about celebration," says producer Myron Martin, a variety show featuring contemporary and classic Las Vegas performers.
"How far we've come and the fact that Las Vegas is known as the entertainment capital of the world, gives us the excuse to bring some of the most talented people in the world, all of whom call Nevada home," Martin says.
The revue includes Jerry Lewis and Wayne Newton, two Las Vegas legends with a claim to at least a one-quarter slice of those 150 years.
They are joined by current Las Vegas performers including Penn &Teller, Clint Holmes, Human Nature, Frankie Moreno and cast members from "Jersey Boys," "Jubilee!" and Cirque du Soleil.
The show is sold out, but some of the tickets originally held for state government use may be returned for sale Friday through Monday.
The celebration is produced in-house by The Smith Center and Martin, its president, who has plenty of experience assembling variety shows and making them run on time.
For years, Martin produced the Las Vegas Review-Journal's annual Best of Las Vegas awards show. And following the terrorist attacks of Sept. 11, 2001, Martin pulled together a benefit for the United Services Organizations that included nearly all Las Vegas headliners of the day sharing the Mandalay Bay Events Center stage.
"This is the biggest entertainment community coming together since the 9-11 concert," Martin says. "We have people who are using their night off to come perform." Others will "rush back to their car … to make their curtain on time. And they're doing this because this is important."
Martin, who is on the commission overseeing some 450 events tied to the sesquicentennial, says he volunteered to stage the show at The Smith Center's financial risk.
The history-related segments include Nevada governor Brian Sandoval discussing the state's "battle born" origins, and actor Antonio Fargas explaining how Rat Pack-era entertainers helped desegregate the Strip.
Cowboy poet Waddie Mitchell will perform his official 150th anniversary poem "Dame Nevada," and McAvoy Layne will appear as Mark Twain.
But there will also be tributes to Frank Sinatra (a full makeup impression by Bob Anderson), Elvis Presley (from Susan Anton and Justin Shandor) and Liberace (with piano by Philip Fortenberry). A salute to the golden-age lounge era includes Earl Turner, Frank Scinta and former lieutenant governor Lorraine Hunt, a former lounge singer herself.
But who gets to sing "Home Means Nevada"? That would be Stratosphere headliner Moreno, backed by a choir from Gilbert Elementary School.
People may remember this show for a long time. But unlike the star-studded opening night of The Smith Center, they won't have a PBS special to help them remember it.
"In hindsight, I wish when we started planning this a year ago that we thought of it back then," Martin says. "It would have taken that much time to do all the additional planning that comes with television."
Contact reporter Mike Weatherford at mweatherford@reviewjournal.com or 702-383-0288.
Preview
Nevada Sesquicentennial All-Star Concert
7 p.m. Monday
The Smith Center for the Performing Arts, 361 Symphony Park Ave.
$25-$100 (702-749-2000)