Pink Floyd Experience aims to re-create band's concert vibe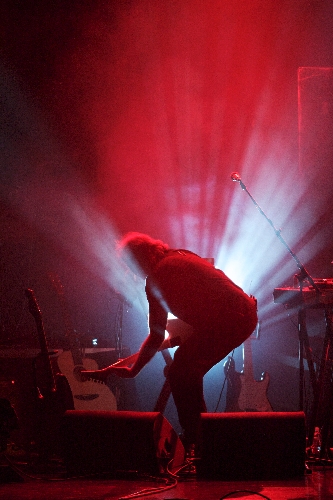 You probably think of Reynolds Hall at the new Smith Center for the Performing Arts as a venue for symphony concerts, Broadway shows and other forms of, shall we say, more highbrow performing art.
But just wait until Friday, when the hall will be rocking with the sounds of Pink Floyd via "PFX: The Pink Floyd Experience" underneath a floating pink pig.
The concert begins at 8 p.m. Friday and will include the iconic progressive rock band's hits, several rarities and deep tracks, a segment paying tribute to founding Pink Floyd member Syd Barrett, and a performance of the entire "Wish You Were Here" album.
Tom Quinn, the Pink Floyd Experience's bandleader and lead guitarist, said during a phone interview last week that the mission will be to faithfully re-create a Pink Floyd concert, circa the '70s and '80s, complete with visual effects, a quadraphonic sound system and, of course, that famous pig.
For some audience members, the show will serve as a reminder of great concerts long past. For others, it will mark the first time they're seeing Pink Floyd's music performed live.
Quinn said he "fell in love" with Pink Floyd's music when the band's seminal "The Dark Side of the Moon" album was released in 1973. He was a high school senior then, and already was playing in a band.
"I remember unwrapping my copy of the first pressing of 'Dark Side of the Moon.' I was at my drummer's house, and he had a beer can wall in his bedroom. And we turned it up so loud the beer wall came crashing down," Quinn said.
"That's my first image of Pink Floyd," he said, and then, "of course, I went back to discover the back catalog."
But as Quinn pursued a career in music, he found himself not playing Pink Floyd as much as he would have liked.
"If you're going to make a living playing in clubs and bars, you've got to get people to dance and sell drinks," he said. "Pink Floyd is a lot of things to a lot of people, but it's not great dance music, overall."
However, since the Pink Floyd Experience's founding in the mid-'90s, Quinn and his bandmates have been able to focus on playing Pink Floyd's music in the way it should be played: in large venues and accompanied by computerized lighting effects, visuals on massive video walls, high-quality surround sound and, naturally, that pig hovering overhead.
In fact, Quinn said, "our Pig-Cam is new to the show. We have a camera under the pig shooting down into the audience."
Quinn admitted that he is surprised at times by how smoothly the music of Pink Floyd spans demographics and generations. Why is that?
"It's the way the music speaks as a whole, lyrically, thematically, musically," he said. "It holds up."
Contact reporter John Przybys at
jprzybys@reviewjournal.com or 702-383-0280.
PREVIEW
What: PFX: The Pink Floyd Experience
When: 8 p.m. Friday
Where: The Smith Center for the Performing Arts, 361 Symphony Park Ave.
Tickets: $27-$65 (749-2000)