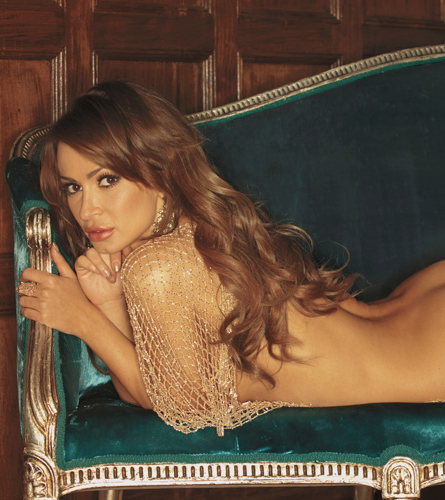 You don't get an offer like this every day. Karina Smirnoff of "Dancing With the Stars" says if you bring sunscreen to her at Tao Beach (Venetian) on Saturday, she might embrace you with her Playboy body.
"I haven't bought any sunscreen. Maybe, for a picture and an autograph and a hug, they can come bring me some," Smirnoff told me Thursday.
I said, "Wow, a hug."
"I didn't say they were gonna apply it on me," she said with a laugh.
As for her May layout in Playboy, she's received a lot of positive response and praise for the "classy" and "artistic" shoot.
"I'm super-excited about it," she said. It's a "dream come true" to join the Playboy-cover-girl likes of Marilyn Monroe and Charlize Theron.
"After you do something like this, and years go by, you have an opportunity to look back and say, 'That was me. I did that.'
"That's really awesome."
Smirnoff, in a playful mood, asked whether I would follow her lead and pose nude for photo shoots soon.
"No," I said, "but I would do one every day if I were you."
"Ha," she said. "Well, maybe that's something we could potentially work out."
Smirnoff — who on Saturday parties at Tao Beach by day and Tao nightclub by night — is a busy businesswoman, as you can see at KarinaSmirnoff.com and her Twitter posts.
While in Vegas, a spa and beauty convention will feature her Karina Smirnoff Collection for Girlactik. She also has a Karina Smirnoff boot line through Bearpaw and a "Shape Up With Karina Smirnoff" fitness-dance DVD.
Soon, she's auditioning kids of all ages at her dance studio in California.
"I want to develop my own 'Dancing With the Stars' professionals in a few years."
Slow down, Karina Smirnoff, and enjoy the truckloads of suntan lotion headed your way.
(Other "Dancing" stars in Vegas on Saturday: Maksim Chmerkovskiy does Wet Republic; Mark Ballas will do Liquid pool. For this week's list of celebs and DJ appearances, from Rosario Dawson at Tao today to Carmen Electra at Pussycat Dolls Saloon on Saturday, read my blog at reviewjournal.com/elfman.)
QUOTE UNQUOTE
"She's the dumbest politician I'm aware of. … We just said 'hello' for a second and yuck. She got two syllables out, so that's good." — Venetian headliner Joan Rivers on meeting Sarah Palin, in my column in today's Neon section.
Doug Elfman's column appears Tuesdays, Thursdays and Fridays. Contact him at delfman@reviewjournal.com.
Karina Smirnoff of "Dancing With the Stars" fame appears Saturday at Tao Beach and Tao Nightclub.