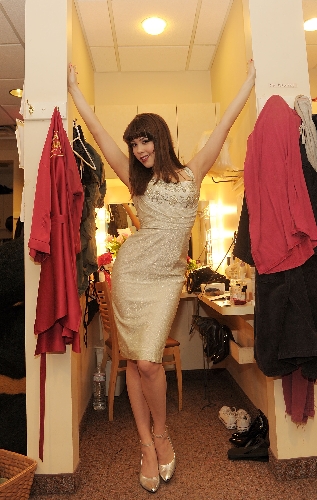 If you grew up as Hugh Hefner's son Marston in the lap of lascivious luxury, could you still be tantalized by the body of your Playmate girlfriend?
That thought worried his significant other, Playmate of the Year Claire Sinclair.
"I was thinking at the beginning of the relationship: Is he even fazed by a nude body anymore?" Sinclair recalls.
She was relieved to find Marston is a "typical" male who desires her in healthy ways.
On the other hand, Sinclair — guest-dancing nightly in "MGM Grand's Crazy Horse Paris" — says Marston is "numb" to her exciting Playmate parties because "his life is one big, giant event."
"I took him to the county fair, and he thought it was the most amazing thing because he hadn't been to something like that," she says.
What attracts Sinclair, 19, to Marston, 21, is he's "peculiar" and "just so damn unique."
"I think we're kind of both weirdos, and I love that. I can't really find that" in others. "That's why we connect so well. We have a lot of quirks."
She says she doesn't mind if men compliment her naked body, as long as they aren't "blatantly rude." Her favorite flattery is being told her personality and body stand out from other Playmates.
"I'm a little more voluptuous, I'm not blond, I don't have fake boobs, and I don't have a nose job.
"Not to offend any of my Playmate sisters, but I like the natural. I like seeing what girls are born with. I think that's the most beautiful thing."
She performs at 8 and 10:30 nightly at "Crazy Horse Paris." She signs autographs at Bettie Page stores 1-5 p.m. today at Planet Hollywood; 1-5 p.m. Saturday at Forum Shops. Her Playmate of the Year pictorial is in June's Playboy.
NAUGHTY BITS FOR CHARITY
"Broadway Bares" returns to Planet Hollywood at midnight Sunday: a spectacle of 15 acts by entertainers, many in G-strings, from "Le Reve" to "Sirens," "Peepshow," "Bite," "Zumanity," "Lion King," "Love," "Striptease," Surrender and others. Tickets cost $20-$50. Proceeds go to Broadway Cares/Equity Fights AIDS. The after-party is at Koi. See you there.
PRE-SIGHTINGS
Tonight: Nicki Minaj performs at Chateau. … Perez Hilton tweets at Tao. … Jeremih raps at Bank. … Big Hoss of "Pawn Stars " does Jet. … Saturday: AnnaLynne McCord hosts Wet Republic. … Angel Porrino and Laura Croft frolic at Tao Beach. … Plain White Tees perform at Haze.
Doug Elfman's column appears Tuesdays, Thursdays and Fridays. Contact him at delfman@reviewjournal.com. He blogs at reviewjournal.com/elfman.