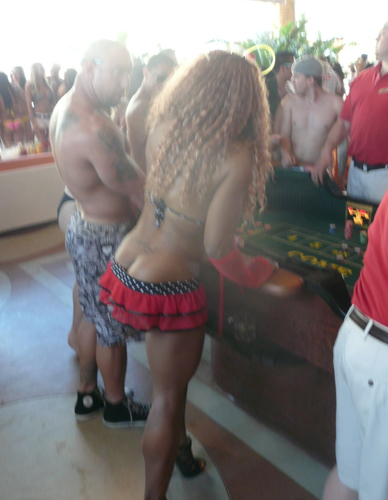 It's not easy to stand out at a pool party, since most everyone dons bikinis and board shorts. But the fashion brave demand notice in trend wear.
BUTT CLEAVAGE — A decade ago, fashion-forward women on the Strip tested the fashion waters with jeans and shorts designed to expose a quarter-inch to a half-inch of their upper butt crease.
At the time, observant males considered butt cleavage to be a logical next step in the evolution of female wiles. That male response, in layman terms, was "Hell to the yeah."
However, butt-cleavage girls grew weary of competing women deeming them trashy, and of partyers occasionally dropping coins into their backside slots for purposes of amusement.
So butt cleavage disappeared quickly. Yet it has resurfaced in a hotbed of Darwinism: hotel dayclub pool parties.
Even the most alert women in bikinis (some, displaying alcohol courage) allow their bathing bottoms to sag salaciously downward.
On Memorial Day at Encore Beach Club, one fashionista purposely wore her 4-inch skirt (red, frilly, polka-dot waistband) a good inch below the top of her rump. She received predictable attention from males on the level of, "Oh, yes, yes," and derision from women who do not want to journey this route.
ADHESIVE BIKINI TOP — The cups of this bikini top do not necessarily reveal significant bosom. Nay.
Their scintillating appeal rests in the fact they are kept on with adhesive, suggesting a sexy narrative twist that they may fall off at any moment.
There's also a new strapless, adhesive bikini bottom on the market, but none of the many hundreds of women at Encore Beach Club were observed in them.
And only one fearless femme was observed in the adhesive bikini top. She addressed men she did not know approaching her with scientific questions about these wonder cups, while they pointed with remarkable candor at her upper quadrants.
GLASSES WITHOUT ANY LENSES — These fetching black-rimmed spectacles say, "I'm a professor … of fun and frivolity!" They've been spotted on a VIP guest at Nikki Beach and on a bikini bartender at Encore Beach Club.
This fad will remain cute for a nerd minute, scorned by skeptics of facades. But if you're a skeptic of fads and facades, I remind you you're living in Vegas.
FAKE FUR … AT THE POOL? — At Encore Beach Club, one woman wore a bikini top of light brown fake fur, held together by traditional black straps.
Genius-ly, she paired this fluffy surprise ("Fake fur? At a desert pool?") with eyelashes of feathers, which were not detrimental to her vision.
Not to be outdone, a few dayclubbers dared to wear fake-fur hats with mouse ears, plus earflaps (6 inches wide) extending all the way to the waist.
If this had been an ordinary day at the pool, these warm Cossack hats could have been viewed as unwise outerwear. However, since fake-fur partyers were dancing to the electronic music of DJ Deadmau5 (pronounced "dead mouse"), they were perceived as thematic.
PASSE CHOICES — Several men tried to resurrect two unredeemable statements: the mullet and the rattail. There is no need to deconstruct these follicular preferences beyond the obligatory, "No. Don't. Stop."
Not quite as unfortunate was a cadre of gentlemen in overly greased shocks of hair, a la The Situation and Pauly D from "Jersey Shore," and they were in the company of a woman showing off her Snooki-esque poof 'do.
It must be noted for the record that the honeymoon is over for "Jersey Shore." Adherents of the primates The Situation and Pauly D ought to consider new role models, as they risk being viewed unironically as missing links in gold chains.
Doug Elfman's column appears Tuesdays, Thursdays and Fridays. Email him at delfman@reviewjournal.com. He blogs at reviewjournal.com/elfman.