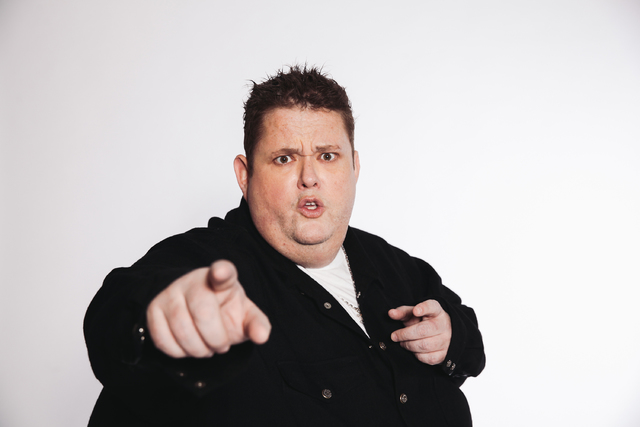 Ralphie May says they asked if he wanted anything special for his new stand-up gig at Harrah's Las Vegas.
He did.
"I want you to talk to them Cirque du Soleil boys and get me a harness, so I can fly out over the audience … we'll call it 'Fat-manity.' "
But he settled for "No Apologies," and for doing the same kind of stand-up he's done since "Last Comic Standing" elevated May from clubs to headline gigs: smart observational comedy and old-fashioned dirty jokes, delivered with the grinning zeal of your little brother and tied together with the unique perspective of his never-dull life.
"I've always been a destination comedian," says May, who turns 45 next month. "The people who know me aren't like, 'Oh, let's go see comedy.' That to me is what I love and what I thrive on. I get more freedom than most comedians, because they love me, and they love me being a nutjob."
The heavyweight comedian was a South Point regular for a steady eight years, drawing a mix of locals and tourists. Three years ago, May helped the casino launch a free late-night showcase, "The Dirty at 12:30." (It continues, but with his name no longer attached.)
May had moved up to Treasure Island and had pitched that casino a dirty, old-Vegas-style late show. But Caesars Entertainment executive Damian Costa, who knew the comedian from the South Point days, instead lured him to Harrah's with a 26-week offer for a 10 p.m. show, sharing the room with the Tenors of Rock.
The new venture will be "a dirty, filthy animal show" in the vein of May's comedic heroes, Buddy Hackett and Sam Kinison.
"I'm sick and tired of Vegas being a family destination. No, it's not. If you're bringing your family to Vegas, you're a horrible parent. Take your kids to Disney, OK?" he declares with that tickled laugh that leavens such tirades.
May says he visited morning radio stations in Phoenix and Los Angeles on his own dime to promote this gig. "(Harrah's) was like, 'You don't have to.' Yeah, I do … I'm just trying to be a success. I want to be Ralphie 'Harrah's' May."
He promises plenty of Donald Trump material, even though he wasn't fond of Hillary Clinton either. "Trump's been a comedy godsend," May says, "but I'm not one of these people that treats him as an enemy. I just think he's kind of dumb."
Trump supporters won't feel like they have to get up and leave. "I say Democrats are sore losers, and Trump people are really sore winners," he says.
"What I don't do is let people get sanctimonious or gang up on other people," he adds. "It's a line you have to balance."
May has been learning how to walk that stand-up line since he was 17. He had already worked as Jay Mohr's opening act when he was invited to audition for "Last Comic Standing," which Mohr hosted that first season in 2003.
He didn't win. Dat Phan engaged voter sympathies in the contest that mixed stand-up with "Big Brother." But May came out of it with a limited run at the Sahara and has maintained a consistent Las Vegas presence ever since.
He hopes the extended run at Harrah's will draw as many repeat customers as he did at the South Point, once locals figured out how much new material he generates. "If you come and see me next week and come back in a month, there will be a different 45 minutes. Half of it will be new," he says.
Local fans have also charted May's offstage struggles. Health and weight issues came to a head in 2011, when pneumonia and blood clots in his legs and lungs had May fighting for his life during an extended hospitalization.
He is upbeat now when talking about his health. "I got really lucky genetics, I'm not going to lie to you," he says of impressive numbers for his cholesterol, blood pressure and blood sugar. "I'm active and I don't eat (bad foods). I like salads. I'm a very un-fat guy when it comes to eating."
But May's life changed again two years ago when his wife, Lahna Turner, filed for divorce and custody of their two children. Turner had been with him since his breakout days, often doing her stand-up to open his shows.
Turner and their children are one thing you won't hear May talk about on stage anymore. "Because I am the more popular and I've got the bigger voice, it would be amazingly unbecoming, and petty and small, if I said anything about her on stage," he says. "If I say anything about her, it's positive. She's a great lady and I wish it would've worked out, but it didn't."
This Las Vegas gig puts May closer to his children in Los Angeles, but he really likes living in Nashville, Tennessee. "It's a 2½-hour flight to 85 percent of my work, and I feel at home there," he says.
So he will wait and see how the half year at Harrah's works out before he commits to "going full Carrot Top," working a full-time schedule and maybe buying a house in the suburbs.
"The only reason I might move to Vegas is that I hate that 'Trail of Tears' walk at the airport," he says. "It's like you land in Bullhead City and then walk back — 'I've crossed the Colorado twice.' "
Read more from Mike Weatherford at reviewjournal.com. Contact him at mweatherford@reviewjournal.com and follow @Mikeweatherford on Twitter.
Preview
Who: Ralphie May
When: 10 p.m. Thursday-Saturday
Where: Showroom at Harrah's Las Vegas, 3475 Las Vegas Blvd. South
Tickets: $38.15-$107.91 (702-777-2782)