Ricky Martin 'All In' with Las Vegas residency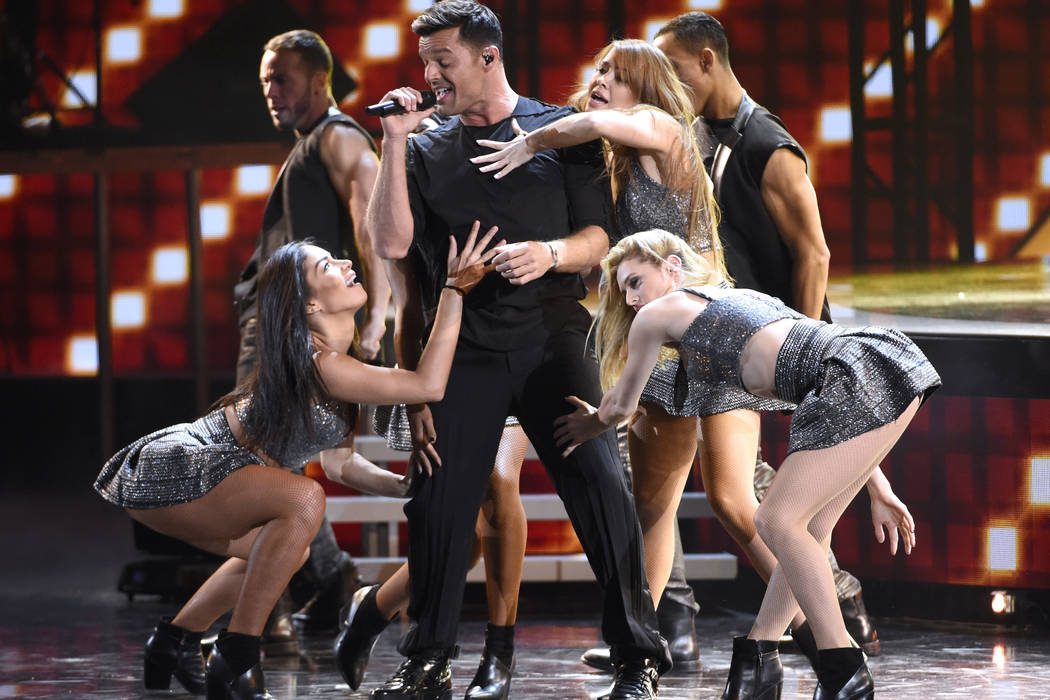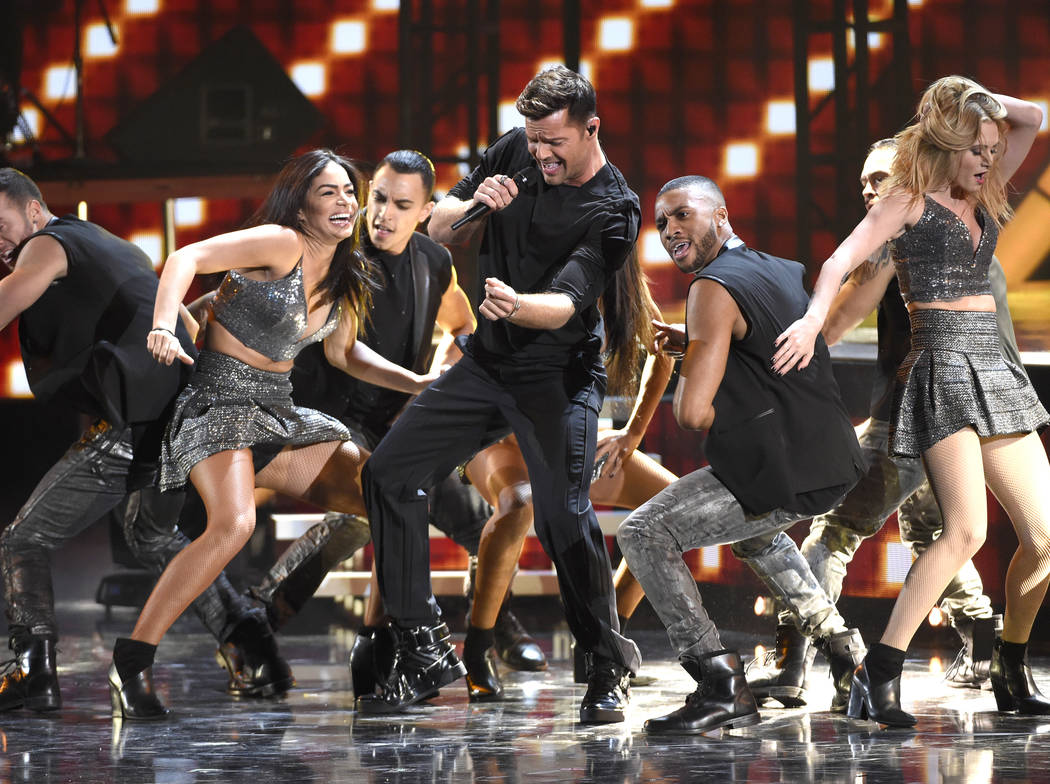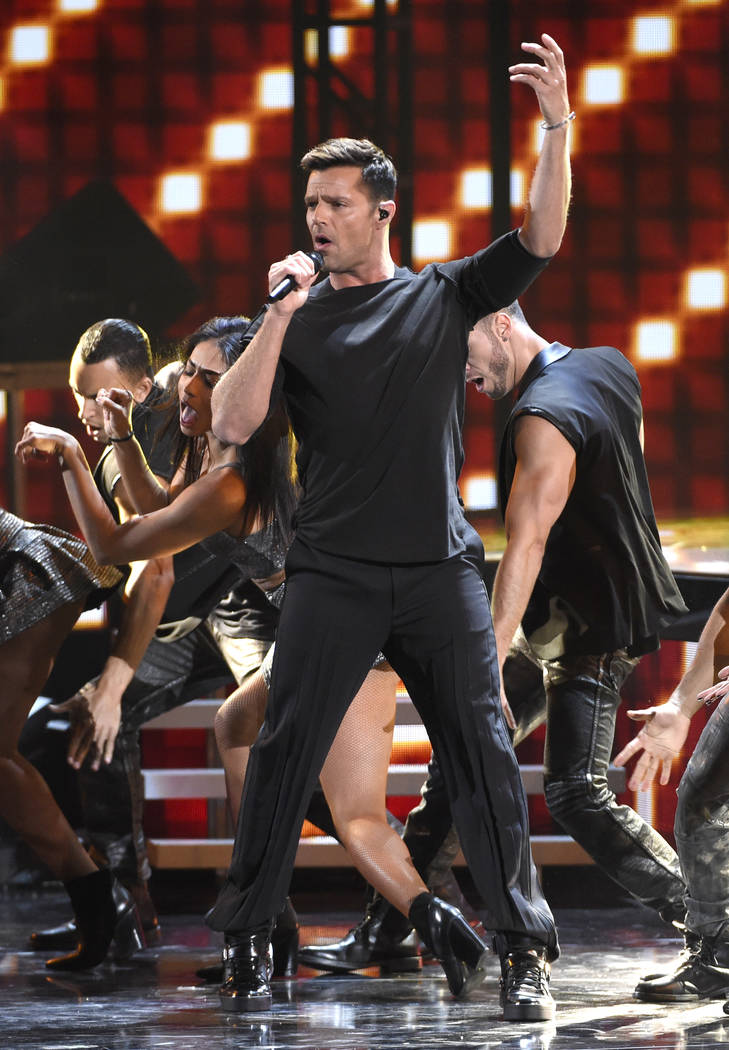 Las Vegas has always been part of Ricky Martin's career. But one New Year's Eve, you would only have seen him behind the wheel of an RV.
Martin laughs over the telephone when reminded of the story from his memoir, "Me." The RV road trip through Colorado and the Southwestern desert was one of the ways he found to cope with living in the public eye since he was a boy.
"I wanted to see a side of Vegas I hadn't. I've been coming to Vegas since I was 12 years old (with the boy band Menudo), and every time I have a tour I always stop in Vegas," the 45-year-old star says. "But that specific night, I had spent maybe 12 hours driving, and I just wanted to park the RV and chill and relax, and that's what I did that night.
"It was far from what's happening right now," he adds. "Now we live in the core of it all."
Martin's "All In" opens Wednesday at the Park Theater. The custom spectacle helmed by longtime collaborator Jamie King (Cirque du Soleil's "Michael Jackson One") is booked for 18 shows in three clusters this year, returning in June and September.
"He's the perfect person to have a residency here in Vegas," King says. "He is such a showman, a great entertainer, full of energy, and has so many songs." The title was chosen because "he gives his heart and soul onstage. When he gets there, he's all-in."
"Production-wise, we can do whatever we want," Martin adds of the live band, 18 dancers and Dsquared2 fashions that will take the audience from a tribute to classic-era Vegas to a climactic carnival.
"I think that's exactly what the audience deserves at this point, and we are in Vegas. The audience in Vegas is used to amazing spectacles, and we have to do it right."
Boyhood to Fatherhood
"For me, Ricky is timeless. He's like a Michael Jackson or a Madonna," King says. This residency is "not a beginning, and it's not an end. It's just the next chapter. He's never done this before. The world has never seen Ricky in one place for more than a few days."
Martin remembers first visiting Las Vegas in 1984 with Menudo, the Puerto Rican pop group that cast him after his early taste of success with TV commercials.
In 1999, well after he became a star in the Spanish-speaking world, Martin's English-language debut album exploded, selling 660,000 copies in one week (eventually it topped 7 million) and had the whole country "Livin' La Vida Loca."
A Mandalay Bay concert that year sold out in two hours, and a second was added. The casino was so excited, it cut a deal with the singer's manager for a short-lived production show called "Storm," which was positioned as "a Ricky Martin concert without Ricky Martin."
Las Vegas remained a dependable concert stop during Martin's globe-trotting, even as his popularity gradually shifted back to the Spanish-speaking world.
After his second Broadway turn, as Che in a 2012 "Evita" revival, "the word 'Vegas' came out of my mouth," he says, "and ever since (his managers) have been working and strategizing how to make this happen."
Martin says the long stretches in Las Vegas will give him time to pursue an acting project and work on an album for next year. And it will create family time for his 8-year-old twin sons and Martin's fiance, artist Jwan Yosef.
"As the father of twin boys, I think this stability will give us a lot," he agrees. "But then again," he adds with a laugh, "my kids are used to the madness of the road. If we spend too much time in one city, they go, 'Dad, what's next? C'mon, c'mon.'
"It's funny, the word stability takes a whole new meaning for us. Stability for us means to be together, regardless of the country or the continent."
Universal Language
Martin waited until a bilingual headliner on the Strip barely raises eyebrows.
"My concerts have always been bilingual, for obvious reasons. Here in America we're used to the cultural exchange, especially with the Latino community being so strong, so powerful," he says.
"But if I go to China or India or Egypt, my language travels with me because of the songs that were international hits … language has never been an issue for the crowd that comes to my concerts. And I always bring my culture with me."
He says he once thought he could get away with not singing one of his earliest hits, "Maria," in Morocco. "Big mistake," he says. "The bashing that I got on social media … lesson learned. Imagine, even in Morocco. So yes, I will take advantage of that duality."
Contact Mike Weatherford at mweatherford@reviewjournal.com or 702-383-0288. Follow @Mikeweatherford on Twitter.
Preview
Who: Ricky Martin "All In"
When: 8 p.m. Wednesday (and select dates through April 15)
Where: Park Theater at Monte Carlo, 3770 Las Vegas Blvd. South
Tickets: $59.50-$250 (800-745-3000)
Ricky Martin Rocks Vegas
Given his impact on Las Vegas — an"American Superstars" tribute, inspiring a 2001 show called 'Storm' — it's surprising the real Martin played Las Vegas only seven times after his 1984 debut with Puerto Rican boy band Menudo.
■ Nov. 11 and 12, 1999; July 22, 2000 (return date) — Livin' La Vida Loca Tour
Mandalay Bay Events Center
■ Jan 27, 2006 — One Night Only Tour
Aladdin Theatre for the Performing Arts
■ April 21, 2007 — Black and White Tour
Mandalay Bay Events Center
■ April 30, 2011 — MAS (Musico+Alma+Sexo) Tour
Colosseum at Caesars Palace
■ Sept. 15, 2015 — One World Tour (Kickoff date)
Axis at Planet Hollywood