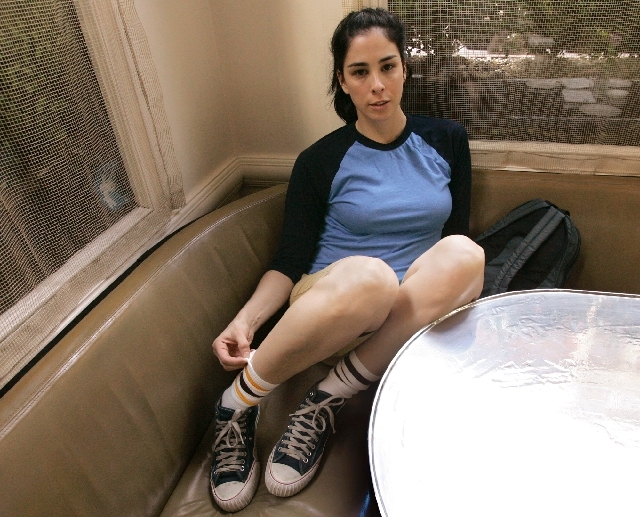 If you want to dance with Sarah Silverman, find her a club that doesn't play "electronic puke."
The comedian says she'd take hip-hop, Beyonce or hits from the '70s and '80s, "but I haven't found that place yet in Vegas."
"No offense," she adds in an email. "Come to my show."
More often than not, after wrapping a show like the one Saturday at the Palms, the 42-year-old stand-up tends to "stay in my room and watch reruns of 'Law & Order.' But that's my joy. It's not Vegas' fault."
Silverman took part in the Las Vegas Comedy Festival in 2006, at the height of her "Jesus Is Magic" era. That was when her stage persona was a self-absorbed princess who said the most wrong things imaginable.
Her comedy is still outrageous, but no longer trapped in a character. "I grow and change and force myself to reflect that in my stand-up," she says. "You risk losing your audience but it's better than becoming some weird caricature of yourself.
"I think if you look back at what you did a few years ago and you don't cringe, you're probably stuck in a moment."
Silverman also is filming her role as an old-West prostitute in "A Million Ways to Die in the West," Seth MacFarlane's movie follow-up to "Ted."
The movie will bridge the gulf between family-friendly animation and adult comedy, where Silverman follows the likes of Gilbert Gottfried and Buddy Hackett.
"I feel very lucky to get to do stuff geared toward children, as Mister Rogers is one of my all-time heroes and I love kids so much," she says of her voice work for "Wreck-It Ralph."
"I even made an app for babies and toddlers called 'Uncle Sarah,' but no one believes me that it's really for kids (and parents)."
Contact reporter Mike Weatherford at mweatherford@
reviewjournal.com or 702-383-0288.
Preview
Sarah Silverman
8 p.m. Saturday
The Pearl at the Palms, 4321 W. Flamingo Road
$43-$93 (702-944-3200)