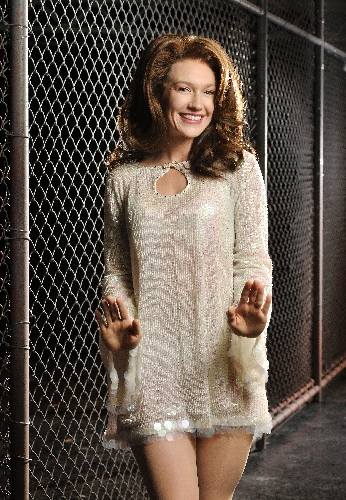 Q: You're not old enough to remember the Four Seasons from way back when.
A: No. … But my whole background is in musical theater. My grandmother is Ruby Keeler.
Q: Your grandmother is Ruby Keeler?
A: Yes. She's on my father's side, and my parents (did) theater. So I grew up more on musical theater and older music, and I was very familiar with the (Frankie Valli and the Four Seasons) songs.
Q: Back to the Ruby Keeler thing: So your parents were in the business, too?
A: My mother is a (Broadway) dancer and my father is a director/stage manager. … So I grew up backstage.
Q: Sounds like your choice of career was predestined.
A: I always say: I wonder, if my parents were doctors, would I have gone into that field? I don't know. But when I was 3 or 4, somebody asked, "Can you count?" and I said "Yes. One, two, three, four, five, six, seven, eight, two, three." (Laughs) I think I was only ever supposed to learn to count in eights.
Q: What was your professional debut?
A: When I was 19, my mom basically was choreographing a production of "Pippin." … So I – with a little help, a little kick in the pants – got my first Equity show, and danced harder and learned more respect for my mother than I had ever given her in 19 years prior (laughs).
Q: So you went to New York to pursue an acting career?
A: I found it to be very difficult. I was working as a waitress in a restaurant on Broadway, like you do when you first go there (laughs) - "I'm on Broadway, I'm just at Ruby Foo's!" I started auditioning and did some regional stuff. … Then I got cast in "Mamma Mia!" out here, so I opened "Mamma Mia!" out here for a year and change.
Q: Then you left Las Vegas for a while, went back to New York and returned here with "Jersey Boys" (as dancer, dance captain and swing). You must be great at wedding receptions when they start playing oldies like "Proud Mary."
A: It's funny you mention "Proud Mary." That's my karaoke song! But, yeah, the most fun for the girls, I think, is that we sing "My Boyfriend's Back." It's a really fun number to do. We get to be girly and do kind of '60s doo-wop stuff.
Q: You also perform in another project that you started back in New York?
A: It's called "The Apple Sisters" (www.theapplesisters.com) which is basically a 1940s throwback musical comedy act where we do songs and dances. … We were in "Bridesmaids," but we were cut. But we're on the Blu-ray.
Meet Sarah Lowe
"Jersey Boys"
Hometown: Burbank, Calif.
Age: 32