Show & Tell: Nikka Wahl of 'Jersey Boys'
November 16, 2012 - 2:11 am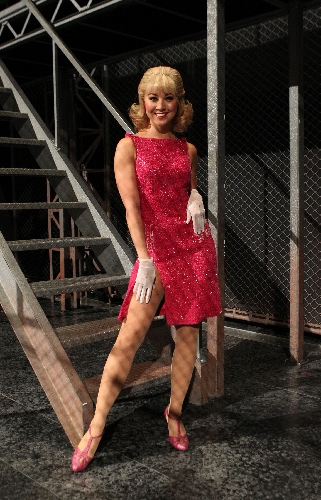 Q: How long have you been in "Jersey Boys"?
A: I've been here since December 2009.
Q: But it's not your first show?
A: My first role, my first job, was in "The Wedding Singer," the first national tour. I graduated from Florida State, and it wasn't too long after I graduated from college.
Q: Do you come from a performing family?
A: My parents are professional ballet dancers.
Q: So you must have been dancing in the womb.
A: (Laughs) My mom says that when she was pregnant with me – my mom was teaching at the time – whether it was "The Nutcracker" or whatever it was, my feet would just start, "tap, tap, tap, tap."
Q: So your parents were probably OK with you pursuing a career as a performer?
A: Well, I grew up with it and, being that my parents were ballet dancers, they tried to push me toward dance first. They put me in a tutu and slippers, and my first reaction was ripping it off and throwing a temper tantrum because I thought it was the most boring thing in the world (laughs). What I loved was sitting in front of the TV and watching Disney movies and singing the songs.
Q: You've sung in all sorts of styles (in "Les Miserables," "Nine," "South Pacific," "Sweeney Todd," "Urinetown" and "Oklahoma"). What do you think of the '60s songs in "Jersey Boys"?
A: I was actually in shock with how many of them I recognized. I was, like, "I love this song!" (and) "I love that song!"
Q: As a classically trained singer, what do you think of that era in music?
A: It's such a classic sound – so pure. Because right now it's all, like (mimics the thumping of a beat box). So there's definitely an appreciation!
Q: You must be great in karaoke bars.
A: My go-to is still "Respect" by Aretha (laughs).
Q: Why?
A: I have no idea. Maybe I'm just demanding respect these days (laughs).
Q: Do you actually go to karaoke bars?
A: Getting paid to sing, you don't do free karaoke. (Laughs) When we go to karaoke bars, we go, "We're off the clock. We're just here to observe."
Nikka Wahl
"Jersey Boys"
Hometown: Davie, Fla.
Age: 27