Show & Tell: Q&A with Kristal D'arc of 'MGM Grand's Crazy Horse Paris'
December 2, 2011 - 2:01 am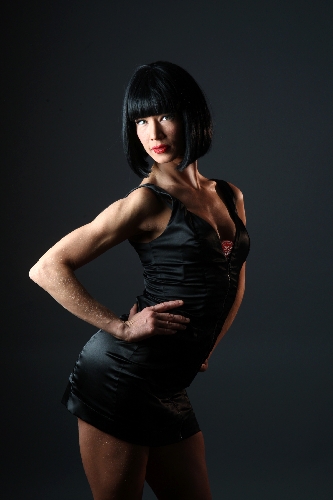 Q: In the middle of your routine, what are you thinking about?
A: I'm thinking about just letting all of my emotions go out on the stage. I'm thinking about how much the audience is watching me and I want to make sure they're enjoying themselves and really living through my movement.
Q: When you're not onstage, you usually can be found where?
A: Usually at home cleaning. I'm a clean freak. I'm always dusting, I'm always doing the dishes. I enjoy it. It's one of those sick things about me.
Q: Dusting brings an image to mind. Is it correct?
A: Of the French maid: Not at all. Around the house, I wear the normal thing like most Americans — pajamas, sweat pants, nothing truly sexy. Only at work.
Q: The star you'd most like to dance — or do more with.
A: Ooh, very good question. I'd say Brad Pitt, more along the do more with.
Q: What's your favorite French thing?
A: I have to say croissants, because french fries aren't really French.
Q: The best way to your heart is?
A: Through my stomach, I guess, my mouth. I love food so much. It's amazing I'm able to stay in shape because I eat like a fiend.
Q: What are your post-dancing career plans?
A: I got a degree in hotel administration and I'd love to go back to that field one day. But I want to dance as long as I can. It's my passion and I really enjoy dancing at 'Crazy Horse Paris.'
Q: Real or fake?
A: What part? Everyone in 'Crazy Horse Paris' is au naturel. No plastic surgery allowed, so definitely real.
Q: When people call you a stripper, you…
A: I tell them that's absolutely not the case. We are an international dance troupe that's recognized for our beauty and our talent. We're all trained ballerinas. There's no way we are really strippers.
Kristal D'arc
Real name: Krystle Richeson
Show: "MGM Grand's Crazy Horse Paris"
Hometown: Virginia Beach, Va.
Age: 30