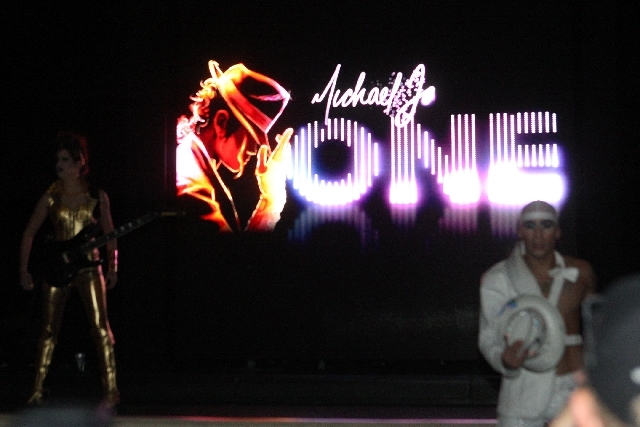 Show preview
At a media preview for "Michael Jackson One," the co-directors kept repeating over and over that opening night is June 29, almost like a mantra. Funny thing about that? You can see the show Thursday, if you don't mind that it's officially a "preview." If you're that fan who has to be the first to tweet your findings, be at Mandalay Bay at 7 p.m. with $79.26-$189.15 in ticket money. Call 877-632-7400.
— Mike Weatherford
Bill Burr
Learn why men make $1 more an hour than women, why Einstein wouldn't have been taken seriously if he had a Southern accent, why fast food makes you dumb and more from comedic battering ram Bill Burr. See him at 10 p.m. Friday and Saturday at the Terry Fator Theatre at The Mirage, 3400 Las Vegas Blvd. South. Tickets are $39.99; call 702-791-7111.
— Jason Bracelin
'Star Trek'
Well, at least 18 minutes of it look great. After screening two extended "Star Trek Into Darkness" scenes last month during CinemaCon at Caesars Palace, the studio kept the finished product from most critics until after it opened. This almost always means a movie is a disaster, but early reviews are overwhelmingly positive. Hiding a summer blockbuster from people who are excited to see it seems illogical.
— Christopher Lawrence
'Billy Elliot'
Elton John's latest Caesars Palace run may be over, but you still can catch his tunes this weekend, as the Tony-winning musical "Billy Elliot" — about a working-class British lad who just wants a chance to dance — wraps up its run at 7:30 p.m. Friday and 2 and 7:30 p.m. Saturday and Sunday at The Smith Center for the Performing Arts, 361 Symphony Park Ave. For tickets ($24-$129), call 702-383-0272 or go online to www.thesmithcenter.com.
— Carol Cling
Reggae Party
The reggae will be jammin' and the wine pouring during Rock 'n Roll Wine's ninth annual Reggae Party from 7 to 11 p.m. Saturday, poolside at the Palms, 4321 W. Flamingo Road. Tastings of more than 80 wines from more than 40 wineries will be available from 7 to 10 p.m. Tickets are $34.99 in advance, $39.99 at the door (plus taxes and fees) or $49.99 for VIP; for advance tickets, go to www.RNRWine.com, or call 702-240-3066 between 9 a.m. and 5 p.m. Mondays through Fridays.
— Heidi Knapp Rinella
Bruno Mars
Bruno Mars returns to Las Vegas to perform Sunday at the Bank nightclub in the Bellagio. You know Bruno for his hits such as "Just the Way You Are," "Locked Out of Heaven," "When I Was Your Man," "Grenade" and "It Will Rain." Vegas cops know him for his 2010 cocaine bust. But he recently explained that to MTV: "I was young … doing dumb (stuff)."
— Doug Elfman