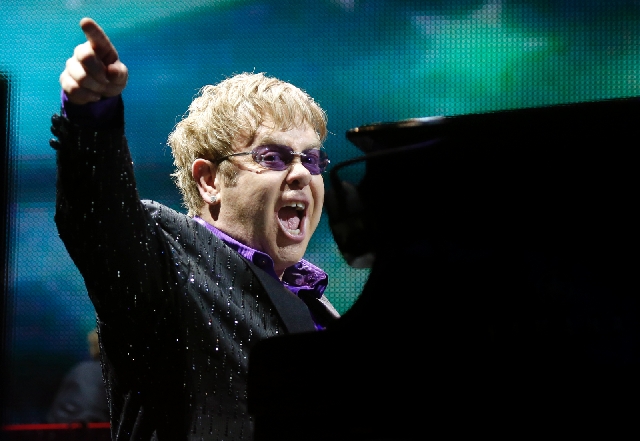 Elton John
You can't hear Elton John's new album "The Diving Board" until September. But maybe, just maybe, he will slip a preview into his "Million Dollar Piano" shows at Caesars Palace. The album is said to be a return to early-'70s basics, and you can say the new residency is a bit more serious as well. He plays at 7:30 p.m. Saturday, Sunday, Tuesday and Wednesday. Tickets are $55-$250; call 800-745-3000.
— Mike Weatherford
The Men
Three years and as many albums ago, Brooklyn's The Men savaged ear holes with awesomely abrasive post-hardcore that was the rock 'n' roll equivalent of dragging sandpaper across a bad sunburn. Since then, they've discovered Neil Young, as the band's latest record, "New Moon," sees them favoring twang over torque. See The Men at 9 p.m. Tuesday at The Bunkhouse Saloon, 124 S. 11th St. Tickets are $10; call 702-384-4536.
— Jason Bracelin
'Raging Bull'
Robert De Niro gained 60 pounds to play Jake LaMotta. "Raging Bull" fans must have gained at least that much over the years just from popcorn while watching the Scorsese classic. Put on a few pounds of your own when it returns to theaters at 2 and 7 p.m. Wednesday at Sam's Town, Santa Fe, South Point and Suncoast.
— Christopher Lawrence
Assad brothers
Brilliant Brazilian guitarist brothers Sergio and Odair Assad dazzled last year when they played The Smith Center's Reynolds Hall alongside Yo-Yo Ma (who joked that he was their opening act). If you missed them then, catch them now — at 7 p.m. Saturday and 3 p.m. Sunday in Cabaret Jazz, 361 Symphony Park Ave. Joining in the musical mix of classical, jazz and pop: Sergio's daughter Clarice. For tickets ($33-$45), call 702-749-2000 or click on www.thesmithcenter.com.
— Carol Cling
Beer and Bites
The Pub at the Monte Carlo launches Gus' Beer and Bites, a monthly interactive beer-pairing dinner series named for the pub's whale mascot, at 6:30 p.m. Wednesday. Each dinner will be hosted by The Pub's executive chef, Timothy Radigan, and a representative of a brewery, beginning with Left Coast Brewing Co. of San Clemente, Calif. The five-course dinner is $64.04 inclusive. For reservations, call 702-769-6699.
— Heidi Knapp Rinella
Hardwell
MGM's shiny new nightclub Hakkasan is finally open, and tonight's inaugural Friday headliner is Hardwell, creator of the epic big-house hits "Spaceman" and "Encoded." He also plays MGM's Wet Republic dayclub on Saturday.
— Doug Elfman