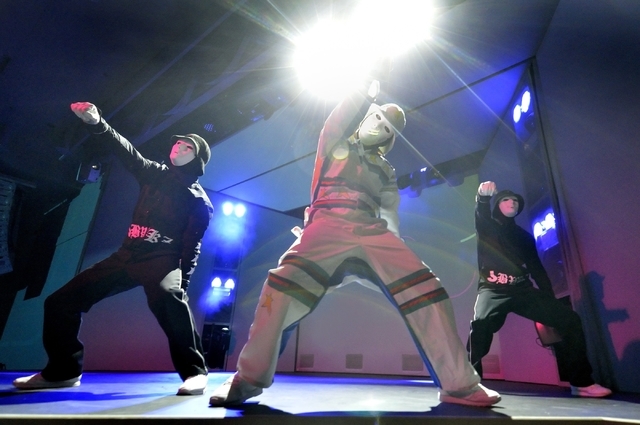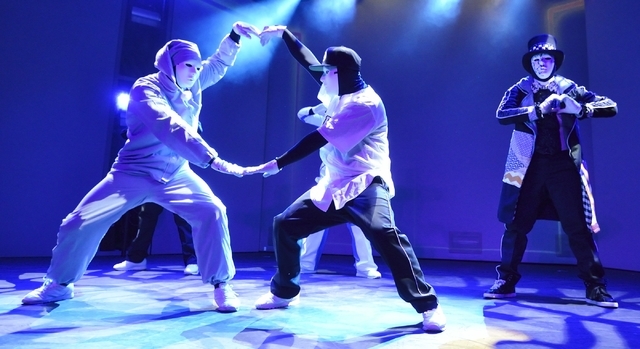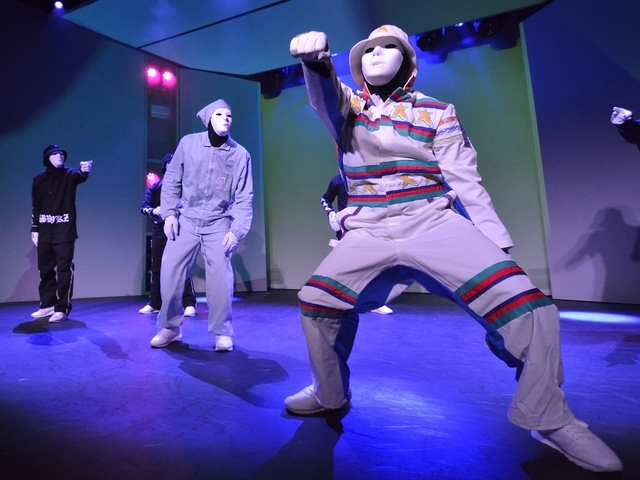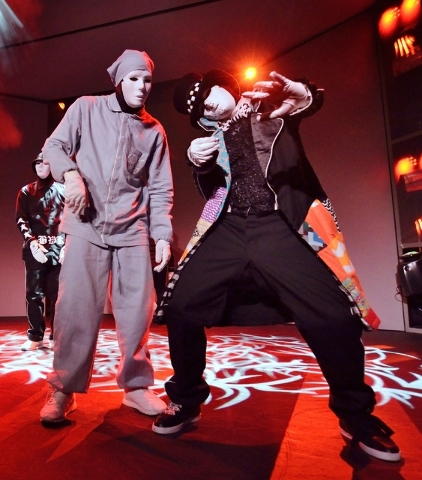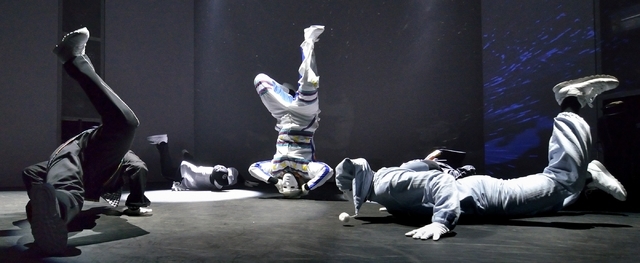 The Jabbawockeez are all about positivity, and with their latest show it's more important than ever to look forward and not back.
For those who see the glass as half full, it goes like this: The small stage at the MGM Grand, which has been the hip-hop dance troupe's new home since November, makes its gravity-defying dance even more amazing. After all, you're watching it in a room that seats (very tightly) about 300 people instead of 800.
The cozier setting also makes it easier to follow the troupe's latest down-the-rabbit hole story, in which a zombie — who is both named PJ and wears them — is shaken out of his "world of monotony" by learning how to loosen up and bust some power moves.
If you need reminding, the Jabbawockeez all wear blank white masks, so their stories are told through mime and a soundtrack of chopped up sound snippets. It's easier to follow their interaction without the distractions of …
Ah, the glass-half-full part.
Last fall, the Jabbas were forced to move as part of a musical-chairs rotation that found the more-tenured Blue Man Group in need of the larger theater at Luxor. It's hard to watch this new Jabbawockeez show without thinking of the last one. Such sweet nostalgia for the midway carnival of a set that allowed the troupe to invent new tricks and ramp up its Vegas razzle-dazzle.
This time we have to settle for some cool video projections from production designer Robert "Hydro" Mullen (Justin Timberlake's "The 20/20 Experience" tour). It's a different kind of carnival ride when the images spill out to the side walls and even create the illusion of motion.
But they can't quite conceal the fact that there is usually only room for four to six characters on a stage that was long used for solo strip-tease numbers by the girls of the Crazy Horse Paris.
None of this has compromised the Jabbawockeez's good humor, or their ability to spin on their heads.
Five years on the Strip have taught the troupe how to use diverse comedy and musical samples to appeal beyond its original b-boy following from "America's Best Dance Crew."
This time, the troupe even quotes the Lewis Carroll "Jabberwocky" poem that inspired its name. Another bit dares to go completely silent.
The new show — spelled "Jreamz" — gets off to a creepy-fun start in a "Blair Witch Project"-type haunted forest, before we learn PJ is just a harmless suburban zombie "wandering aimlessly," as a narrator tells us.
But then he puts on his nightcap and slips into a transformative Oz-world dream. "How do you scare a zombie, you ask?" the narrator anticipates. "You boogie and freak him out."
As he falls in with a trio of spirit guides and lifestyle gurus named Style, Whimsicality and Audacity — plus a funky dude just known as G, returning from past productions — PJ is at first shunned, then assimilated into a dance flow that takes him from a beach to outer space to the "Street Fighter" video game.
(Like the Blue Man Group, individual performers aren't identified. But six co-founding or longtime members are credited, along with 24 additional performers rotating the nine spots in each show).
Hip-hop is an attitude here, but not the sole musical diet. In just a few minutes of running time, older audiences will recognize a soundscape that shifts from Michael Jackson's "Pretty Young Thing" to a flamenco, Eagles-live intro to "Hotel California" to Queen's "Bohemian Rhapsody" to Sting's "Englishman in New York."
If the action onstage isn't quite so diverse, it's at least unique on a Strip that tends to offer three or four of each type of show. By the time we all get coaxed to our feet, and watch a woman among our number get pulled to the stage for a comedic "proposal" — a bit that survives each edition of the show — we are quite inclined to agree with our narrator: It's always more fun to explore "a colorful new path" than to be a zombie.
Read more from Mike Weatherford at reviewjournal.com. Contact him at mweatherford@reviewjournal.com and follow @Mikeweatherford on Twitter.
Review
What: Jabbawockeez: "Jreamz"
When: 7 and 9:30 p.m. Thursday-Monday
Where: Jabbawockeez Theater at MGM Grand
Tickets: $79.56-$119.90 (866-740-7711)
Grade: B