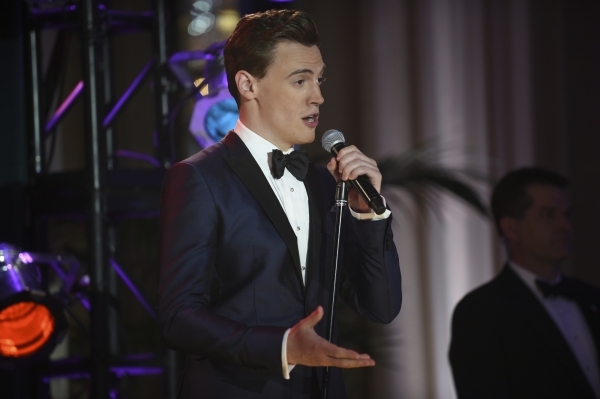 Patina Miller won a Tony Award for the musical "Pippin." Norm Lewis, a Tony nominee for "Porgy and Bess," was the first African-American to play "Phantom of the Opera's" title role on Broadway.
Yet some people — people who have only seen them on TV — seem surprised to discover they can sing.
Yes, folks, Lewis (alias "Scandal's" Sen. Edison Davis) and Miller (who plays "Madam Secretary's" press coordinator Daisy Grant) can sing — and then some.
They'll prove it Thursday night when they join "Jersey Boys' " Erich Bergen (another "Madam Secretary" regular, who plays the title character's personal assistant, Blake Moran), Capathia Jenkins (recently seen on TV's "The Wiz Live!") and Cabaret Jazz headliner Clint Holmes at Reynolds Hall for The Smith Center's annual New Year's Eve concert.
"You reach such a broader audience when you're in their living room," Lewis says of his "Scandal" role. "When you're on a show that everyone knows, it's a plus."
And while Lewis isn't a "Scandal" regular anymore, "they didn't kill me," he points out, so he'll be back "every once in awhile."
As for "Madam Secretary" regulars Miller and Bergen, the show kicked off its second season with an episode titled "The Show Must Go On," featuring a trade conference talent show that found Miller, Bergen and co-star Bebe Neuwirth (a two-time Tony-winner) strutting their musical stuff.
After the episode aired, Miller's Twitter timeline included such messages as " 'You should record' and " 'You should sing more,' " Miller says with a laugh.
Although "a big part of the TV audience" may be unaware of her stage work (including the Broadway musical "Sister Act"), "it's great that I have this bigger base to reach more people," she reasons.
Jenkins' Broadway resume includes such Tony-winners as "Newsies," but the stage veteran admits that working on "The Wiz Live!" TV broadcast was far from "business as usual."
For one thing, "you're on a soundstage" performing and "you're immediately struck, thinking 'Oh my God! It's TV! Oh my God! Millions of people are watching!' The show starts and you get on the train and you take that train to the end."
During her Smith Center performance, Jenkins plans to sing "Home" from "The Wiz" — a song "I love singing," she explains, because " 'The Wiz' changed my life." It was the first Broadway show she ever saw, starring Stephanie Mills, "another little black girl from Brooklyn."
During Thursday's concert, Jenkins and Holmes — who "have sung together many times," Holmes notes — will perform a "Porgy and Bess" duet, "a modernization of 'There's a Boat That's Leavin' Soon' and 'I Loves You Porgy,' " that Holmes recorded on an upcoming CD with Dee Dee Bridgewater.
Speaking of "Porgy," Lewis and Holmes' longstanding friendship provided the spark for The Smith Center concert in the first place, according to Holmes.
"The whole thing started when Norm called me and said it would be fun to do something on New Year's Eve in Vegas," Holmes recalls. "Norm is a great friend and a great artist — I'm really excited to work with him."
Holmes also will join members of Las Vegas-based Broadway in the Hood for a rendition of Leonard Cohen's "Hallelujah."
Miller, meanwhile, will perform a "Pippin" medley, along with "some theater songs you think you know, done in my own way," with R&B, pop, gospel, blues and jazz influences.
And while she's used to performing onstage as a character in a musical, "it's sort of therapy for me to get onstage and with the audience and just be real and be who I am," Miller says.
For Jenkins, "it's a little bit easier to get inside a character and let Capathia disappear," she acknowledges, "but it's me. … It becomes this weird, blurry line. Where does Capathia begin and where does this character end?"
Not that Jenkins needs to worry either way, Holmes adds. "I just saw her in Atlanta," where he was performing, "and she just walks on a stage and lights it up."
Jenkins, Lewis and Miller all make their Smith Center debuts New Year's Eve.
Holmes, of course, has been a regular at the downtown performing arts complex since its 2012 debut. Bergen played Reynolds Hall while touring in "Anything Goes" — and visited the monthly Composers' Showcase at Cabaret Jazz during the tour stop. (Bergen returns to Cabaret Jazz with a solo show next April.)
For Lewis, Thursday's concert is more than business as usual.
"Las Vegas is so electric and so exciting to be in" on any given night, he says, and "definitely on New Year's Eve, people are very celebratory."
But not the kind of celebratory you might find on the Strip or Fremont Street, Holmes points out. Which is a good thing, he adds.
"A lot of us who have worked or do work in clubs know it's not a great experience" on New Year's Eve, when revelers in party hats, armed with noisemakers, can disrupt a performance, he notes. "But this one will be special. At Reynolds (Hall), people are coming there to listen. And we're all looking forward to working together."
For more stories from Carol Cling go to reviewjournal.com. Contact her at ccling@reviewjournal.com and follow @CarolSCling on Twitter.