'Southern Comforts' offers pleasant summer diversion for theatergoers
August 10, 2015 - 9:30 am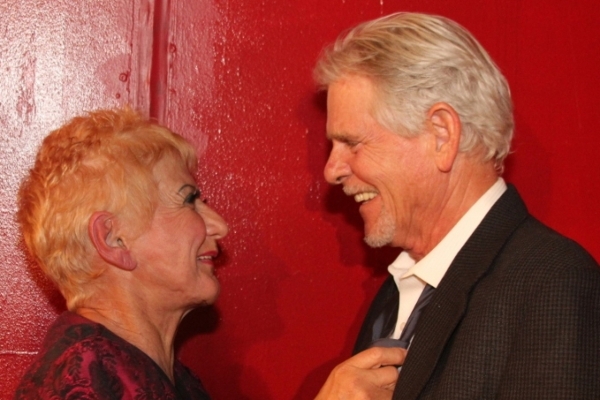 Theatre in the Valley brings its opening season in its new downtown Henderson theater to a successful conclusion with the light romantic comedy "Southern Comforts." Award-winning playwright Kathleen Clark's off-Broadway hit was a perfect choice for the company's season closer and should leave pleasant memories for the audience.
Opposites attract, or in this case comically collide, when aged Southern belle Amanda Cross, played by Helen Okonski, meets taciturn Yankee Gus Klingman, played by Cory Newberry. Both are widowers in their golden years, but for Gus golden means continuing in his set ways, while Amanda is open for a new adventure.
Amanda comes calling on Gus while up from Tennessee to visit her daughter in New Jersey. But getting her foot in the door of Gus' life proves not to be so easy despite her captivating Southern charm.
Outwardly Gus is a catch. Wooed by his church's many widows, he is handsome and financially well-off. But his first wife was unhappy in their marriage. When Amanda asks why, he says, "I didn't ask."
A retired stonemason, he is as set in his ways as the stones he worked with. He tells Amanda, "In my day you settled down, why move around and never accomplish anything?"
Amanda rises to the challenge, but the two are as different as North and South. A Yankee Republican, Gus dislikes it when their pastor uses the word "tolerant" in his sermon, but Southern Democrat Amanda agrees with the pastor's liberalism.
Amanda has soon charmed Gus into an engagement. But when she looks around his sparsely furnished house and announces that there are going to be some changes, it is a call to arms for Gus: "Not me, I'm not changing."
Though Amanda keeps getting her way in Gus' life, their marriage does not make her romantic manipulations any easier, and the play's dramatic crisis comes late when she discovers that Gus expects to be buried next to his first wife.
Clark's play is a lightly written character study and its charm lies in its rather mundane portrayal of Amanda and Gus' relationship. In one funny scene, Amanda attempts to find out if Gus' plumbing still works; apparently she expects the comforts in their relationship to go both ways.
Director Rick Bindhamer elicits well-paced and believable performances from Okonski and Newberry. Both actors still seem to be finding their way in their parts but are naturals for the roles.
Okonski has the attractive, intelligent look of a Helen Mirren, and one can well see how much danger Gus is in whenever Amanda is working her wiles on him. Okonski's charm is as unaffected as her Southern accent.
Newberry is pleasant as the beguiled Gus, but it wouldn't hurt if he were more obstinate in his resistance to Amanda's charm. The play's humor would be enhanced if Newberry played Gus a little more curmudgeonly.
Though the freshman season of the revived Theatre in the Valley has been uneven in production and performance, the company is off to a good start. "Southern Comforts" shows the fledgling company's potential as entertaining community theater.
Review
What: "Southern Comforts"
When: 8 p.m. Friday and Saturday and Aug. 21-22; 2 p.m. Sunday and Aug. 23
Where: Theatre in the Valley Playhouse, 10 W. Pacific Ave., Henderson
Tickets: $10-$15 (702-558-7275; www.theatreinthevalley.org)
Grade: B-