Stand-up couple's honeymoon tour leads to dark alley in Las Vegas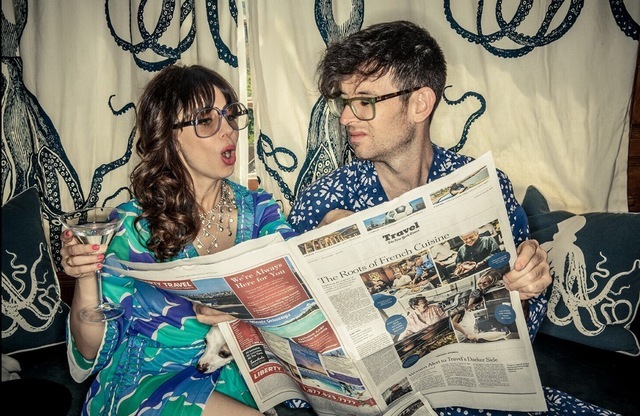 They may be the cool couple in comedy, but they still finish each other's sentences.
Natasha Leggero and Moshe Kasher are on the phone together, talking about their "Honeymoon Tour." Friday it stops by Beauty Bar, a downtown venue not known for comedy, in a city full of places that are.
But the location becomes as much a point of distinction as the married-comedian thing. To Kasher, it's a chance to change the audience and play more to "the real people who live in Vegas and make Vegas function and thrive."
"It can be a very difficult place to perform. Everybody is there on vacation, they don't know who you are," he notes. "You can bomb for 30 minutes in front of senior citizens from Tallahassee. And then the headliner comes on and he's like, uh …"
"Doing Forrest Gump impressions," Leggero offers.
"Right, exactly," he says.
"Killing," she adds.
"Murder. Just annihilates," he says as they both laugh.
So, yes, this really sounds like a honeymoon for two comedians who tied the knot in October. The real one was in Bora Bora, but they tried to pick cool honeymoon-type places for this short tour as co-headliners: Santa Barbara, Honolulu and … an outdoor music venue in an alley behind Fremont Street.
This one is a career honeymoon, Kasher explains. "It's cool that Vegas is developing its own scene. It kind of reflects what's happening with comedy."
Las Vegas is flush with theater-size bookings for everyone from Jay Leno to Daniel Tosh. And Leggero has played The Venetian's "Lipshtick" series, which her husband called "a middle ground" between those established stars and "the new culture of comedy, with everybody getting popular on YouTube, and comedy becoming the new rock 'n' roll."
The two say they knew each other when both toiled in obscurity. But Leggero jumped to that higher level of recognition on Comedy Central's roasts and now is on two TV shows. She plays Andrew Dice Clay's girlfriend on "Dice," the Showtime comedy that filmed at Treasure Island.
And the spouses get to see each other during office hours on "Another Period," the "Downton Abbey" spoof Leggero co-created, with Kasher as a supporting character and writer. It returns Wednesday to Comedy Central.
Kasher sees a bright side should this go the way of "A Star is Born," with Leggero's fame turning him into a bitter alcoholic.
"One of the things that's cool for me is after we got married she got the 'Dice' show. Now if we get divorced, I'll be able to get potentially more money in the separation, so I'm very excited about that."
But that doesn't sound imminent once you get them on topic.
"I think if we're being sincere, marriage has its way of grounding your roots into the ground," says Kasher. "Even though it's the same tree, it feels like it's more solid."
We all know celebrity marriages aren't famous for their longevity. But on the other hand, they always say the most important thing in a marriage is to make each other laugh. So does one count for more than the other?
"In my opinion, the reason why I married a comedian — or Moshe — is like, what do you have if you're not having a good time and laughing?" Leggero asks.
"You can be poor, but if you're laughing every day and having fun, that's kind of a great life. You can be rich, and hate who you're with, and life can be miserable. To me, the most important thing is to have someone who's funny and you're compatible with, no matter where you are. Even if you're in downtown Las Vegas in an alley."
That's so sweet it sounds like the two should be dispensing relationship advice in a Scamp trailer, as they do at some tour stops. (At Beauty Bar it will more likely be from the stage). Then again …
"Our plan is to tell people to get a good pre-nup signed, and find a strong Jewish divorce lawyer," Kasher says.
Read more from Mike Weatherford at reviewjournal.com. Contact him at mweatherford@reviewjournal.com and follow @Mikeweatherford on Twitter.
Preview
Who: Natasha Leggero and Moshe Kasher
When: 8 p.m. Friday
Where: Beauty Bar, 517 Fremont St.
Tickets: $20 (ticketbat.com)