Stars consolidated entertainment takeover on Las Vegas Strip in 2015
December 29, 2015 - 11:43 am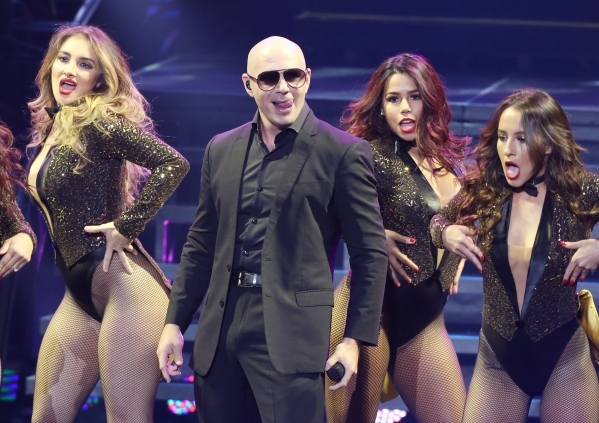 And to think that about this time last year, we were scoffing at the prospects of a "Duck Dynasty" musical having any snowball's chance of making it in Sin City.
We're not scoffing anymore.
Don't get us wrong, the show bombed all right. Horribly. It closed after six weeks at the Rio last May, costing its Broadway producers about $250,000 per week.
But no excessive celebration in the end zone. No one came up with a better idea for a Las Vegas production show, and hardly anyone tried. Instead, 2015 consolidated the Strip's collective shift from standing shows to recurring concert headliners tagged with the already-overused term "residency."
By year's end we would learn the Strip's longest-running production and last showgirl spectacular "Jubilee!" will close in February. And that Cirque du Soleil finally hit the Las Vegas ceiling with eight affiliated shows (and very briefly nine) because "Zarkana" will close April 30 to make way for expanded Aria convention space.
And so, it was a year of names. Single names preferred: Mariah. Pitbull. Diana. Reba, teamed with Brooks & Dunn. The return of Celine.
The concert star takeover became complete in July, when MGM Resorts announced it would tear down the Monte Carlo's theater to build a bigger, 5,000-seat one to compete with the Colosseum at Caesars Palace.
That bumped the Blue Man Group into the Jabbawockeez's smaller Luxor theater, which in turn sent the Jabbawockeez to an even smaller venue in the MGM Grand. And the thing is, neither show could really complain because they weren't filling up the venues where they were.
And you couldn't really argue with the corporate mentality after seeing Pitbull's batch of dates last fall. Britney Spears was Planet Hollywood's first big score for club-generation audiences, but the Miami rapper made it look like a lot less work to fuse production elements with a genuine party atmosphere and a winning personality that reached beyond the stage.
Mariah Carey isn't wanting for personality either, but we just didn't know which Mimi we were going to get — the pop legend or the trainwreck? — at the Colosseum at Caesars Palace last May. What we did get from "No. 1 to Infinity" was truth in advertising. An unusual format locking all 18 of her No. 1 hits into a chronological order was crowdpleasing but predictable, and didn't leave much time for the TMI sharing or diva-loca observations we've come to cherish.
It was the same kind of predictable celebration at Diana Ross' greatest-hits run-throughs at The Venetian in April and November. The Judds' October reunion in the same theater had more of a running underscore of poignancy, and it ended with the celebratory feeling that we'd seen something more than just another slick, Vegas show. (Disclosure: The family of Sheldon Adelson, chairman and CEO of The Venetian owner Las Vegas Sands Corp., bought the Las Vegas Review-Journal earlier this month.)
Likewise, when the '90s came roaring back with country veterans Reba McEntire and her buddies Brooks & Dunn, reveling in the camaraderie of a friendship you can't fake.
But the new norm will at least be the solid, businesslike sets we saw at the Hard Rock Hotel with multiple-show runs by Rascal Flatts in February and Journey in May.
The old norm continued to make the Strip the undisputed home for magic and comedy. Last year's "America's Got Talent" winner Mat Franco quickly justified a place amid other star magicians when he settled into The Linq in August, and this year's "Talent" breakout was a curmudgeonly magician in a silly costume known as Piff the Magic Dragon. His bad attitude was rewarded with a berth at the Flamingo.
Amy Schumer didn't skip The Cosmopolitan during her big year, and Memorial Day weekend alone hosted stand-up sets from Kevin Hart, Craig Ferguson, Joe Rogan, Gabriel Iglesias, Martin Short and Whitney Cummings.
A year that bid a rather sudden goodbye to the Riviera also saw unintentional comedy in a couple of big "Oops, never mind" moments at the Westgate Las Vegas: the quick fizzle of the well-advertised return of Suzanne Somers, and the show portion of an Elvis Presley partnership with Graceland (an exhibit continues).
So much for old-Vegas nostalgia (though Rich Little does forge on at the Tropicana). Two attempts at fresh thinking did bring mixed results. A Los Angeles import paying tribute to film director "Baz" (Luhrmann) got the plug pulled with the closure of its Cirque-affiliated club at Mandalay Bay, but it may be back. And a tenacious little musical spoof, '50 Shades!' closed and came back again at Bally's.
Both brought hope beyond the more-of-the-same diet of topless shows ("X Country" debuted this year) and impersonators (the return of "MJ Live" at Stratosphere). And hope is about the best we can offer you for the new year.
— Read more from Mike Weatherford at reviewjournal.com. Contact him at mweatherford@reviewjournal.com. Follow him @Mikeweatherford