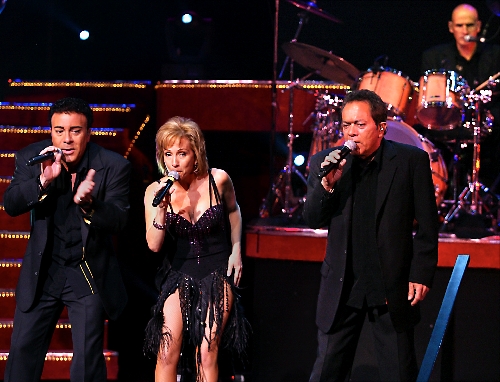 Every now and then, a fan asks Clint Holmes if he's still singing. Holmes, whose standing gig with Harrah's Las Vegas ended in 2006, takes it in stride.
"People know me so much from being on the Strip all those years, a lot of people figure I must have retired," he says.
In fact, Holmes sustains his career with corporate gigs, national symphony and club dates, jazz festivals and four to six gigs per year at the Suncoast. In his free time, he works on a musical he hopes one day to bring to Broadway.
"I'm doing a lot of things right now, and it's a lot of fun," he says.
Three years after the bubble burst, Holmes and other once-perennial Strip headliners find themselves, as they say in the business, between shows. (Other once-familiar names no longer on Las Vegas marquees include singers Wayne Newton and the Scintas, comedian David Brenner, impressionist Rich Little and magicians Lance Burton and Steve Wyrick.)
For Holmes and the Scintas, at least, they're not leaving Las Vegas or giving up their Strip dreams. Steady work elsewhere means they don't have to.
"Because people aren't coming to Vegas like they used to, we're going to the people, and it's turning out to be lucrative for us and very good for the people," says Frank Scinta, whose last standing Scintas show, at the Las Vegas Hilton, closed in 2009.
In addition to touring the country, the Scintas also work corporate events.
"People are constantly reinventing themselves in between their shows," says producer Jaki Baskow, who recently hired the Scintas, Holmes and Newton to headline corporate conventions in Las Vegas and elsewhere.
Corporate events pay anywhere from $2,500 for an unknown close-up magician to more than $100,000 for Jay Leno.
"Sometimes (performers make) as much in one night as a headliner would make in a week," Baskow says.
Cruises also represent a lucrative market. The Scintas played about 10 in 2010; Holmes plans on one this summer.
"You lay in the sun every day, you party every night and you perform two nights out of the seven," Scinta says, "and they treat you like Vegas used to treat entertainers."
Of course, having a regular Strip show again would be even more fun.
"I'd love to have a consistent home, so we're looking at it," says Holmes, who reports "conversations on a couple of levels right now."
Conversations like these are no longer with hotels, most of which have swapped show business for the landlord business. Someone else needs to shoulder the production and promotion costs associated with a show, in addition to the financial risk. The hotels just want to collect rent. (The trend, building for about 10 years but made nearly universal by the recession, is called "four-walling.")
The obstacle for acts such as Holmes and the Scintas is that they can't afford to mount their own shows on their own.
"When the risk is on the side of the casino to fill the seats, they're gonna promote you," Scinta says. "When there is no risk on the side of the casino to book the entertainer, and you do it all on your own, it's very difficult." (For a show like his to succeed, Scinta estimates, promotion costs alone would exceed $30,000 per week.)
Investors are required.
"It's very much like doing a Broadway show," says Holmes, who explains that he has found investors but not the right way to spend their money.
"I have to feel, at the end of the day, that this is something that really has a chance to be successful," he says.
Scinta says he's confident the entertainment climate will improve enough for at least one more Scintas run on the Strip.
"I really believe it's gonna turn around," he says. "It's gonna take time, because Vegas was built on luxury money, and people are trying to keep their lights on in their homes.
"But they're going to be turning to shows like the Scintas and Clint Holmes soon."
Contact reporter Corey Levitan at clevitan@ reviewjournal.com or 702-383-0456.