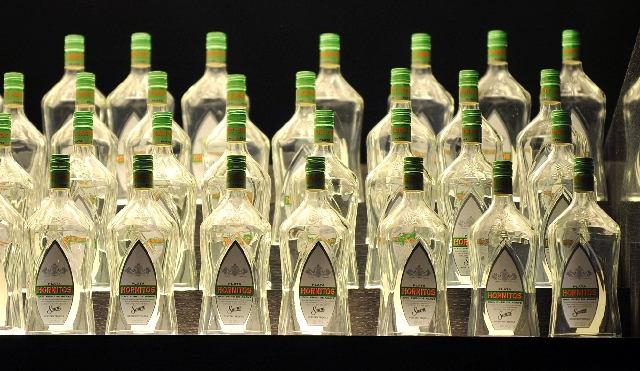 As if 22 flavors weren't enough, Sugar Factory is preparing to add another flavor to its lollipop lineup. But they need your help selecting it.
For those not familiar with Sugar Factory, it is the Strip candy shop that made couture lollipops desirable. Before, people were willing to pay no more than a handful of change for a sucker. But once they saw Paris Hilton, Britney Spears, Katy Perry and other famous people holding and/or licking a Sugar Factory lollipop, they were ready to part with $25 for a hard ball of candy on a stick.
Now it's time to expand your choices. Will it be Strawberry-Banana, Root Beer Float, Cotton Candy, Mocha Latte, Pink Lemonade or Blueberries N' Cream?
To vote for your favorite, visit sugarfactory.com by July 19. The winner will be announced July 20 which is National Lollipop Day. And if you buy three Couture Pops online, you can get a free refill pack of your choice. Not a bad deal.
'Drink Us Dry'
"Rock of Ages" at the Palazzo wants to get you drunk. For free.
Every Saturday, guests who have tickets to attend the 10 p.m. show can "Drink Us Dry" at Zebra Lounge in the Palazzo. "Rock of Ages" is picking up the tab.
Ticketholders can partake in unlimited domestic beer until, supposedly, "the kegs go dry." If you like a fancier beer or, worse, cocktails, you can pay $25 for an unlimited open bar, including well drinks and wine.
There are a few restrictions: "Drink Us Dry" takes place from 8 to 10 p.m. Saturdays. You must have your ticket for that night's show. Oh, and you have to be 21 or older.
For tickets or more information, call 414-9000 or visit rockofagesvegas.com.
Happy hour
Tacos & Tequila in the Luxor has extended its daily happy hour. From 2 to 6 p.m., you can get half off of appetizers including guacamole, chicken wings, beef flautas and quesadillas.
They also offer $5 drink specials of Dos Equis lager, Jose Cuervo shots, well drinks, red and white wine and sangria. Flights of tequila are also available any time for $15.
Contact reporter Sonya Padgett at spadgett@reviewjournal.com or 702-380-4564. Follow @StripSonya on Twitter.