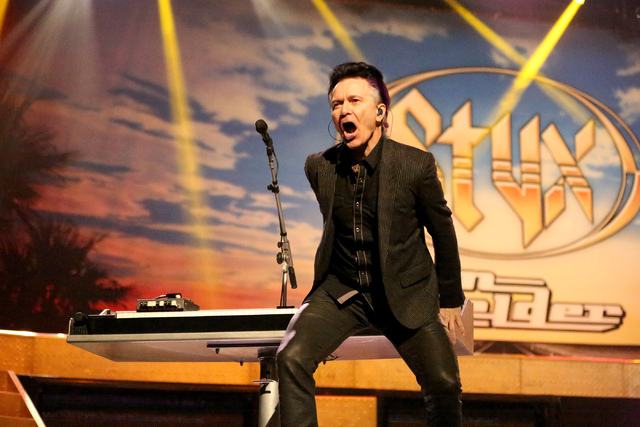 When you were 17, clutching your vinyl of "The Grand Illusion," you said this music would live forever. And you said your heroes would never end up playing Vegas, like, you know, Neil Sedaka or Tony Orlando.
Well half right isn't half bad. At least for a 40-year futures bet on a "Crystal Ball," one of the Styx songs that makes you shake your head at how yesterday's rockers became today's perennial Vegas showmen.
It's not the Styx songs you sometimes still hear — "Blue Collar Man" or "Come Sail Away" — that remind you how boomers have enshrined their classic rock and made sure it's still played with reverence.
It's those other songs the quintet plays during its two-weekend run at The Venetian, teamed with former Eagle Don Felder. Those trumpeting, prog-rock synthesizer solos on "Light Up" — which, guitarist James Young noted, dates back to the Gerald Ford presidency — or that faux-classical pomp of "Lady."
They may be the stuff of your hot-stuff youth, but don't expect your kids to understand why they should be listening to "Snowblind" instead of Ariana Grande.
But an Eagles song? Now you're talking about the boomers' holy grail. If you've got a writing credit on "Hotel California," or even played on "Life in the Fast Lane," a whole generation will be very forgiving that Felder's guitar is more authentic than his voice.
Styx becomes Felder's backing band for a handful of Eagles hits, a novelty — suggested by their shared manager — that seemed to break up the monotony of playing the same songs over and over again.
If every tune is impeccably played and spot-on in its musicianship, there may be a downside as to why. Tommy Shaw had already noted how "It's so cool to do something new" when he teamed with singer-keyboardist Lawrence Gowan for the Leonard Cohen standard "Hallelujah."
If opening night ever seemed like more than just another evening of polished business as usual, it was when Felder and four of the Styx boys were lined up across the stage to harmonize on "Seven Bridges Road," with Shaw trading leads with Felder.
Felder stuck around to jam with Styx on their rocker "Miss America," and of course came back later to team up with Shaw for "Hotel California."
But the show's not over yet. And we do mean "show." Bob Dylan and the Grateful Dead alumni somehow manage to perform without speaking to their audiences. But those with lesser catalogs might need to make their keyboard spin in circles and reach behind to play it backward.
Of all the classic rock groups, Styx maybe left the most bread crumbs to a Las Vegas future with the camp Broadway flair of 1981's "Paradise Theatre." If you wondered why Gowan came out for the encore clutching a top hat, you quickly found out once he started strutting around and singing "Rockin' the Paradise" like he was in "Jesus Christ Superstar."
Of course, it was the band's original singer, Dennis DeYoung (now a solo act), who created the template for this. But that fit right in with the Felder spirit of flipping The Who's adage around: It's the song, not the singer, that makes the music move along.
To argue the authenticity would be to deny the showmanship, and the nostalgia. Tony Orlando, eat your heart out.
Read more from Mike Weatherford at reviewjournal.com. Contact him at mweatherford@reviewjournal.com and follow @Mikeweatherford on Twitter.
Review
Who: Styx and Don Felder: "Renegades in the Fast Lane"
When: 8 p.m. Friday-Saturday
Where: The Venetian, 3355 Las Vegas Blvd. South
Tickets: $59.50-$395 (702-414-9000)
Grade: B