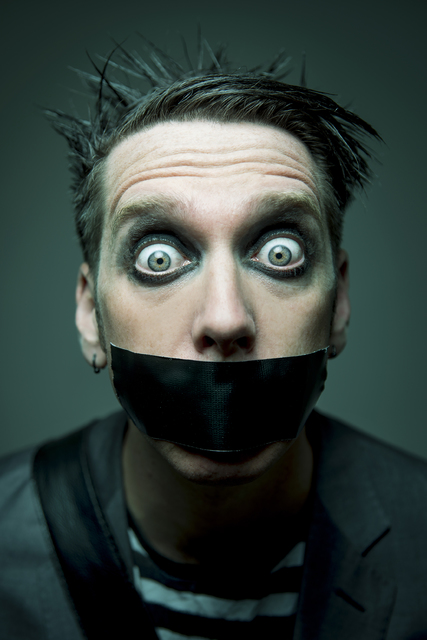 As a boy, Sam Wills dreamed of headlining in Las Vegas as a famous juggler.
Right city. Wrong arcane corner of show business in need of an image consultant.
Instead, Wills arrives Wednesday at the Flamingo Las Vegas as Tape Face, a performance artist fusing two other underdogs of the variety arts: prop comedy and mime.
He doesn't call himself a mime, but he swears that's only "because I know there are people out there who have trained as mimes and are very, very good. Whereas what I do is more just entertaining, I suppose."
"My style of mime is certainly more accessible and people seem to go for it a bit more," he adds.
That they do.
The 38-year-old New Zealander became a three-year hit at Edinburgh Festival Fringe and a solid touring attraction in the U.K., where he was more formally known as The Boy With Tape On His Face.
Competing on "America's Got Talent" last summer brought instant U.S. recognition to the comic silenced by a big strip of gaffer's tape over his mouth, making weird magic out of everyday props such as oven mitts and plungers.
Fellow Fringe headliner Piff the Magic Dragon (Jon Van der Put) encouraged Wills to audition for "Talent." And like Piff the season before, the prime-time exposure and viral videos counted for more than whether Tape Face won (he had to settle for the Top 10).
Without the show, "It would have been a long road," Wills says. In London, "It took me about five years just to ride through the ranks of comedy, working the circuit and doing the Fringe festival."
He figured it would take seven or eight more years "to be reasonably well-known in the States. I personally didn't have that time. I'd rather just get on and do things," he says with a laugh. "It would have felt like a step backwards to start working the clubs again, just to make a name for myself."
BLACK TAPE ROAD
Tape Face is the synthesis of several career moves for Wills, none of them conventional.
He did indeed train to be a juggler as a youth, attending circus school in New Zealand and eventually teaching juggling as well.
But he learned that in street theater the running banter is an equal or greater skill. "I think for me there was that tipping point where I was juggling seven balls and then I realized the audience was just as entertained if I was juggling three and being funny," he says.
Then came his sideshow punk phase, "hammering nails up my nose" and the like. The rock 'n' roll Jim Rose Circus "never came out to New Zealand, but I was heavily influenced," he says.
Wills toned things down for an interactive show "with lots of words" called "Dance Monkey Dance," and it won a New Zealand comedy award in 2005. "After that, everyone just expected me to do more shows of that style," he says.
However, "I always like to surprise people and do what they don't expect of me," he says. "And so I decided to do a silent character."
At first, "It was a bit of an in-joke for me and my friends: 'See, I can entertain people without talking,' " Wills says.
But the first time, he couldn't. "I didn't have tape on my face at that point," he says. "I ruined the act by talking to the front row, so I panicked. The only way I could keep quiet was if I gaffer-taped my mouth shut. It looked really funny, so we tried it out the next night and it worked."
He started writing more material, "and enjoying the character more and more." And, as the Blue Man Group and Cirque du Soleil discovered, one can travel farther with no language barrier.
"It's amazing how much you can communicate with just eyes and gestures," Wills says.
Silent film star Buster Keaton was a huge influence ("He could do it all with his eyes," Wills says). So were Wills' punk days, and the early films of Tim Burton. "It's interesting to see the number of teenagers who really connect with the character because they feel as if they are outsiders," he says.
SILENT MOBILITY
The Las Vegas show will be a greatest-hits compilation, "my best material, with the thread line of one of my Edinburgh shows, which was the most interactive and the most fun one, I found," he says.
But no matter how well Tape Face does at the Flamingo, Wills has to close May 7 to take his show to the West End for seven weeks starting June 6. After that, who knows? "I've got my house and my family in the U.K.," he says. "And for me, the world is a cool place to travel and see things."
Still, he admits, "if it goes very well," he will almost have to make more time for Las Vegas.
"The thing with most entertainers, though, you should know when to leave," he says.
Read more from Mike Weatherford at reviewjournal.com. Contact him at mweatherford@reviewjournal.com and follow @Mikeweatherford on Twitter.