These 'swingers' happy to settle down into lead roles of 'Rock of Ages'
August 27, 2016 - 2:44 pm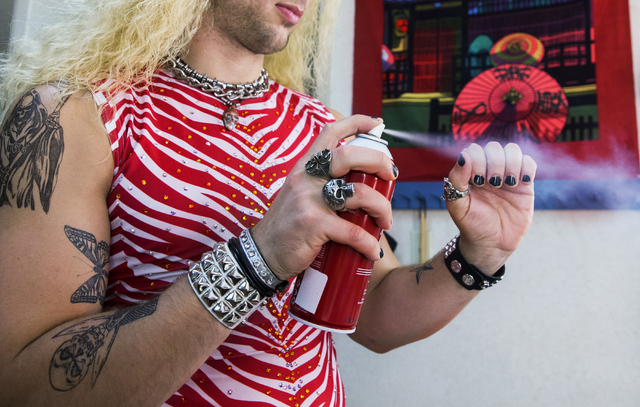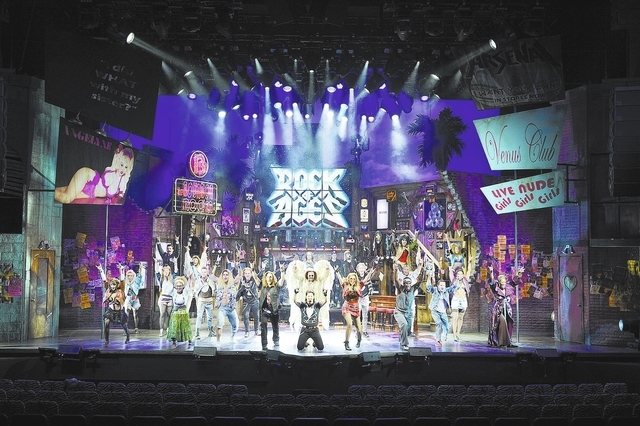 "It's time for some eyeliner, because that's what we do here," Brett Stoelker says, half in character as an '80s hair-band rock god. Because how can you not be when you're walking around in Spandex and a peroxide poodle perm?
"You want it dark, thick, with just a little of an edge out there," he says in front of the makeup mirror, as he applies the "guy-liner" with the expertise of one who has done this every night — and a lot of nights before that.
Stoelker struts the strut like a man in silver cowboy boots should, because he has transcended the theater world's version of an old workplace trap: being too good at your job to get promoted.
He and Paul Johnson now play off each other as "Rock of Ages" leads after learning the show inside and out, as "swings" who could step in and play three or four roles in the '80s-rock musical to cover castmates' days off in the show that plays the Rio six nights a week.
"Swings are valuable. For them to be taken out of their swing tracks and put into one lead role is actually pretty rare," says Johnson, who worked his way across that line in February.
Both actors had stepped up on any given night to play either the fumbling nice guy Drew and the rival for his girl's affections, a major league tool of a hair-metal rock star named Stacee Jaxx.
While playing the minor character Joey Primo, Johnson also stepped in as the show's friendly narrator dude Lonny, and as Franz, the effeminate son of the villainous anti-rock German developer.
"You become valuable because that's a skill set a lot of people don't have," Stoelker says. But it's also why he moved on when his contract was up, his peroxide wig having hit the glass ceiling.
"This is my favorite show in the world, but that wasn't going to help me progress at that point in time," he says of going back to New York to get closer to Broadway auditions.
But 10 months later, Stoelker got a call at the bar he was tending in Astoria, Queens. And two days after that, he was on a plane to Las Vegas to play Jaxx full time, opposite Johnson as the new Drew at the Rio.
It turned out that the previous Jaxx, Colt Prattes, scored the Patrick Swayze role in ABC's upcoming "Dirty Dancing" remake.
Prattes' big break proves you never know what's in store for the talents you see in ensemble shows such as "Rock," where no stars are billed above the title. But Stoelker and Johnson say their odds have improved.
"The more swing credits you have on your resume the more you're looked at as just a swing, (even if that is) somebody who is extremely useful," Stoelker says. Once you have lead credits, casting directors will say, "Let's see him."
Plus, it's more fun. "When you're thrown in (as a swing), you're really more concerned about your blocking and making sure you're not running into other people, making sure your lines are right and that you're hitting all the right notes. It's much more difficult to really enjoy it," Stoelker says.
And of course, playing the lead is an actor's dream. "It sounds funny, but it kind of means that they're trusting you with that role all the time," Johnson says.
Johnson is a longtime Las Vegan who already had become the Strip's version of a substitute teacher, covering vacations and illnesses in such diverse titles as "Peepshow" and "Vegas! The Show."
But soon after "Rock of Ages" moved from The Venetian to Rio in January, contracts came up for renewal, and Johnson was encouraged to re-audition for the lead role being vacated by Justin Mortelliti.
"I guess I was just happy and honored that they offered it to me, as opposed to bringing someone else in from the outside," Johnson says. "It's a very special thing to kind of promote from the inside."
Stoelker is an avowed New Yorker who says he will stay in Las Vegas only as long as the job remains, while Johnson is a Las Vegas Academy graduate who is hands-on renovating his first house, a fixer-upper.
Both have common ground in the campy show's mix of musical theater and '80s rock anthems. Johnson found it hard to leave the Generation Band at Paris Las Vegas, one of the few open-lounge live acts left on the Strip. "This is so much fun for me because it's theater, but it's still like a rock concert every night," he says.
Stoelker was working with the British "X Factor" contestants Tenors of Rock, a vocal group that, like "Rock of Ages," mines the melodic side of those fist-pumping chestnuts.
"I think some of these '80s hair-band singers are probably the best vocalists of all time," he says. "It's something that sadly doesn't exist anymore. These guys' voices are absolutely incredible."
Johnson agrees: "If you think of the slew of '80s rock stars who could scream to the heavens, as opposed to what kids are singing these days."
"No one's doing it now. No rock bands have high tenor vocalists," Stoelker laments.
"And who plays a guitar solo anymore?" adds Johnson.
Read more from Mike Weatherford at reviewjournal.com. Contact him at mweatherford@reviewjournal.com and follow @Mikeweatherford on Twitter.