This week's 5 best bets for Vegas entertainment
September 30, 2016 - 5:56 am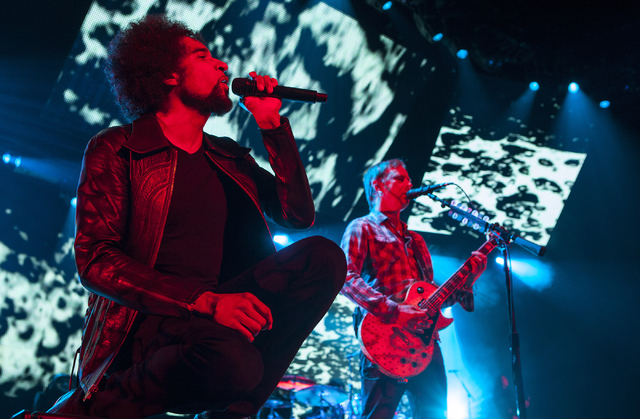 Alice in Chains
You probably still call him the new guy after 10 years as the lead singer for Alice in Chains. William DuVall surely understands. But the group synonymous with Seattle grunge now has both stability and catalog, with two Duvall-era albums on top of the classics voiced by the late Layne Staley. The New Regime opens at 8 p.m. Saturday in The Joint at the Hard Rock Hotel. Tickets are $39.95 to $200; call 888-929-7849.
Night Ranger
Night Ranger probably won't mind you singing along to "Sister Christian," and you can even sneak in your "Rock of Ages" choreography. But if you show up in a Speedo and bathrobe looking like Alfred Molina in "Boogie Nights" and start lighting firecrackers, you're probably gonna get thrown out. They rock at 8 p.m. Friday at the Golden Nugget. Tickets are $37.06 to $167.86; call 866-946-5336.
Jerry Lewis
This has to be a Las Vegas record. Jerry Lewis and Dean Martin worked the Sands in 1954. Now here is Lewis at age 90, still playing a showroom at the South Point. See him at 7:30 p.m. Friday through Sunday. Tickets are $50 to $60; call 702-797-8055.
Pepe Aguilar
The romantic Mexican ranchera ballads of Pepe Aguilar usually serenade visitors during Mexican Independence weekend. Turning up two weeks later means the longtime Las Vegas headliner has that market all to himself Saturday at Orleans Arena. Tickets for the 8 p.m. show are $80 to $180; call 702-284-7777.
Reggae on the Bay
Las Vegas truly has everything when cowgirls booze it up on one side of the Strip for the Route 91 Harvest fest, while just to the east, a two-day reggae festival in Mandalay Bay's beach area offers a more chill and herbal environment. Saturday features Common Kings, Freddie McGregor, Sister Carol and Lady Reiko. Sunday brings J Boog, Maxi Priest, Hirie and more. The music starts at 7:30 p.m. both nights. Tickets are $40, or $75 for both days; call 800-745-3000.