Tony winner Ebersole takes fans on a delightful journey
October 20, 2012 - 3:24 pm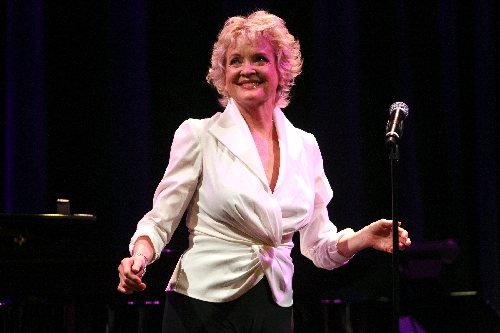 People used to call Lon Chaney the man of a thousand faces.
Who knows if Christine Ebersole has a thousand voices. She might – but I was too busy basking in the glow of her "End of the World As We Know It Cabaret" to count.
Ebersole, a two-time Tony winner, made her Smith Center debut over the summer, playing a supple supporting role in July's revelatory, celebratory "A Conversation With Stephen Sondheim."
This weekend at The Smith Center's swellegant Cabaret Jazz, however, Ebersole had the spotlight to herself – and made the most of it.
Even before she appeared Friday night (in the first of three scheduled performances), Ebersole's sense of humor – slightly wacky, slyly satirical – established a playful mood, hearkening back to her "Saturday Night Live" days in the early '80s.
Making an announcement in the style of an airplane safety advisory from none other than Secretary of Homeland Security Janet Napolitano, Ebersole advised audience members to shut off their cellphones, in part because "it hurts the performers' feelings."
From there, Ebersole and Company took off – and soared – as she sidled onstage and scatted to "Big Noise From Winnetka," joining musical director/pianist John Oddo , reed player Dave Stambaugh , drummer Kevin Winard and bassist Ken Seiffert for the snazzy, jazzy opener.
The choice was no accident; as Ebersole told the audience, "I am the big noise from Winnetka," citing her childhood on Chicago's North Shore.
Suburban Chicago was hardly the only destination Ebersole visited during her magical musical tour, however.
Next stop: the merry old land of Oz, via an upbeat "Ding Dong! The Witch Is Dead" (complete with a seldom-sung verse) that, in Ebersole's words, "symbolizes the death of greed, corruption and recognition of one's own divinity" – not to mention a chance for Dorothy to snag some truly "fabulous shoes."
Alas, as Ebersole noted, we can't click our heels three times to transport ourselves to other times and/or places.
Not that her audience needed to, considering Ebersole's sure sense of quick-change, mix-it-up pace and mood.
Boarding "The Atchison, Topeka and the Santa Fe," Ebersole's guided tour also made a stop on Broadway – or, more precisely, "42nd Street."
The sultry beat of those dancing feet enabled Ebersole to reference her first Tony Award, before she segued into another, more sardonically jaunty Manhattan melody, "Give It Back to the Indians." (Yet another classic, if an undersung one, from Rodgers and Hart, those wonderful folks who brought you the more familiar ditty that begins "I'll take Manhattan, and Staten Island too. … ")
Ebersole also revisited her second Tony Award-winning show, "Grey Gardens" (in which she played Edith Bouvier Beale and her daughter "Little" Edie, the eccentric aunt and cousin, respectively, of Jacqueline Kennedy Onassis) with a hauntingly anguished "Another Winter in a Summer Town."
Throughout, Ebersole conjured an entire cast of characters, from saucy Broadway babies to world-weary survivors, with practiced, quicksilver ease. On occasion, things seemed a bit too practiced, Ebersole's carefully choreographed gestures slipping from amusingly animated to merely mechanical.
That's a minor quibble, though.
For the most part, Ebersole's journey proved nothing less than delightful – and often more than that. Especially when she connected everything from Broadway classics ("Can't Help Lovin' Dat Man" from "Showboat," "If I Were a Bell" from "Guys and Dolls") to Sunday-choir hymns ("How Can I Keep From Singing?") with tender personal recollections.
Whether purring in imitation of (and tribute to) Eartha Kitt or leading a sing-along finale to "Young at Heart," Ebersole reminded audiences that home is where the heart is.
When she's onstage, she's home. And, because she's such a warm, all-embracing performer, so are we.
Contact reporter Carol Cling at ccling @reviewjournal.com or 702-383-0272.
Review
WHO: Christine Ebersole
WHEN: Friday night
WHERE: Cabaret Jazz, The Smith Center for the Performing Arts
GRADE: A-