Tony-winning 'Book of Mormon' heavy on satire, gotta-sing music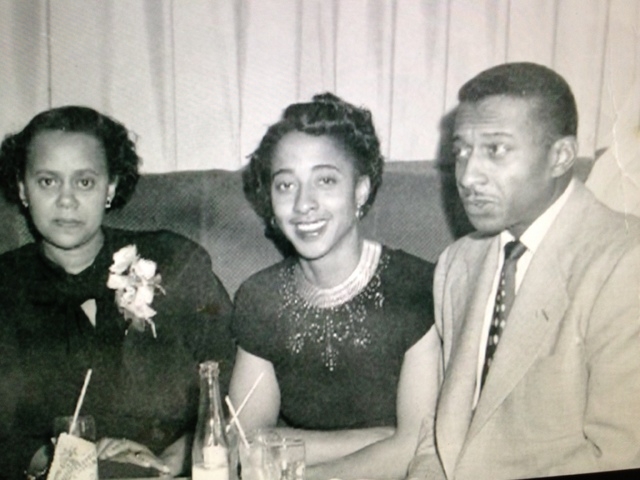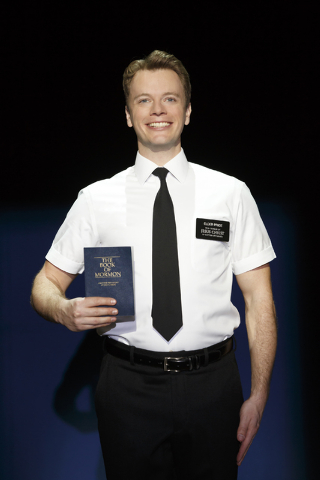 Ask not for whom the doorbell tolls.
It tolls for everyone who's been waiting with anticipatory glee for "The Book of Mormon," which checks into The Smith Center's Reynolds Hall Tuesday for an almost monthlong run.
Winner of nine 2011 Tony Awards, including best musical, "The Book of Mormon" takes a wildly irreverent approach to a seemingly saintly subject: the adventures of two young missionaries in Uganda.
Then again, "The Book of Mormon" could hardly be anything but irreverent, considering the show's creative team, led by "South Park" creators Trey Parker and Matt Stone, who collaborated on the book and score with "Frozen" Oscar-winner Robert Lopez. (Lopez also knows a thing or two about musical satire, considering his roles as co-composer and co-lyricist of another cheeky Tony-winner, the "Sesame Street" spoof "Avenue Q.")
Along with the religious satire, however, "The Book of Mormon" also boasts tongue-in-cheek numbers that salute classic gotta-sing, gotta-dance Broadway musicals. (Once upon a time, the showbiz bible Variety would have described them as "socko!")
Consider "Turn It Off," which begins as comforting advice on how to deal with inner conflict — "Turn it off like a light switch, just go click, it's a cool little Mormon trick" — and concludes in brassy "big finish!" fashion, complete with missionaries tap-dancing their hearts out.
That kicky combination is one secret to the show's success, according to Casey Nicholaw, who shared a Tony with Parker for best direction of a musical and won a second Tony for his choreography.
"What makes the show so successful is, it's contemporary satire put in an old-fashioned package," Nicholaw says during a telephone interview.
The director-choreographer will know Sunday whether he'll have another Tony to add to the trophy case; Nicholaw is nominated this year for "Aladdin," which provides "a bit of a contrast" with "Book of Mormon," he acknowledges with a chuckle. " 'Aladdin' has the same buoyant energy, but you won't hear Aladdin and Jasmin swearing too much."
Unlike "The Book of Mormon," where the constant cussing had the show's creators wondering — just a bit — about "what will people think of all the swearing," Nicholaw recalls.
That is, until they stopped wondering, realizing "It's satire — it's making fun of everyone," he observes.
Beyond that, "it ultimately has an uplifting ending," Nicholaw points out, along with "a good message … that everyone can find a place" provided they have faith.
"People have appropriate fears — initially" about the show's sharp satire, according to actor Cody Jamison Strand, who portrays one of "The Book of Mormon's" main missionaries, the hopelessly hapless Elder Arnold Cunningham.
Those "people" initially included Strand's father, the pastor at an Assembly of God church in Brandon, S.D.
So when Strand landed his dream-come-true first job out of college — in November 2012, as a standby in "Book of Mormon's" first national tour — he called his mother first, suggesting she listen to the original cast album as preparation, Strand says in a telephone interview.
After listening to the "Book of Mormon" score, Strand's mother advised him, " 'We'll ease your father into it' with the more politically correct songs," he notes. Now, Strand's clergyman father "loves it — he really does."
So do audiences — in New York and on tour — three years after its debut.
"It doesn't feel dated," Nicholaw says of the show, citing its "timeless" quality.
Not that its creators had any guarantee "The Book of Mormon" would become a Broadway blockbuster in the first place.
"I don't think anyone's ever convinced that something will be a hit from the get-go," Nicholaw says. "I don't think we said, 'This is going to be a hit.' " But they did know "it was funny. We knew it was entertaining."
Especially with that combination of elements — the edgy humor and old-fashioned, all-stops-out musical numbers — that "appealed to a huge cross-section of people," he says, from the "die-hard Broadway people" to "South Park" fans "who wouldn't go to the theater otherwise."
The musical begins at a training session in Provo, Utah, where future missionaries sing, "We're marching door to door, 'cause God loves Mormons and he wants some more! A two-year mission is our sacrifice, we are the army of the Church of Jesus Christ … of Latter-day Saints."
From there, Elder Cunningham departs for Uganda with his ambitious partner, Elder Kevin Price (played by David Larsen), who's determined "to be the Mormon that changed all of mankind." (Nerdy Elder Cunningham assures Price that he'll be content to "stand next to you and watch.")
At least that's the plan as they arrive and confront challenges expected (poverty, famine) and unimaginable (a crazed warlord whose expletive-undeleted name cannot be cited in a family newspaper).
Both missionaries experience the unexpected in up-close-and-personal ways.
One of them leads to Strand's favorite number: the double entendre-laden "Baptize Me," in which Elder Cunningham and the village chief's daughter, Nabulungi (Denee Benton), sing a rapturous duet about the life-changing moment they're about to share.
"It's so funny, but it's also so cute and heartwarming at the same time," the actor explains. "It's a double entendre, but it's out of complete innocence."
Which is the way "The Book of Mormon" was designed from the very beginning.
"We built the show as we needed it for Broadway," Nicholaw says, and "at this point … most of the stuff stays the same," with a few tweaks here and there to suit the strengths of "The Book of Mormon's" two touring casts.
Regardless of the version audiences see, however, "it's good quality," Nicholaw says. "We worked really hard — and it's well done."
So well done that even the unlikeliest audiences (such as Strand's father) have embraced it. Even when, as Strand says, "it takes a little bit getting there."
Starting Tuesday, that's something Las Vegans will have the chance to see for themselves.
Contact reporter Carol Cling at ccling@ reviewjournal.com or 702-383-0272.
Preview
"The Book of Mormon"
7:30 p.m. Tuesday through June 13, 2 and 7:30 p.m. June 14-15, through July 6
Reynolds Hall, The Smith Center for the Performing Arts, 361 Symphony Park Ave.
$39-$150 (702-749-2000, www.thesmithcenter.com)