'Twisted Vegas' draws its name from (more) acrobatics, not comedy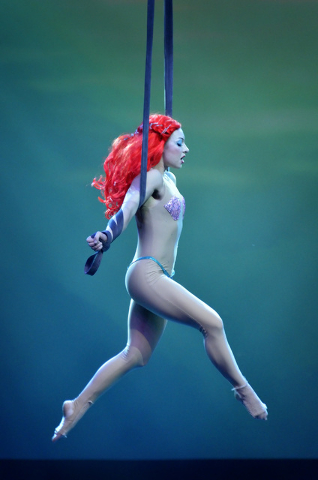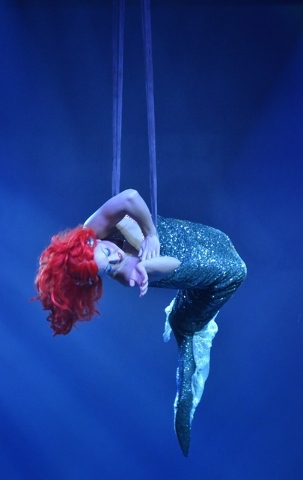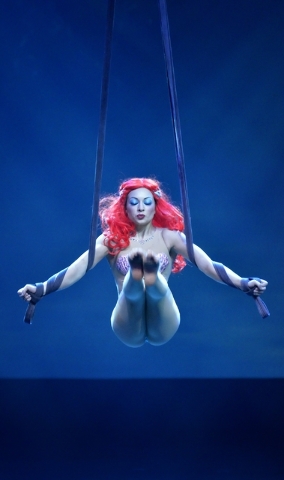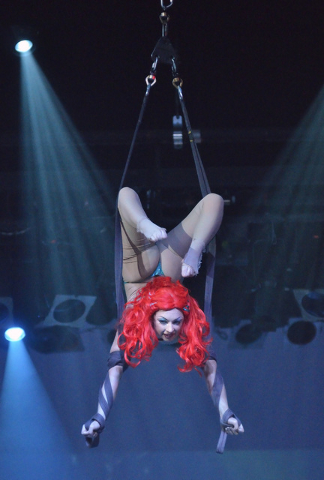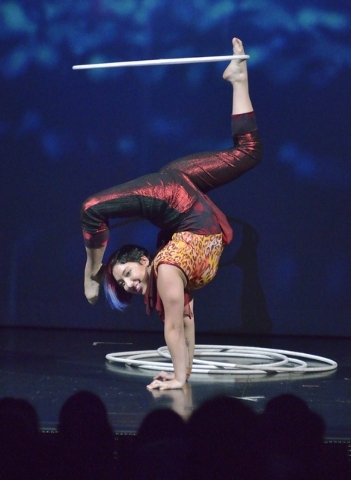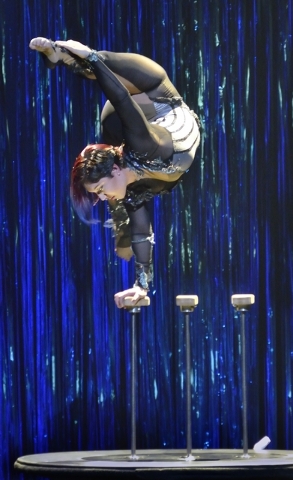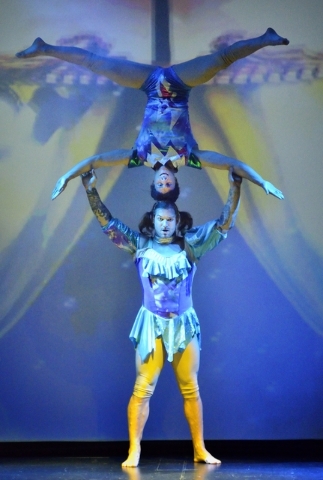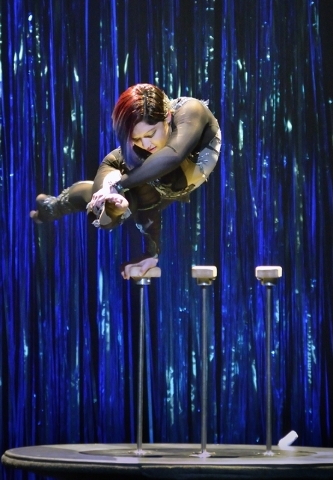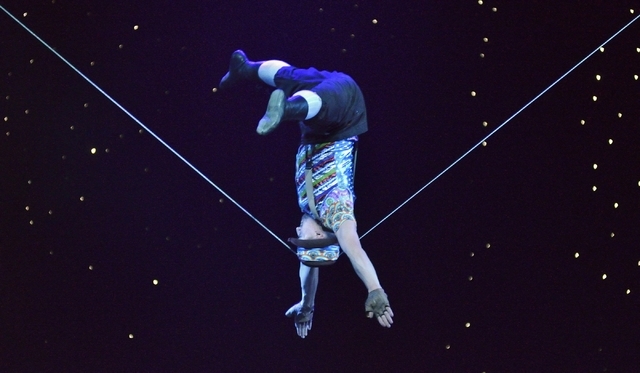 It's a mighty big stage to fill. Elvis used a spangly jumpsuit, gospel singers, orchestra musicians, the works.
Asking a comic variety show with a modest budget to fill up the King's grand stage at the Westgate Las Vegas is a tall order in these lean times. Downright unfair, really.
But "Twisted Vegas" proves the worst way to fill it is with words. At least, heavily French-accented words that aren't always easy to make out.
To paraphrase the Emperor in "Amadeus," "Too many transitions."
To direct quote whoever came up with the adage "Show, don't tell"? Yes.
"Twisted Vegas" is the brainchild of a French star, Alex Goude, who hosted a lot of TV there, including a derivation of "America's Got Talent." It makes sense the energetic and likable Goude would feel comfortable hosting this one, as well as performing some of the segments. But he introduces every single scene of his spoofy tour of the Strip, each time halting whatever spotty momentum it manages to build.
It would be one thing if those segments created such a rolling wave of hilarity that we need Goude to step in and let us catch our breath. But, no, the transitions only slow down a show already sputtering in fits and starts.
The premise of "Twisted Vegas" turns out to be a little, well, twisty.
On one hand, full of promise. Theoretically, everyone in the audience can share the bond of downtown ziplines, wedding chapels, the Bellagio "fon-tains" and buffets. Goude even bases one bit on the spas, a big element of the New Vegas experience previously hiding in plain sight of comedians.
There are solid ideas in making the zipline the context for a stranded "slack line" acrobat (Evgeny Vasilenko), or the buffet kitchen a place for Michael Goudeau — who co-wrote the show — to offer a brief encore of the apple juggling he did for years with Lance Burton.
Where's the stumbling block? Reminding the audience of all the things they could be doing instead of watching this show. It gets particularly risky when "Twisted" starts parodying other shows, most of them better than this one.
Granted, it's gentle parody. Locals, at least, will laugh at the Cirque du Soleil jokes. The snail and baby from "Mystere" — "or as we say in France, 'Mistake,' Goude says — are old friends by now. And when the KriStef Brothers, homegrown comedic acrobats who competed on "America's Got Talent," shift to "Zumanity," Goude explains the difference:
"The lights are different. They're pink. So it's sexier … . See, we have already seen two Cirque shows and we save you $400."
Or did they?
"Twisted" is at its best when it attempts freewheeling comedy: a mini-Criss Angel (the single-named Dimos) or Costic (also single-named) with his impressive, non lip-synced drag version of Celine Dion.
But too much of it turns into the Cirque-light acrobatics it's supposed to be an alternative to. Beyond the KriStef Brothers, we get still more balancing, a trapeze and a hoop act (from Ekaterina Arnaoutavoa, Izzy and Sasha Pivaral). A promising joke about aging boomers and their till-death devotion to classic rock turns into still another balancing act with chairs (from Nelson and Goulia Pivaral).
The concept and talent are still solid enough that the show doesn't seem beyond fixing. Start with giving the KriStefs and Goudeau more time and space to be themselves ("Less Goude, More Goudeau!" Ba-da-bing!).
Another path to salvation could be a more theatrical, sketch-comedy approach. Late in the show, another person on the stage finally talks to Goude. It's so welcome at that point, it seems far funnier than it is.
And it comes after a bit that sounded so much better when Goude explained it in rehearsals: He would be a drunk guy, hitting on club gals, before doing a laser dance to impress them. In the finished product, we get the laser dance, but no drunk guy.
French dude, already borderline with his accent, drunkenly chatting up vapid Valley Girls? Ground ball, right?
"This show is crazy!" we are told at one point.
If only it were.
Read more from Mike Weatherford at reviewjournal.com. Contact him at mweatherford@reviewjournal.com and follow @Mikeweatherford on Twitter.