Valley of Fire event celebrates ancient weapon atlatl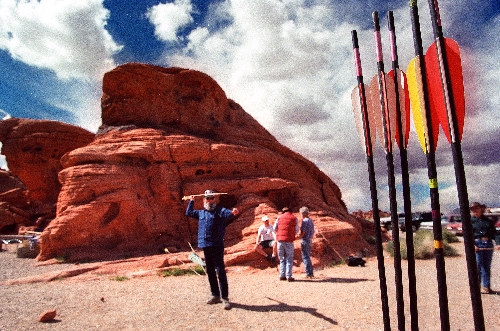 The World Atlatl Association will hold its 21st annual contest this weekend at Valley of Fire State Park, about 55 miles northeast of Las Vegas via Interstate 15 and Exit 75.
The free event is open to the public but entry to the park is $10 per vehicle. Nevada residents receive a $2 discount.
There will be a demonstration of the atlatl from 11 a.m. to 12:30 p.m. Friday at Atlatl Rock. The atlatl was an ancient weapon used for hunting bighorn sheep and other game.
A target contest will run from 9 a.m. to 3 p.m. Saturday at Atlatl Rock. Registration is free and starts at 8 a.m. Guests can participate in crafts and learn to throw the weapon from noon to 2 p.m.
An atlatl endurance challenge starts at 8 a.m. Sunday. Competitors must be pre-registered, but the public can watch. Competitors run a one-mile fun run, 5K or half-marathon and end with a precision shoot to test their hunting skills.