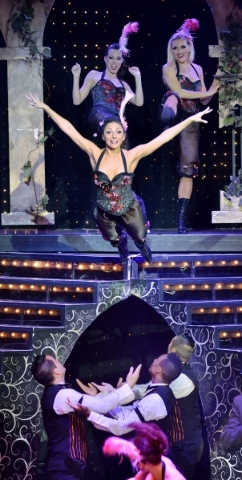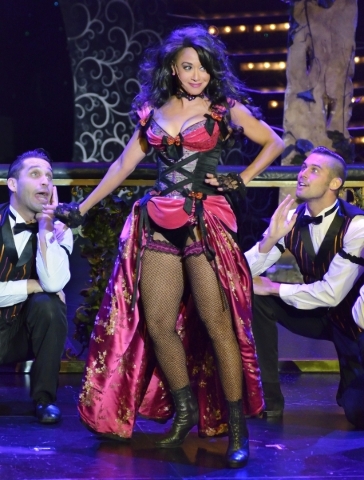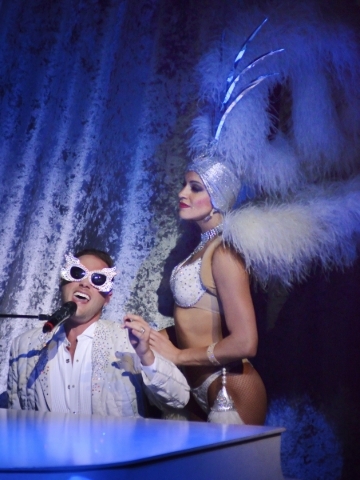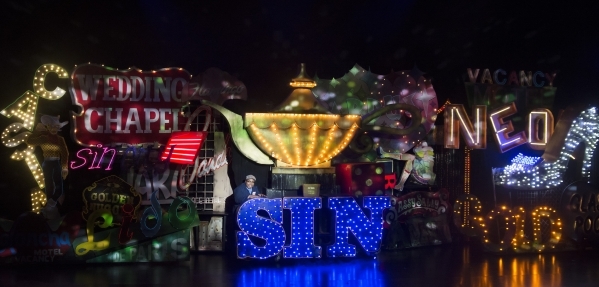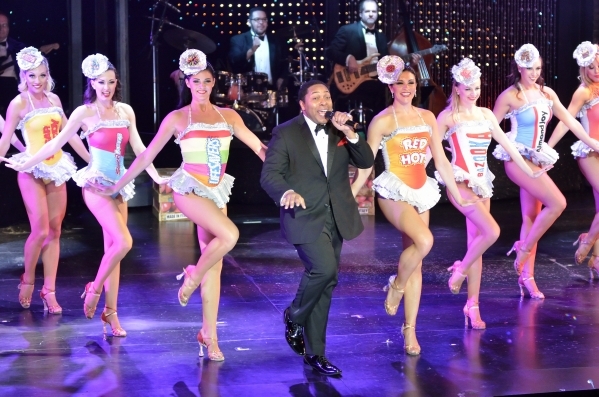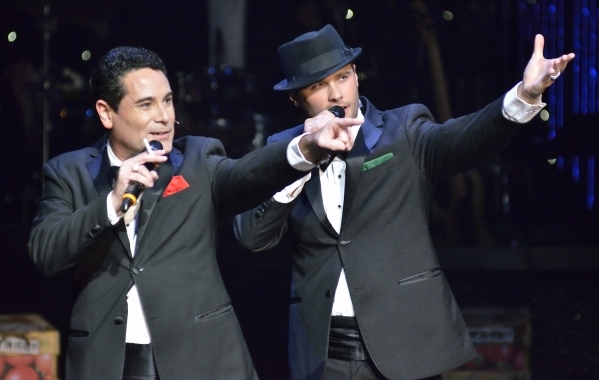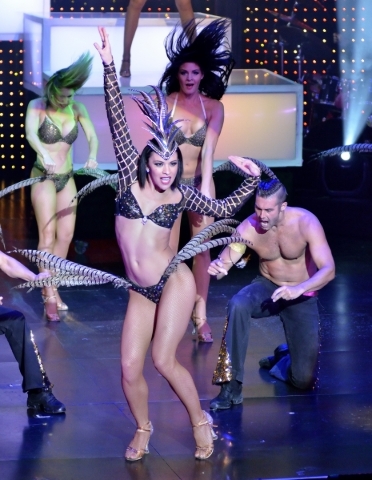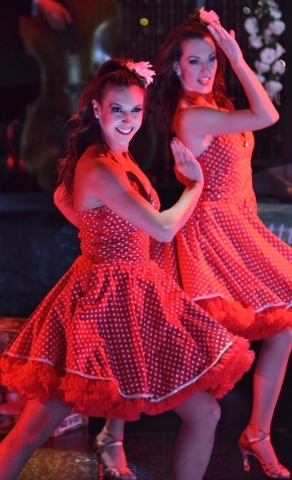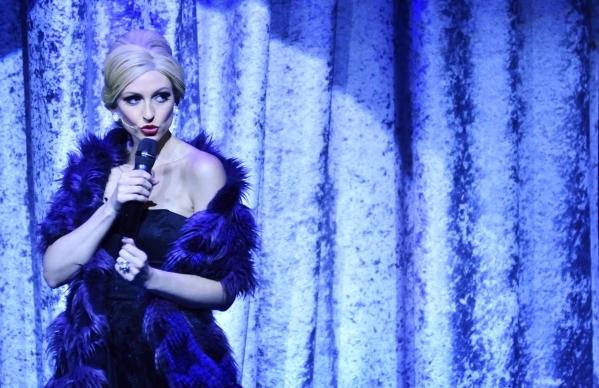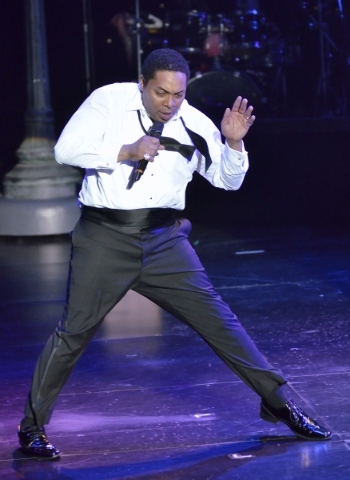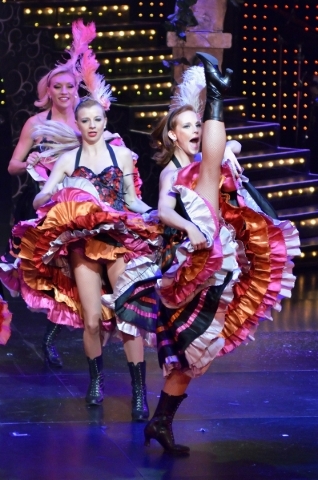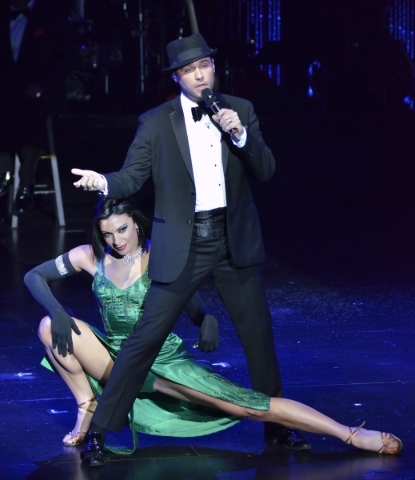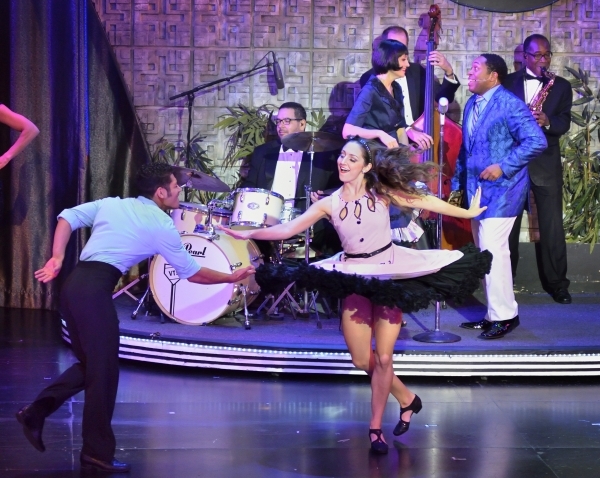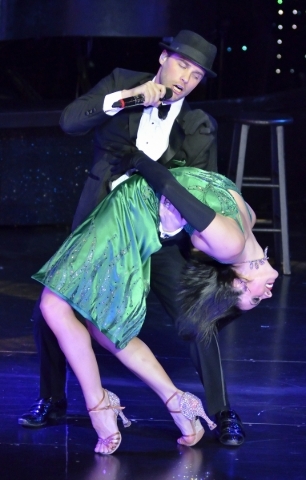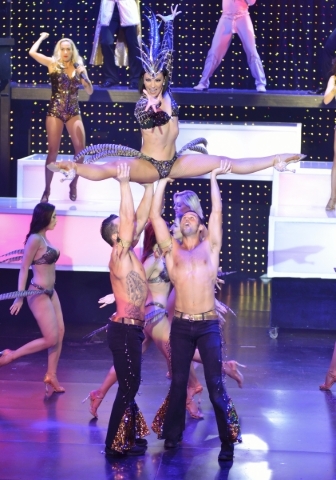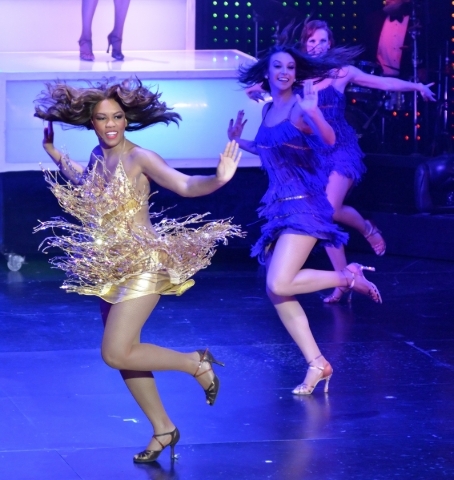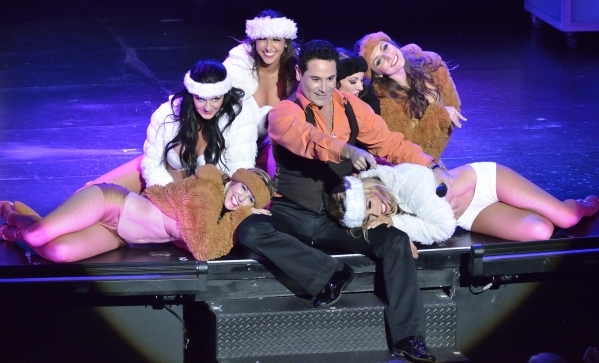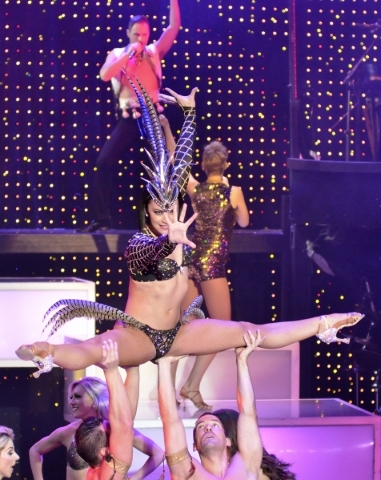 It's a show for people who miss the old days, and perhaps the not-that-old days.
"Vegas! The Show" reminds us of a place that used to be about big names, with larger-than-life personalities. But it leaves out the part about the big names wanting too much money, or trying to hang on too long as times changed and their stars faded.
That's when Vegas became more about production shows. Consistent year-round product. Talent, not stars.
Now the big-ticket entertainment is tilting back again, to concert stars doing "residencies." The Canadian guys have the production shows mostly locked up, and the few alternatives to Cirque du Soleil in recent years — from "Matsuri" to "Panda" — stretched to meet the definition of "alternative."
Eventually, we ended up missing not just Sammy and Frank, but a place to go on any given night and see a mindlessly over-the-top confection of big, showy singing, a live band, (non-topless) dancing and variety acts, all exploding with color.
So producer David Saxe came up with "Vegas! The Show," fusing nostalgia for the golden-age Strip with the consistency of the production shows.
The dearth of other jobs like this in town means Saxe can double cast the principals with the best of the city's almost-famous local talent. The singing leads may change by the year or even by the night you see it, but the overall product just keeps getting better, and better-looking, since its 2010 debut.
Funny how the only other big-budget production show in the past year is Steve Wynn's pet project "ShowStoppers," which takes aim at the same older, neglected visitor demographic. "Vegas!" has a smaller stage and budget, but a more coherent structure and flow.
It's actually more theatrical than the Broadway-themed Wynn revue. You get that message right away. The show opens not with a big number, but a guy talking to us. He's Ernie (Darren Lorenzo at this performance), caretaker of the "Neon boneyard" that's now the Neon Museum downtown.
"I miss the old Vegas. The old days," Ernie says to wistful piano music, and Lorenzo sells it. Quicker than you can pull a one-armed bandit, the stage is transformed to the days of pink-plumed showgirls and Ernie showing off a tuxedo and rich singing voice for "The Song Is You.
Director-choreographer Tiger Martina's frenetic segments are framed around Las Vegas icons such as Louis Prima and Keely Smith, the Rat Pack, Tom Jones and Elvis. Five years have given the creators a stronger grip on just how to go about this.
Earlier versions of the show seemed more like "Up With Vegas!," as a relentlessly peppy cast tried to cover the greats without imitating them with "Legends in Concert" literalism.
But now David Villella can slip into Dean Martin or Kirbi Long into Cher just enough to give us a reference point. And Saxe and Martina have worked on so many magic shows, they've mastered the art of distraction.
You're not comparing Josh Strickland, Broadway's original "Tarzan," to Elvis Presley when his voice provides the soundtrack for "Devil in Disguise," as sexy showgirls shed their wedding-dress cocoons.
Lead dancer Michelle DiTerlizzi likewise distracts both the Rat Pack (Strickland, Villella and Lorenzo) and the audience as she crashes their boys club and inspires Dino to take up the mambo.
And Reva Rice has been with the show since the outset, now lending it some of the same authority and gravity as Gladys Knight, Lena Horne and other legends being saluted.
Those who came to that Vegas in the old days will smile at the tribute to "Folies Bergere" and its can-can number. Those who have been to this "Vegas" may see refinements they didn't last time, such as a slinky dance piece set to Earth, Wind & Fire's "Shining Star" and a Siegfried & Roy spoof that gets laughs without cheating on the magic (remember, Saxe knows his way around a magic show).
The old shows always had specialty acts, too. In the kitchen-sink tradition, this one throws in comic hula-hooping from Mat Plendl, the wry comic juggling of Michael Holly and a little dose of Cirque-style acrobatics from the Sandau Trio.
Toss those variety acts into a show that seldom pauses to catch its breathe, and what could they possibly be leaving out? Oh, yeah, sincerity, man.
Saxe and Martina's shows often come down with a case of the sillies, so here you can forgive an awkward attempt to touch upon the Rat Pack's push to integrate the Strip.
A poignant video montage of old-Vegas landmarks (including the Landmark) imploding as Strickland sings Elton John's "Rocket Man" will still be goosebump city for anyone drawn to this show because of what it's trying to do (versus getting discount tickets for sitting through a timeshare pitch or something like that).
Maybe some day when we're reminiscing about the good ol' days we'll be talking about "Vegas! The Show" too. But hopefully it will be a long time before we have to miss it.
— Read more from Mike Weatherford at reviewjournal.com. Contact him at mweatherford@reviewjournal.com and follow @Mikeweatherford on Twitter.
Like Neon Las Vegas on Facebook: