Why 'Puppet Up!' characters are not quite Muppets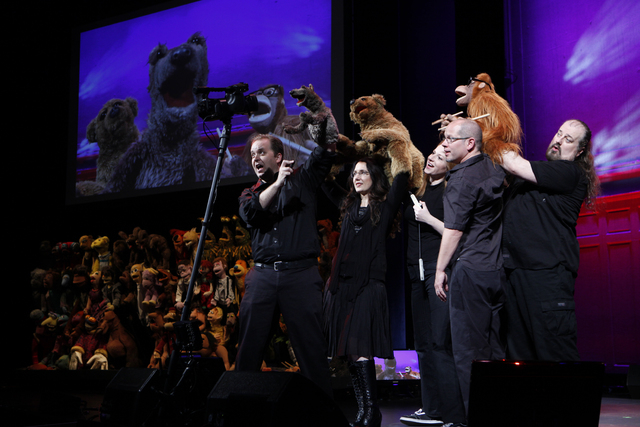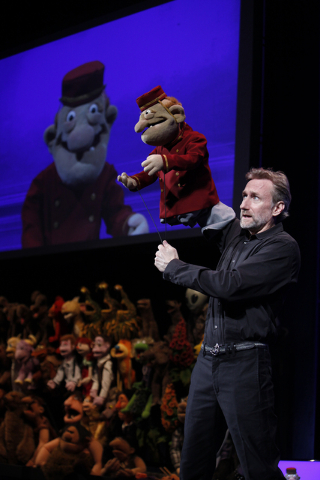 Don't expect guest-starring appearances by Kermit or Fozzie Bear or Miss Piggy or other members of the Muppet family whom you already know and love.
But don't be surprised if you stumble onto a few, well, more remote branches of the Henson family tree when "Puppet Up! — Uncensored" begins a residency at The Sands Showroom at The Venetian on July 21.
The show — which is recommended for people 16 and older — will be presented at 9 p.m. Tuesday, Thursday, Friday and Saturday and 7 p.m. Sunday and Monday (dark on Wednesday).
Tickets are $69 and can be purchased at box offices at The Venetian and Palazzo, online at Ticketmaster.com or Venetian.com/PuppetUp, or by calling 702-414-9000 or 866-641-7469. (For groups of 10 or more, call 866-633-0195 or 702-785-5394.)
"Puppet Up! — Uncensored!" was created by Brian Henson and actor/comedian/improv teacher Patrick Bristow, who also directs the show and serves as its host. During a Wednesday conference call, Henson described"Puppet Up!" as "basically like a sketch comedy show that is largely improvised with puppets."
And because its puppeteers appear onstage, undisguised as they work, the show also is "a rare and wonderful opportunity for audiences to see under the camera," Henson says.
"So what you're really watching is a show that showcases six of the very best puppeteers in the world, and watching them do what they do while walking a high wire (of) improvisational creative challenges."
Each night, the puppeteers not only will maneuver the more than 60 puppets that populate the show, but transform suggestions from audience members — about locations, relationships, places, objects and other potential jumping-off points — into comedic routines, right on the spot.
Actually, improvisation and the earthy humor it can create always have been part of the Henson professional DNA. Brian Henson notes that his father, Jim Henson, valued what he described as "ad-libbing" among his puppeteers.
"To be honest, what is most gratifying is, as a kid, when I would visit the Muppet sets, and Dad and Frank Oz and all those guys, what they would do between takes, after the director called cut and before he called action, was very blue and hilariously funny — like side-grippingly funny," Henson says. "I always thought, 'Isn't it a shame audiences can't see that?' "
While Muppets won't appear in the show and while the show definitely isn't for kids, audiences at "Puppet Up!" will see a few classic routines from the early days of what would become the Muppets.
Bristow says the show's music and those "vintage re-creations of pieces that haven't been seen by audiences for a half-century" also give "Puppet Up!" a "variety show feel."
"We really enjoy doing some of the pieces that were really like the essence of the stuff my dad and Frank Oz and my mother (Jane Henson) did back then," Henson says. "There's a couple of other new set pieces that are more modern but are really trying to capture the essence of Henson irreverence."
Or, Bristow offers, "intelligent nonsense."
As the show's host, it's Bristow's challenge to manage the chaos that can result from the mingling of puppets, puppeteers and audience members. Bristow says hosting the show is "a lot of fun. Every night … I'm meeting maybe 700 new people, and they're going to develop a collective personality over the evening, and I'm kind of the bridge between them and the puppets."
The show "does get bawdy and fun," Henson says, and Bristow ignites the audience's energy "in a disarming, wonderful way, and he really does make the anything-can-happen atmosphere buzz with excitement."
Bristow admits that when he hears some audience improv cues, "I think, 'Oh my god, this is so twisted,' and I'm a little bit scared and I get kind of concerned. Then I have to take a look at my cast, like, 'Have fun, guys!' "
While the audience can watch the puppeteers work, guests who prefer a more traditional perspective can watch the puppets on large TV screens that will show the proceedings in a more iconic video style.
That, too, is part of the Henson professional DNA. Brian Henson says that, as the show was being developed, "not even one minute or two" was spent discussing "how can we hide the puppeteers? We said, 'Know what? My dad always loved people visiting the set.' In fact, the first couple pilots of 'The Muppet Show' ended with the camera pulling back so you could see the puppeteers."
"I'm not a puppeteer, and I've been watching this for a decade, and it's endlessly fascinating," Bristow says. "Each puppeteer has different ways of achieving the same movement. You're watching the screen and the puppet is ice skating or something and immediately you have to look down (to see) 'How do they do that?' "
Because the show will be based permanently at The Venetian, Henson says it now can be presented in "a really cool, kind of gorgeous way."
Because it no longer will "have to move around," Henson says, "the show is going to be presented in the most spectacular way that it ever has been presented, and that's really exciting for us. It will be bigger and flashier in places where it makes sense."
What will audiences see here that they might not have seen in other cities in which the show has played? "I don't want to be specific, but it's a much richer production design," Henson says. "We're doing a lot more with lighting and lighting effects and sound design effects, to where I think it will be the greatest presentation of the show."
Bristow says that "our approach before was very deconstructed, kind of where you can see the cables on the stage, and it still looked beautiful. But, now, we're going to have a proper set and all of the bells and whistles."
Read more from John Przybys at reviewjournal.com. Contact him at jprzybys@reviewjournal.com and follow @JJPrzybys on Twitter.