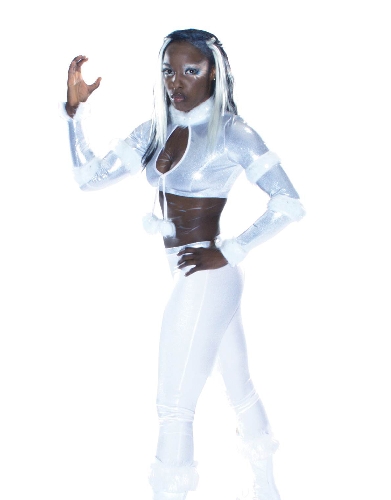 By day, Janeshia Adams-Ginyard is a radio show host and a Hollywood stuntwoman.
At night, she becomes Frost, a badass supervillain lady wrestler who displays extraordinary feats of skill and athleticism, all in the name of revenge. And inspiration.
Saturday night, Frost will take to the ring at Eastside Cannery, 5255 Boulder Highway, to put a meltdown on her archnemesis, the superhero wrestler Fire. This "battle of the elements" is the first of several matches to be wrestled at the Eastside Cannery by W.O.W., Women of Wrestling.
"We don't know who the winner will be," Adams-Ginyard says. "But I just know that my purpose, when I'm in that arena, is to put Fire's flame out and to shut her freaking mouth. That's going to be entertainment and fun for the whole family to enjoy."
Originally created by promoter David McLane in 2000, W.O.W. features 30 women wrestlers, each with her own superhero persona. Old episodes aired on syndicated television in several markets. The new W.O.W. is owned by Los Angeles Lakers executive Jeanie Buss. McLane, who is serving as the organization's promoter, hopes to land a television deal and build a solid brand using social media and word of mouth.
"Thirteen years ago when we created W.O.W., the Internet was just launching," says McLane, who also created Gorgeous Ladies of Wrestling, a professional league for women, in the mid-'80s. "Wrestling was still in syndication on television. Today, it's become a cable TV phenomenon. You couple the success of the genre and the number of people on the Internet, and it seems that we could build the brand generically through social media."
And the plan seems to be working; in the first 30 days of wrestler training, they added 70,000 Twitter followers, McClane says.
W.O.W. will be different from the original version in several ways, McLane says. The wrestlers, some of them stuntwomen, engineers, mothers, athletes and performers, will be more athletic than their predecessors. They will have backgrounds that are more detailed and compelling, too.
"The storylines in the past weren't really fleshed out," McLane says. "Now we will give more attention to their stories."
One of Saturday night's highlights will be special appearances from original W.O.W. wrestlers, Jungle Grrrl and Delta Lotta Pain and Loca, the Nevada tag-team known as "Caged Heat."
The battle between Fire and Frost is expected to be "epic," says Fire, aka Taylor-Morgan Lewis.
In the process of wrestling, she and Frost hope to inspire women and children.
"We really want to show the wrestler as a person. We want to be relatable to people. We want that to be part of our success," Lewis says. "We want to inspire women. We want to encourage women to get out there to make their dreams come true."
Tickets for W.O.W. start at $25, with children younger than 12 receiving half off for select seating. VIP ticket packages, which include a backstage meet and greet and photos taken with the WOW Superheroes, are available as well. Future dates to be announced.
Contact reporter Sonya Padgett at spadgett@reviewjournal.com or 702-380-4564. Follow @StripSonya on Twitter.
PREVIEW
What: W.O.W., Women of Wrestling
When: 7:30 p.m. Saturday
Where: Eastside Cannery Events Center, 5255 Boulder Highway
Admission: Tickets start at $25, with select seating at half-price for children 12 and younger; VIP packages also available (702-856-5470, eastside cannery.com)