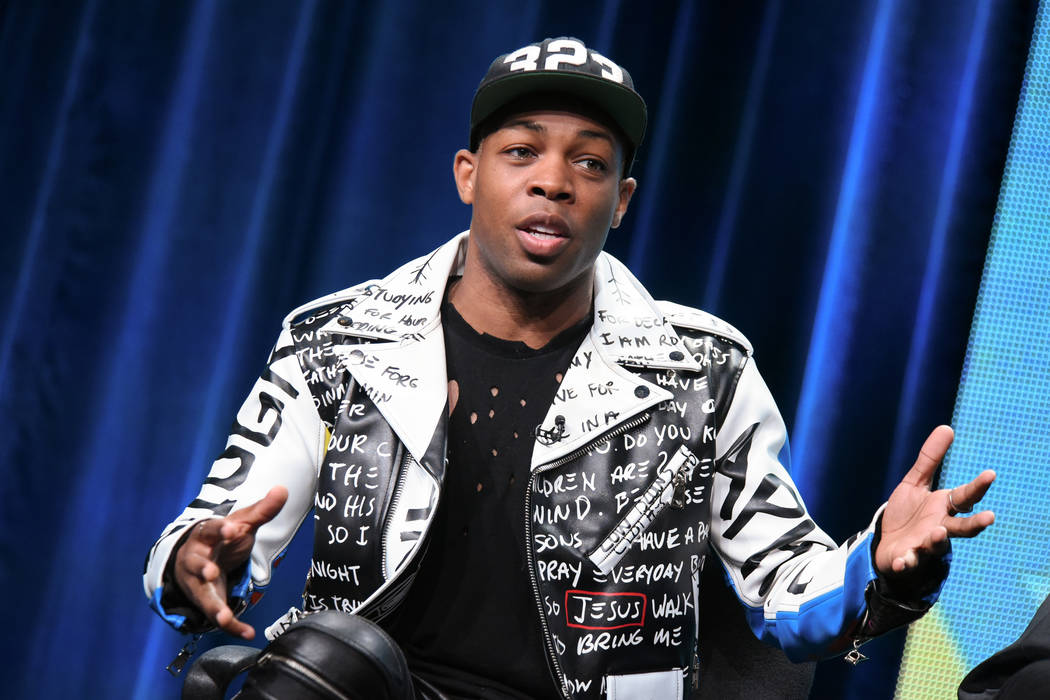 There was no stopping Todrick Hall's do-it-yourself ambition. Especially after that middle-school crash course on public domain law.
"The Wizard of Oz" is a continuing thread in the life of the 32-year-old performer who conquered YouTube with video parodies such as "Cell Black Django" and "Twerkin' in the Rain."
Hall, 32, built on his viral popularity to create "Straight Outta Oz," an autobiographical twist on the classic tale that now has strong chances of becoming a Broadway musical.
"Straight Outta Oz" played the 1,700-seat Atlanta Symphony Hall last month. But its Las Vegas debut has been whisked away from the Strip like a Technicolor cyclone, to the cramped staging of the Rocks Lounge at the Red Rock Resort. Saturday and Sunday's shows are an equally tight ticket for the audience; a second day was added after the first quickly sold out.
"I really, really wanted to perform there," Hall says of Las Vegas. "But by the time we decided our schedule, every (other) venue was booked … but I don't know when the next time I'll tour will be. I'm really excited to be there in any capacity."
After the tour, Hall will meet with Broadway producers who are interested in developing his "visual album" into a stage musical "with fully realized characters and a story arc." The live tour has him thinking ahead, "helping me realize things I would want to change and ways I would want to tell the story."
"It gives me chills and makes me want to cry when I step out on stage and see how much it's grown and how far it has come," he adds. "Broadway will be really difficult and the biggest challenge that I've faced yet. But I'm not afraid of facing challenges."
From Texas to Oz
To fully understand the understatement of that, Hall takes us back to the origins of his "Oz," which dates to his youth in rural Texas and high school in suburban Arlington.
"I loved theater and would always try to put on my own shows and my own musicals, which my theater teachers at our high school hated," he says. "I wanted to do the shows I wanted to do. I didn't want to be involved in their shows necessarily.
"It was not standard. They'd never seen someone want to write and produce their own shows," he adds. And to rub salt in the wound, "in some cases the kids at the school would rather be in the show I was doing than the show the school was doing. Obviously that disrupted the system and they didn't like that. They didn't appreciate it, and they tried to do everything they could to take me down."
That included reporting his fledgling "Wizard of Oz" to the rights holders of the movie adaptation. But someone else sat him down and explained that L. Frank Baum's "The Wonderful Wizard of Oz" book is in the public domain and up for grabs if he didn't use any songs or material unique to the movie.
"It ended up being a life-changing thing," Hall says. "That's how I realized at 13 or 14 years old that I could write songs. So I'm glad that the teachers weren't really feeling me."
From YouTube to Broadway
Hall overextended and got into financial hot water on his first attempt to grow an Oz musical. But he got a fresh start when he made the semifinals of "American Idol" in 2009, which led to a series of budget-conscious YouTube hits starting with "Beauty and the Beat."
"I design the set. I design most of the costumes. I choreograph it. I cast it. I am like the business manager of my own projects and I have to organize the books and figure out what we do and do not have money for," he says. "If there are shoes, I have to buy or approve them. Everything that you see, I have like a very strong hand on."
That made it seem like a vacation to join the Broadway cast of "Kinky Boots" last November for a limited run in the showy part of drag queen Lola.
"For me to get to do that and only worry about showing up and singing my one part? And I don't have to worry about anything? I just have to show up and be a student?" he says. "I loved that, and I felt like I grew so much as an artist."
Contact Mike Weatherford at mweatherford@reviewjournal.com or 702-383-0288. Follow @Mikeweatherford on Twitter.
Preview
Who: Todrick Hall "Straight Outta Oz"
When: 8 p.m. Saturday, 4 p.m. Sunday
Where: Rocks Lounge at Red Rock Resort, 11011 W. Charleston Blvd.
Tickets: $39-$69 (800-745-3000)