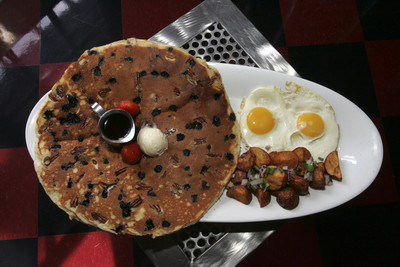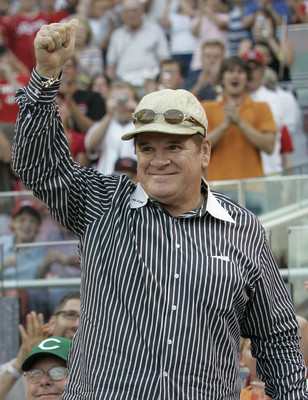 In the 1970s, Pete Rose and Johnny Bench supplied rocket fuel for Cincinnati's Big Red Machine.
They hold a rare reunion in Las Vegas this weekend and guess who has a score to settle?
Plus we answer the questions:
What makes breakfast-loving diners go ga ga at Hash House A Go Go?
What's happening at what clubs on Mondays?
And we share some personal jaw-dropping moments from almost a decade of covering the always-entertaining Las Vegas entertainment scene.
Here is this week's First Glance breakdown:
May I have your autograph?
Bench and Rose helped the Cincinnati Reds steamroll their way to back-to-back world championships in 1975 and 1976.
They will be seated side by side at the Field of Dreams at the Forum Shops at Caesars from noon to 6 p.m. today and from 1 to 4 p.m. Saturday for autograph and photo opportunities.
The air could be a little frosty. Bench has been among those who oppose Rose's rocky quest to be allowed into baseball's hall of fame.
Controversy sells, so it will cost you $99 for an autographed baseball or photo and up to $399 for a signed jersey of either Bench or Rose.
Where's the party on Mondays?
Money for Nothing Mondays at Prive Las Vegas (Planet Hollywood Resort) each week features a host from the hip-hop genre, or a guest DJ and a $5,000 cash giveaway.
The bucks are shot into the crowd about midnight.
Some nights, the big surprise is who shows up with the special guests. The night music producer Jermaine Dupri was a featured DJ, his girlfriend Janet Jackson joined him.
Same with Nick Cannon; Mariah Carey came along, in what turned out to be one of their first public appearances together before their surprise wedding.
Over at Luxor, Madame Monday, CatHouse ultra lounge's version of industry night, includes a performance by the lingerie-clad Coquettes.
Jet at The Mirage is another popular destination as well with its Monday industry night.
Best breakfast spot?
Hash House A Go Go, 6800 W. Sahara Ave., has built its reputation on supersize portions of "twisted farm food."
Like the sea of biscuits and gravy. Or the inch-thick flapjacks that overlap extra-size plates.
The restaurant is celebrating its third anniversary Sept. 30 with a party to kick off a month of food and drink specials.
The hot spot has caught fire, after big-time exposure from Martha Stewart, Oprah Winfrey, Rachael Ray and Al Roker.
Best jaw-dropping moment in my nine years here?
For my money, it's still Bruce Springsteen's dramatic opening at the MGM Grand Garden in May 2000, when he performed his first live show in Las Vegas.
The buzzing arena was dark when a single spotlight hit The Boss, who had his back to the audience.
Wearing an Elvis cape to honor The King, he brought down the house with "Viva Las Vegas."
The opening song of "Love," Cirque du Soleil's stunning partnership with The Beatles at The Mirage, packs a punch, too. I won't spoil it for those of you who haven't seen the show. But it's pure electricity.
Least favorite jaw-dropping moment?
About seven years ago I dropped off my brand-spanking new sports car at valet at one of the most exclusive hotels in town — not one of the gaming giants.
By chance, I looked at the odometer and noticed I had 19 miles on it.
Two hours later, on my way home, I glanced down again and was flabbergasted to see that someone had taken a spin and added 30-some miles.
I'm guessing it was a lunch-break joyride down I-15.
(Next week: Meet one of the last maitre d's for the old Vegas era, and we'll part the curtain on what shows offer backstage tours.)
Norm Clarke can be reached at 702-383-0244 or norm@ reviewjournal.com. Find additional sightings and more online at www. normclarke.com. His new book "Vegas Confidential: Sin-sational Celebrity Tales" comes out in November.