Six holiday-themed programs celebrate season in song at Smith Center
December 5, 2013 - 2:58 pm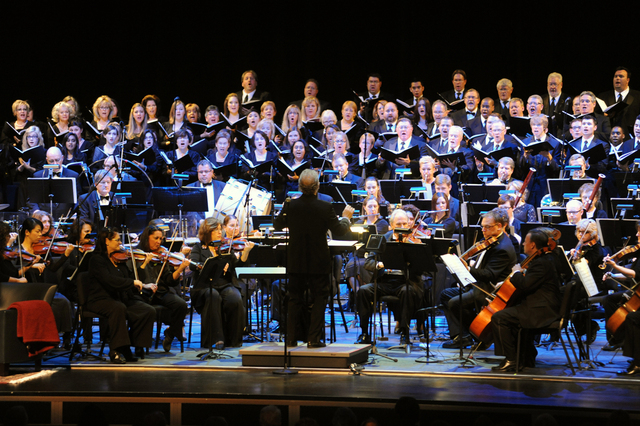 It's beginning to sound a lot like Christmas.
At least at The Smith Center for the Performing Arts, where six holiday-themed programs celebrate the season in song.
Both Reynolds Hall and Cabaret Jazz will host musical merriment this weekend, with the Las Vegas Philharmonic performing two "We Love the Holidays" pops concerts Saturday in Reynolds Hall.
And resident Cabaret Jazz headliner Clint Holmes does double duty this weekend — with a little help from friends and family.
"Holmes for the Holidays," in Cabaret Jazz on Friday and Saturday, features Holmes' wife, singer Kelly Clinton — and 10-year-old granddaughter Asia McCoy, who had to be coaxed onstage a few years ago but is "now talking to us about the show and asking, 'Is there a part of the song where I could dance?' " Holmes says with a chuckle.
On Sunday afternoon, Holmes returns to Cabaret Jazz for two holiday sets featuring "Clint Holmes and Friends," the friends including Clinton (but of course), Frankie Moreno, Earl Turner, Kristen Hertzenberg and the Las Vegas Academy choir.
Sunday's concert was initially scheduled to be outdoors in Symphony Park, adjacent to The Smith Center, but this weekend's expected stormy weather prompted the switch in venues to the intimate Cabaret Jazz — and the addition of another show to accommodate the audience.
"That's one of the advantages of a place like Cabaret Jazz," Holmes says. "You're there because you want to be there."
As for the musical forecast, "familiarity is part of it," he says. "Some of these great songs, you only hear 'em once a year." (Exhibit A: "William the Angel," which Holmes has sung "for a long time.")
But even when performing such favorites as "Santa Baby" and "Baby, It's Cold Outside," Clinton says, "we put our own little twist on it."
Overall, "audiences tend to enjoy what they know," observes tenor Tim King, who'll perform Saturday with the Las Vegas Philharmonic. And "at certain times of the year, what they want to hear" are such favorites as "White Christmas" and other seasonal staples.
"What's different," as he points out, is "it's not everyday that you get to hear" such old favorites performed by a symphony orchestra.
And not just the orchestra.
The roster for Saturday's Philharmonic concerts includes the Las Vegas Master Singers, the Clark County Children's Choir and the Faith Lutheran High School Handbell Ensemble. The evening performance also features the Goodmans (Mayor Carolyn and former Mayor Oscar), who also appeared at last year's Philharmonic holiday concert.
Guest conductor Bob Bernhardt — principal pops conductor for the Louisville (Ky.) Orchestra — also returns for his second holiday pops concert.
"Last year was pretty much a whirlwind," Bernhardt says of conducting a program that was shaped by former Philharmonic music director David Itkin. This year, he adds, "I'm able to craft what I think is a very comfortable, fun and family-friendly program."
Because "there'll be a significantly younger audience, with parents and grandparents bringing their children and grandchildren," most of the concert selections are brief, the conductor explains. "The longest thing happening is seven minutes' work."
Faith Lutheran's handbell ensemble, for example, will join the orchestra for Steven Amundson's four-minute "Glories Ring," one of the few compositions written for orchestra and handbells.
"There aren't a lot of those around," admits Sandra Youmans, Faith Lutheran's handbell teacher — just as there "aren't a lot of high school handbell groups," she adds. (They joined the concert lineup after Bernhardt asked about handbell groups in Las Vegas.)
Another key factor in any effective holiday concert, in his view: variety, "even if the music is very familiar."
That explains why Saturday's Philharmonic program includes everything from John Williams' "Home Alone" compositions to Peter Ilyich Tchaikovsky's beloved "The Nutcracker," culminating in an audience sing-along.
Along with such holiday favorites as "Merry Christmas, Darling," and "The Most Wonderful Time of the Year," King will perform the Broadway ballads "Maria" (from "West Side Story") and "Can You Feel the Love Tonight?" (from "The Lion King"), emphasizing the Las Vegas Philharmonic's season-long "love" theme.
"It could happen July 4, Memorial Day — it talks about the feeling in the room," Bernhardt says. "But, whether we like it or not, you get to December and there's a different feeling — a sense of community, a sense of family and kind of a focus on young people."
As for "the traditional carols that we hear all the time — those are important, whether we realize it or not," says Jocelyn Jensen, artistic director of the Las Vegas Master Singers. The choir will join the Philharmonic to perform one of those traditional carols ("Joy to the World"), alongside more contemporary works by composers John Rutter and Randol Bass.
That balance of familiarity and variety is important, Jensen says, "so it's not all so solemn — or so spirited."
Even the selections to be performed by the Clark County Children's Choir — from the humorous "Nuttin' for Christmas" to composer Engelbert Humperdinck's heartfelt "Evening Prayer" from "Hansel and Gretel" — reflect the Philharmonic concert's musical range.
In The Smith Center's intimate Cabaret Jazz, performers aim to convey "that feeling that people want, to remind them of olden days, but at the same time, not to do something everyone else has done," according to "Jersey Boys" star Travis Cloer, who brings his "My Place for the Holidays" show to Cabaret Jazz on Dec. 16.
For pianist Danny Wright (performing "Just Wright for the Holidays" Dec. 15) and singer Deana Martin (returning Dec. 20), it's the combination of songs and stories that make holiday shows so memorable.
"When you can pull a story in with a song, it touches people more," according to Martin, who shares tales of her dad, showroom legend Dean Martin, along with "Uncle Frank (Sinatra) and Uncle Sammy (Davis Jr.)" during her performances.
"I tell all the stories behind the songs" to "connect with audiences," says Wright, who has played Reynolds Hall but likes the "living room" intimacy of Cabaret Jazz. "I love getting audiences in the palm of my hand — and touching their hearts."
And that, ultimately, remains the goal of every holiday concert, says Bernhardt, who's been conducting them for "four score and seven years," he jokes.
It's really only been 35 years, and "I still love doing them," he adds. "At a pops concert, every audience member wants to be entertained. They're looking for a good time, but it can also be a profound time."
Contact reporter Carol Cling at ccling@reviewjournal.com or 702-383-0272.
PREVIEW
Here's this month's holiday concert calendar at The Smith Center for the Performing Arts, 361 Symphony Park Ave. Tickets to all concerts are available by calling 702-749-2000 or visiting www.thesmithcenter.com.
■ 8:30 p.m. Friday and Saturday — Clint Holmes: "Holmes for the Holidays," Cabaret Jazz ($35-$45)
■ 2 and 7:30 p.m. Saturday — Las Vegas Philharmonic Pops: "We Love the Holidays," Reynolds Hall ($25-$94)
■ 2 and 5 p.m. Sunday — Clint Holmes and Friends: "Holmes for the Holidays," Cabaret Jazz ($15-$50)
■ 2 and 6 p.m. Dec. 15 — Danny Wright: "Just Wright for the Holidays," Cabaret Jazz ($30-$75)
■ 7 p.m. Dec. 16 — Travis Cloer: "My Place for the Holidays," Cabaret Jazz ($25-$35)
■ 7 p.m. Dec. 20 and 21, 2 p.m. Dec. 22 — "The Deana Martin Christmas Show," Cabaret Jazz ($37-$59)